Meet the Keralite who fought all odds to become the first Indian Miss Trans Global 2021.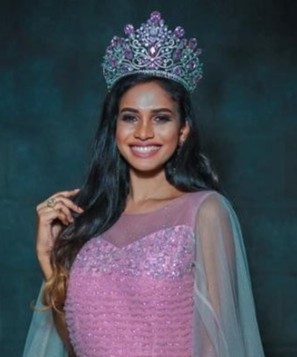 The clock was ticking around about 1:00 am on 1st December 2021, when a Keralite has been experiencing the most ecstatic moment of her life. That moment, there was only smile on her face that kicked off all the weariness of bygone days. For the past six months, she has been a part of the most prestigious global-level competition and that night, she received a happy ending to it. It was not only a proud moment to her, her family and friends, but is the proudest moment to her community and the nation as a whole. Sruthy Sithara went on to become India's first Miss Trans Global. Though she had the support of her parents unlike most of the other trans people, she too had to undergo identity crisis, bullying and taunting for being what she is. Overcoming all those hurdles just waiting to make her success roar, today, she stood tall allowing her achievements to answer all those bullies.
27-year-old Sruthy hails from Vaikkom in Kottayam district of Kerala. She did her schooling from Navodaya Vidyalaya and went on to study in Maharaja's College. Sruthy says that she liked to be a girl, thought like a girl and wanted to spend time with girl companions since childhood. But it was only when she came to class 12 that she heard about the section of people called transgenders and she met a few of them in Kochi. After that, she decided to accept what she is and prepared herself to embrace her identity. But she didn't reveal her identity fearing that she would be expelled out of college. After graduation, she started working as a project assistant at the Institute of Company Secretaries of India and became the first transgender person to enroll for a role at CSI. There, she revealed her identity to a few of her colleagues who suggested that she should live as she is. One of her trans friends gave her the name Sruthy. That was when Sruthy revealed her identity before her father and also made two of her friends speak to him. But unlike what she thought, her father's response was quite different. He didn't look surprised but said that he knew about Sruthy's identity much earlier. She says that her father, brother and his wife have supported her greatly in this journey. She also mentioned that because she had the support of her family, the society also did not point fingers at her. "My mom is no more, but my dad, brother and his wife have all been extremely supportive of me. Thanks to them, I didn't have to endure a phase of fights in my locality either, unlike many trans people. Your family is your first society and if they accept you, the rest of the world will have to follow suit," Sruthy said. Sruthy has however been a victim to harsh comments, jokes on her being 'different' etc. in school and college. But she never paid any attention to those as she learnt to make peace with herself and with what she truly is. She hardly reacted to the mean comments thrown at her. After revealing her identity to her family, she made it public by posting about her true self on Facebook.
The Trans Queen:
The Queen of Dhwayah 2017 competition has greatly inspired Sruthy as it takes into account, the participant's personality and brilliance. She participated in the Miss Chamayam competition and stood as the runner up, that served as a direct entry to the Queen of Dhwayah competition. However, she chose to give auditions like other contestants and did so. She finally became the title winner too. "The title, that was aired on television, has earned me a lot more respect in the society", she said. "[I am] Privileged to be a transgender person, [and] will inspire everyone to come through with flying colours with determination and positive attitude towards life. That's my motto too" – it was Sruthy's answer to a question about her contributing to society, in the pageant.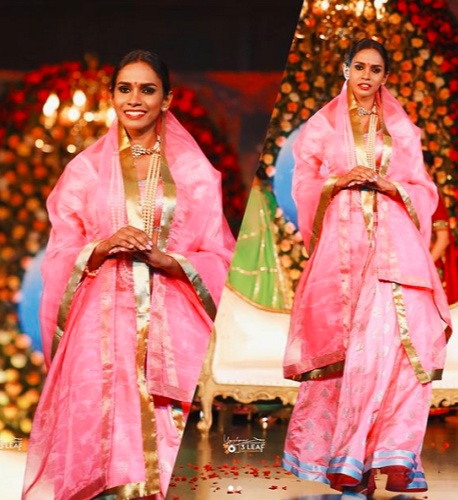 She participated in the Miss Trans Global Universe 2021, a competition that was held online this year and went for six months. Talking about the competition she says, "Since the competition had been going for so long, the participants have been keeping in contact through social media groups. We couldn't meet physically as the pageant was held online this year. It would have been much more exciting to meet everyone in London, where the pageant was supposed to take place. But that didn't affect the camaraderie or the pressure. I think online was much tougher to pull off." Sruthy, who said that she was expecting to be among the top five, emerged as the title winner – all thanks to her hard work, commitment and zeal. She said that she is thankful to her fellow contenders and to her family members for their support. Among several people who congratulated her, there was the Kerala's Higher Education Minister Dr. R Bindu who wrote, "Keralite Sruthy Sithara has been selected as Miss Trans Global 2021, a title she achieved after a long fight against prejudices galore and the narrow mindset of our society. A matter of immense pride for Kerala. Congratulations Sruthy." After winning the title, she said that it means a lot to her as well as for her community. "Miss Trans Global 2021. This smile means a lot. For me, for my community, for my country, for the transglobal organisation, for all those who are oppressed and marginalised. Here I am, Sruthy Sithara, Miss Trans Global 2021 Title Winner. Thank you so much to all who are behind this successful journey," Sruthy wrote. Sruthy has also been crowned the Most Eloquent Queen at the pageant.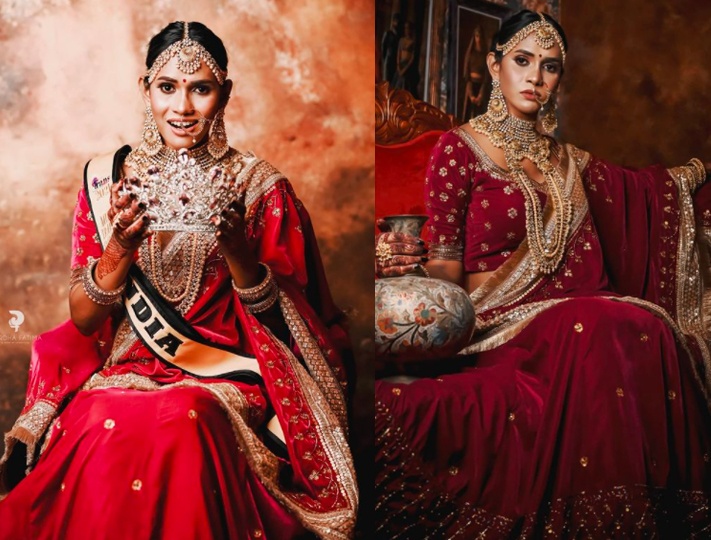 Standing For The Community:
Sruthy, who aims to become a Civil servant, says that she wants to inspire everyone to come up with a positive attitude in life. With an idea to create awareness and societal acceptance towards LGBTQ community and their rights, she started an online campaign called "The Kaleidoscope". "We want the world to know we are normal and are an equal part of society. Many people who are scared to come out have been approaching me about their struggles," she said. Sruthy wishes to work for the betterment of the lives of trans people supporting them in all possible ways.
We wish this first Indian to win Miss Trans Global title, great life and success. May she stand as an inspiration to all those from the trans community, who are still hesitant to embrace their true identity and self. May she continue to motivate and empower the trans community so much that the world keeps noticing their potential and treats them with all due respect.

Follow Her Work
Must Read: First Indian transwoman to represent India and win 2nd Runner Up at Miss International Trans 2021.