Lost his Hands due to a Horrendous Freak Accident and now goes on to becoming a fabulous Artist.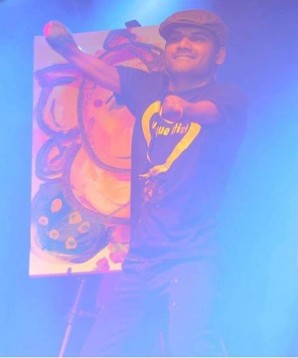 Can anyone believe?
In 2003 during the Uttarayan festival, Dhaval a 14-year-old, along with his friends were flying kites on their terrace and having fun. After a while, without actually realizing or noticing, his hand touched an Electric Wire instead of the Kite thread, suffered a huge electric shock, fell off the terrace unconscious and his heart almost stopped. It was a doctor passing by rescued and revived the boy by providing a hands-only Cardiopulmonary resuscitation (CPR) and he was saved in the nick of time and was immediately rushed to the hospital.
Big Big Shock.
Though Dhaval's life was saved, he was shattered and traumatized and was in for a bigger shock when the doctors told him that due to severe burns his hands had to be amputated and soon his hands were gone forever.
Horrifying!
Dhaval and his family were just trying to accept the tragedy and work around to see what Dhaval could possibly do next. In came the biggest shock, when the school asked him to leave and told him that he was no use to them and it would be difficult to obtain an education without his hands. How inconsiderate, uncompassionate and inhuman could the authorities be? Another school willingly accepted and enrolled him and later he completed his graduation.
Rehabilitation Process
While the process of medical treatment, physiotherapies and counseling was on, Dhaval said: " I am still alive and it is not the end of the road" and made up his mind to think about life without his hands and what could he possibly do. His Mom tried to give him a pen, pencil and a brush with a few colours to try and help him to do some random sketches and splash colours on canvas. Dhaval kept repeating until nearly after six months he got a grip of the pencil. He found this activity relaxing and thought it is the best form of expression. Today, Art is considered and accepted as another form of proven therapy.
Coping Mechanism
Dhaval became so strong mentally that he was ready to cope with anything without fear. He wanted to do a course in painting to learn the techniques but again was rejected by most colleges. He decided to learn about colours, techniques on his own through a lot of reference books and videos. He by now surely had learned the coping mechanism.
Artist by chance
Slowly his repeated brush strokes became a passion then a hobby and now that hobby has turned into a lucrative profession. Dhaval now is able to convert his ideas into sketches with perfect strokes, brilliant colour co-ordinates and paint effortlessly. He has also dabbled with tattoo making and Tee paintings. He keeps exploring different forms of art all the time.
The boy who was rejected several times now has more than 300 paintings to his credit and orders flow from all over the world. His LIVE shows across the country are a big big crowd puller and everyone is touched by his story and the courage he has shown. Kudos to his parents and family for the patience, motivation, love, and support.
Recognitions and Awards
World's fastest painting in 47 seconds.

Gauravvanta Gujarati awards in the USA.

Glorious Gujarat awards in the USA.

Dr. Batra positive health heroes 2016 Award.

Epic achievement Award 2018.

Autograph in Indian autograph books.

India books of world record.
Any other Interests?
Certainly Yes. He has learned the knack of playing the guitar and enjoys it. When time permits play cricket and football with his friends and of course does routine exercises. He watches movies and cricket and his inspiration comes from none other than the Big B, Gandhi and Dhoni. It was a thrilling moment for him when he gifted Salman Khan a painting at the Entertainment show Ke-Liye-Kuch-Bhi-Karega.
He concludes with Einstein's quote-
In the middle of every difficulty lies an opportunity "
If anyone is interested in the kind of art he does and is keen on buying you can order on his website www.dhavalkhatri.com.