Belgian artist's painting have a strong pop and street art influence.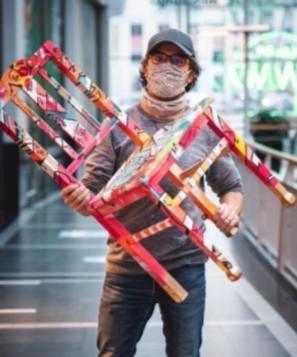 Florian Caucheteux aka Florkey
Visual artist-graphic designer, Belgian.
Born in Verviers in 1976, Florkey was trained from an early age at the Academy of Fine Arts in Verviers in the class of Serge Gangolf and Jacques Dubois. His secondary studies were oriented towards the plastic arts.
In 1998, he graduated from Saint-Luc Liège with a degree in graphic design and from the Academy of Fine Arts in Verviers with training in decorative painting in the Warrior class.
During the 2000s, he worked as a creative graphic designer in advertising agencies in Brussels, Liège and Luxembourg. Florian continued to create for his artistic development but without an exhibition project.
Follower of bright colours, airbrush painting techniques at first to then refocus on a mix of techniques such as spray, posca, acrylic; Florian draws and continues to develop his figurative and graphic art.
In 2010, he produced several exhibitions devoted to forgotten money and banknotes. Digital painting mixed with traditional techniques will make this period an important graphic revelation. In 2015, he begins a new series of pictorial creations which will be the technical and creative link of a colourful, pop, street language and sometimes bubbling with meaning.
A committed artist, his expression reflects our consumer society.
Since 2010, Florkey has been offering colourful and constructed works that question us about his line of conduct, his recurring theme "what man abandons".
His creations are made on supports that he recovers or that he shapes. His artistic technique is a spray, posca, acrylic, stencil. His paintings have a pop and street art influence.
In 2017-2018, he will produce a solo exhibition on the theme of abandonment. A colourful painting, hyper see surrealist with accents of street-art.
At the end of 2018, for health reasons, he had to take a step aside in his professional activities. He decided to embark on a #playmocatching performance. Make 100 small #freeart canvases of 25cm side. This playmos will be produced in series and abandoned all over the world. This performance is almost one year's work.
He received various artistic awards in 2019, Bernard Massard Signature Edition jury prize and in 2020 winner of the #whitepagechallenge artist category for the Parisian magazine Graffitiartmagazine.
Frescoes, live-painting, pop art, auctions, fine art… Florkey's progression is as prolific as his creativity.

Follow His Artwork