An architect from Tamil Nadu has built a portable house on an auto-rickshaw with solar panel.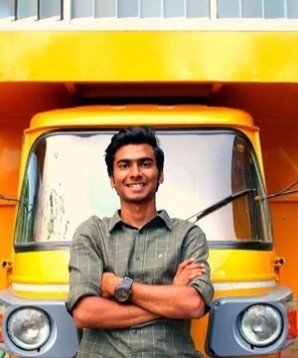 When a car was not affordable by everyone, there was the release of the iconic Nano at just one lakh. Many people could thus make their dream of travelling in a car come true. Now, own house or a dwelling of one's own is the dream of the majority of people. Owning a house or at least a temporary shelter is close to impossible to the daily wagers, and migration workers. So, what if there's a dwelling that comes to you at just one lakh with all the facilities included? It's a WOW thing. Is it? Well. We are not telling you any fairy tale. An architect from Tamil Nadu, Arun Prabhu brought this to reality.
A Step Towards Refurbishing The Slum Dwellings:
Born and brought up in Paramathi Vellore in Namakkal, Tamil Nadu, Arun graduated from an architecture institute in Chennai. During his course of study, he did extensive research on slum dwellings. He visited the slums and made a few observations which he decided to mend. He observed that many people had constructed the houses spending around 4-5 lakh rupees but these houses didn't even have the basic amenities like the toilet. Therefore, with the primary aim to provide temporary shelter to small vendors, hawkers, etc. Arun decided to do something using his knowledge in architecture and design. Arun observed people who travel from place to place- the gypsies. He saw that once they reach their camping place, they dump their materials in an auto-rickshaw and start living in tents with no amenities at all leaving the vehicle idle. Thus he thought of using small-scale architecture and build portable housing that not only suits the best for the construction workers, gypsies, migrant labourers but also provides safe dwelling during natural disasters.
Solo 0.1 - A Masterpiece:
So where had Arun chosen to construct these miniature architectures? Not on lands though. The 36 square feet area of an auto-rickshaw is the plot where Arun wanted to construct these houses. The house is made from old three-wheeler and recycled items or scrap materials from old buses and Lorries available abundantly in Namakkal. The house is attached with four bolts to an auto-rickshaw and comes with supporting stands. To this detachable housing at the back of a three-wheeler auto-rickshaw, Arun installed a solar panel that is capable of producing 600W of power with feasibility to boil water using coal or firewood. This portable house on wheels consists of a bedroom, living room, kitchen, bathtub, a 250-liter water tank, batteries, cupboards, doors, staircase, hangers, foyer, terrace area, vendor area and a lounge with shade. The best part of this house is that though it holds all these features, the weight is evenly distributed and is well ventilated. The structure can be easily unscrewed and is thus detachable. Earthy tones, muted colours, and monochromatic shades fill the interior. Leaving behind the cost of the vehicle, the venture cost him one lakh. As scrap materials are used in this design, it indirectly means that the life of these discarded materials is expanded. Arun took 5 months to build the house and he says that it's durable and sturdy.
"If it can fit on top of an auto-rickshaw, it can be fixed atop any vehicle," says Arun.

Long Way to Go:
Arun has applied for a patent for this auto-rickshaw house. He is working on four similar ideas with the architecture firm, The Billboards Collective that he initiated in 2018. With his other innovative designs, he is offering some real-time solutions to the cities that have space limitations for housing.
To all those who dream of owning a home but have space and budget constraints, there you go!! The portable house born out of small scale architecture is ready! Kudos to the young architect who has put all his learning to give solutions to the real-time problems. We wish Arun great success in all his future endeavours.