Railway employee builds a power Para-glider. Here's the story.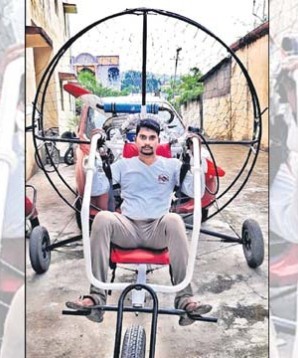 Man always desires to fly like a bird in the high skies. It is the burning desire to fly that lead man to build aircrafts and rockets. However, aircrafts do not give man a complete feeling of freedom-flying like that of a bird. Flying in accordance with the surrounding environment has always been there inside and that's how the concept of paragliding emerged. Those who have the fantasy of flying in the air, go slip into your glider and experience what it would be like to fly in the air rather than just sitting and travelling through the clouds in the aircraft. Adventure-loving souls often look for places where paragliding is possible and often bug out to such locations. But what if it is not always possible to travel to far off places to experience your favourite adventure sport? A youth from Telangana landed on the same turmoil. He loves to paraglide and often visited places in India where paragliding tours are organized. Eventually, a question tickled his mind as in why not he can do the same in the place where he lived. If he could accomplish his desire right in the place where he is living, it would be beneficial to him as well as to other enthusiasts who cannot afford travelling and also aids the tourism industry in his place. Let's get into the accomplishment of Adepu Arjun, a paragliding enthusiast from Ramagundam in Telangana.
From Railway Tracks to the Flying Crafts:
Adepu Arjun is a B.Com graduate who secured a job in the Indian Railways in 2013 has been working in the C&W department as a mechanic and lives in Ramagundam railway quarters. The job has become monotonous and the innate inclination towards innovations and adventure activities drew Arjun towards choosing some unique past time activities. With a deep longing to fly, Arjun often visited Himachal Pradesh, Shimla, Tripura and Meghalaya and involved in activities like trekking and paragliding.
"Why Not?" Question That Brought His inside Innovator Out:
While he was travelling on and off to satisfy his adrenaline rush, he once thought of the possibility of paragliding in normal areas like the place where he lived. He started collecting the necessary information about adventure activities especially related to paragliding. He joined the WhatsApp group of retired Army employees, pilots, paragliders and national sportspersons and read extensively about the design mechanics and other parameters related to the paragliding sport. After thorough research, he decided to build a paraglider. With an investment of Rs.15 lakh, he purchased the required material from America and Italy.
Self-made Paraglider - Arjun's Pride:
This 30-year-old thought that Ramagundam also can be a perfect spot for initiating the paragliding sport as the place has no hills around. After evaluating the location and the benefits, he set his spine to fabricate a paraglider. He used a Simonini Mini-3 engine, propeller and Galaxy wings to design his paraglider that can fly for up to two hours. Arjun's paraglider that weighs about a quintal can carry a load of up to 150-270 kgs and can fly two people ranging to a height of 100 feet. Arjun himself made a successful solo flying for 20 minutes to demonstrate the effectiveness of his power paraglider and there you go! The powered paraglider is all ready to glide in the air.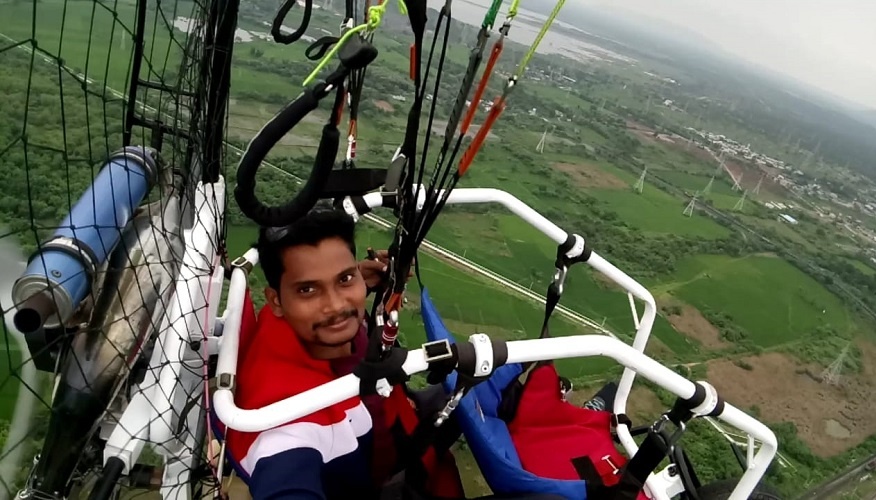 A Gift to the Telangana Tourism:
Arjun says that he visits Himachal Pradesh twice a year to enjoy adventure sports like paragliding. But then, when we can introduce the same in our state, it would definitely help other sports enthusiasts as well as build the tourism industry in the area. Thus, he says, he decided to bring the powered paraglider into the state and introduce adventure flying in Telangana. Also, when flying events are conducted in the state, local youth would learn about adventure sports and activities. It also opens doors to employment thus empowering the youth and enhances the tourism industry too. He wishes that he receives more support to this project from the Telangana government so more indigenous paragliders can be made.
Enthusiasm, coupled with a burning desire to achieve something unique resulted in new thoughts, and such thoughts when put into action benefit the world. Keep going Arjun. There's a long way to go and we are sure you shall accomplish great heights. Good luck!