Pilot, mother finds a million views for each of her videos. Follow to know why?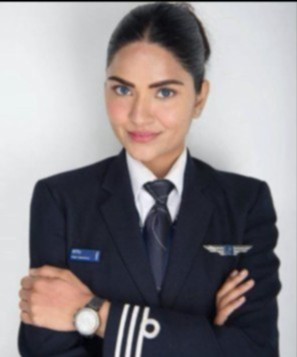 What if you get to know that a girl who had no hopes of going beyond high school education turned out into a young lady piloting a commercial airline? Well, a girl from Haryana had the least hope that she would study beyond high school education. But she crossed every hurdle thrown in her way and is now donning hats as a mother, a Captain and a Youtuber. "It wasn't easy being ambitious in a society where people thought, 'Ladkiyan bojh hain (girls are a burden)," she says.
"I Will Make You Proud"
Ritu Rathee Taneja hails from Haryana and is born into a lower-middle-class family. She always was sceptical about pursuing higher education going beyond high school owing to her family's financial constraints but she knew she wanted to go beyond. Her super supportive parents were always her strength when things seemed to pull her back. Ritu was very good at Math and Science as compared to languages and general knowledge. When one of her friends in school suggested to her to become a pilot, it sounded right to Ritu. She went on to pursue B.SC in Chemistry from St Stephen's College in Delhi. However, things were not going smooth in the house. Her relatives suggested to Ritu's parents that they should get her married rather than getting her educated so much. But her parents didn't pay heed to their words and Ritu became a graduate. After graduation, Ritu applied to pilot training programs in the US. She received a call within eight months but she knew that her parents wouldn't be happy with the idea of her travelling so far. She then went to her father and said, "Spend the money you have saved for my wedding on my education instead. I promise you that I would make you proud one day." Her father agreed but not the relatives who said, "She'll go abroad and do things with boys, get her married before she's fully ruined". Again, Ritu's parents didn't listen to their words and sent her to train in Arizona, USA. After 18 months, Ritu came back but was disappointed at the scarcity of jobs. "I struggled to get a job since there were no vacancies. Relatives took digs at papa saying, 'We told you this would happen," she recollects. Things turned worse when Ritu's mother died of a brain haemorrhage while on the other side the family came to a position where they had to survive on loans. At such a critical phase, Ritu took up a part-time job to support her studies and family. She kept herself updated and ready by studying seven hours a day before and after her working hours. Her hard work paid off finally when she got an offer from an airline as a co-pilot. "I was elated.", she said.
Flying - A Liberation:
Ritu piloted about 60 flights a month for the next four years. Her outstanding work got her promoted as a Captain very soon. "Sitting on the Captain's seat was my 'Apna time aa Gaya moment," she shares. Ritu met her husband during this time and together they have a daughter too.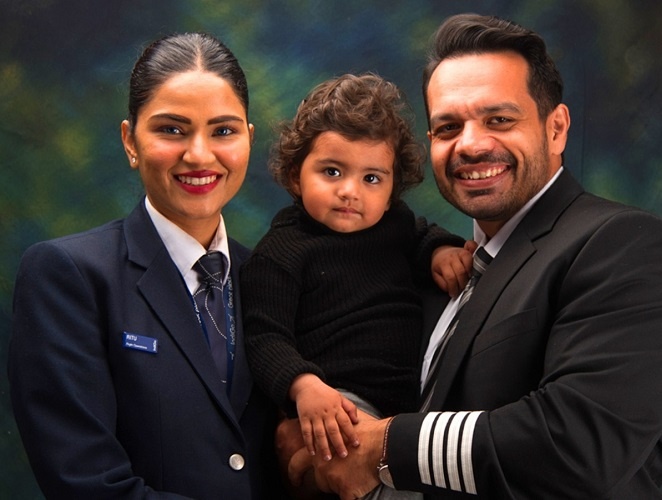 Chronicling Life:
Ritu, along with her husband who is also a YouTuber, Gaurav Taneja, runs a YouTube channel that has over 3 million subscribers. The couple vlog their journey of being a working, hustling couple. "Flying Beast" as they call it, includes content from fitness to fashion, travel to lifestyle and also titbits of their personal life. With close to a million views that every video bags, Ritu says that they take time in their busy schedules to do the content creating and editing works. "When it comes to vlogging and being a content creator, Gaurav and I have divided our roles there – I look into content strategising and brand management while he creates and edits the content. We brainstorm and strategise together, but brand management is completely handled by me," says Ritu. If the channel is super hit today, it is mainly due to the raw charm of Ritu and the unscripted videos presented by the couple.
"I think people connect with us on those grounds because nobody wakes up with perfect skin, full of makeup, and nobody looks like Katrina Kaif, you know. And if Gaurav and I are okay with each other, we don't really care about others' opinions. I think the best part is the realness of our videos.", shares Captain Ritu Rathee Taneja.

Using The Fame For Social Cause:
Ritu and her husband have gained immense following and love on social media. This couple wanted to go a little further and make use of social media to work for a good cause. Thus, Ritu has initiated Rashbhari Chai, a play on the name of her daughter. This initiative is to raise funds for the daughters of street-side tea vendors. As a part of this, she organises meet-and-greets for fans where they can come and meet the duo, and while doing so, they are requested to buy tea from tea vendors and donate a sum of money thus raising funds for the daughters of street-side chai walas. "We had raised Rs 51,000 and we were planning to do this across the country, but COVID-19 forced us to cancel our plans. Once this is over, though, we'll continue this work because it makes me feel peace and calm, that no matter how busy I am, we're doing some good.", said Ritu.
A Proud Father's Adorable Daughter:
Ritu, who donned many hats and has been successfully accomplishing her roles of being a Captain, a wife, a vlogger and a mother says that she feels very proud when her father says, "My daughter is a Captain". She further says "I won't allow anybody to set limitations on what I can be."
Say WOW when you finish reading this, for, I know you will be awe-inspired and dumbstruck at how a young girl convinced her father with confidence and trust in herself to let her fly, finally making him proud and happy. Her story says that no matter what comes in your way to stop you if you have the zeal to fly, no one can cut your wings.

Follow Her Work

Like and Subscribe to Her Channel for More Updates