Indian architect's multi-functional furniture designs are setting new trends. Economical, eco-friendly, social.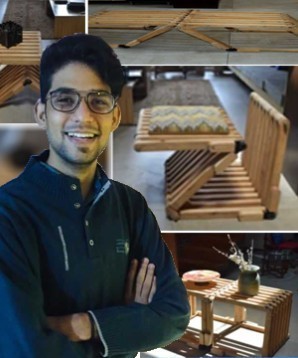 Normal chair, Z-shaped chair, Low floor sitting for single person, Low-floor sitting for double person, Coffee table, Centre table, corner table, Settee, single and double plant enclosures, corner plant enclosure, bench, TV unit – when I say that I have all these in my house, you would think that I have spent many bucks on purchasing them. But when I say that all those pieces of furniture have impressed my pocket, will you not be eager to know from where I got them? Well, read this story to know further. When something is being offered at a lower price, we all have the tendency to doubt its strength and durability. But when you read Madhur Sharma's story, all the questions on why and how this young architect came to build a unique furniture model, will find their answers.
Healthy Competition Gave Rise To A Designer:
Madhur Sharma graduated in Architecture from Apeejay Institute of Technology – School of Architecture and Planning (AIT). His interest in pursuing architecture dates back to when he was a kid. He had a friend whose name is Aryan and both of them would participate in the science exhibition competitions. They had cut-throat competition between them and it was only either of them that grabbed the first and second places giving no chance to others. The competition between them, however, was healthy giving no space to the jealousy business. Madhur understood that he loves creating new things and the goal for the rest of his life was set - to become an architect and build things. When, for his higher education, he joined the Apeejay Institute of Technology—School of Architecture & Planning (AIT), his life changed for good. In the initial days of his college, he thought that their job is just to construct buildings. However, the seminar presented by the director of his college, Prof. Vivek Sabherwal changed his perspective. He understood how an architect can become instrumental in designing and creating furniture. He thus developed interest in designing furniture. Thanks to the competitive spirit he shared with Aryan in his childhood, and to Prof. Vivek, a furniture designer was born.
A Smart Furniture Builder:
As Madhur's interest in designing furniture started to develop, he noticed something interesting. He stayed in a hostel room which is so small that all the basic pieces of furniture won't fit in. He then thought of those who live in small spaces, congested apartments etc. Hostel is just his temporary stay-place, but there are people who live in spaces that don't have enough space to accommodate all the furniture. He thus wanted to address this concern. After enough brainstorming, he thought of 'multi-functional' furniture. The very thought of it set Madhur into action. He designed something out of one cubic feet of wood which can further be moulded into fourteen pieces of furniture. You heard that right! A coffee table for the morning and evening tea-time takes the shape of a Z-shaped chair in your reading time and also becomes your TV table while watching the television.
The Multi-functional Miracle:
If the first thing that motivated Madhur was the limited spaces in houses and apartments, the other thing that influenced his design is the human body itself. He explains, "The three crucial joints of the shoulder, pelvis and knees that allow us to sit, stand, walk and bend into different positions became my starting point". There you go! The secret is revealed in his words. His furniture is designed such that it can be moulded into different shapes. That means, you will have one piece of furniture with 'fourteen' functions – saves space, saves money. "When I was designing this, I had three crucial points in mind: the social factor, the economic factor and the environmental factor", said Madhur. Wood for making the furniture comes from trees. The more furniture we create, more trees get cut down. So, Madhur's multi-functional furniture keeps this problem away. This environmental-friendly model is built with one cubic feet of wood. It means, one piece that is designed with limited resources, can be used in 14 ways! So, instead of spending separately on different furniture items, one can spend on one and use many. Again, if one block of wood gets damaged, instead of discarding the whole piece, that particular block alone can be replaced. This helps conserve resources. Madhur further says, "It is easy to modify, replace, maintain and transport". Multiple benefits with one product – definitely a Thumbs up.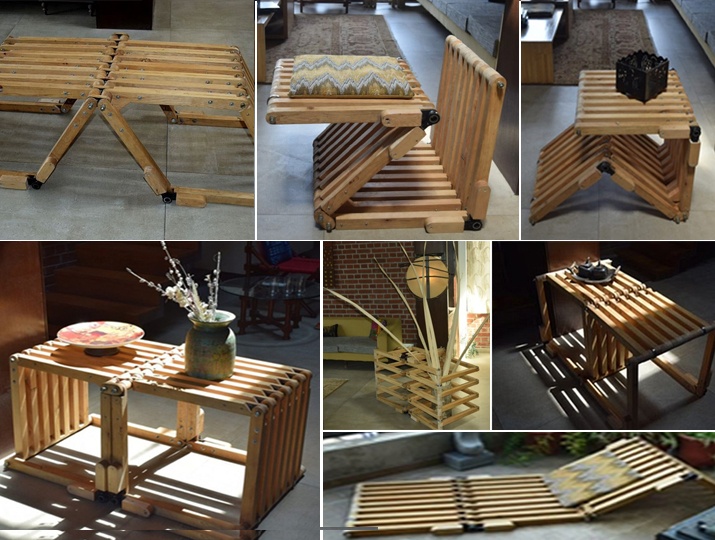 Failure Didn't Stop The Zeal:
Madhur Sharma designed this furniture model when he was in the first year of college. When he was in the 2nd year, a competition on furniture design was held for 3rd year students but as there was no participation from them, Madhur got an opportunity to participate. He presented the multi-functional furniture design in the competition and got positive response despite which he was disqualified from the competition. The judges said that the work cannot be the work of 3rd year students. At that moment, Madhur said that he felt bad for his director who had immensely motivated him. He however said that the decision of the judges could not stop them from working further. Madhur, with the encouragement of his director and peers, worked furthermore towards this. After his prototype was displayed in college exhibitions, it came to be appreciated by eminent designers and architects who got in touch with him to understand the design better. They shared their reviews that encouraged Madhur to build more units of this design.
Madhur worked relentlessly after college and started his own company after two years. He named it "r-Poid.com". Since 2018, he has designed 10 more furniture pieces— seven of which are multifunctional. The design was also published in architecture magazines, journals etc. and the team started receiving emails regarding collaborations and workshops. Today, they get pan India orders along with international orders from Canada, the U.K and the U.S.A. Madhur also conducts furniture design workshops all across India so that more people are inspired. "My furniture should not be treated as a trivial object but it should be conceived as an artwork which can convey some social message," he says with pride.
Congratulations to the young man who has made his mark as an entrepreneur and a designer by making interior space accommodating, with his brilliant idea. His thirst for creating new things, that started early in his childhood grew with his age and he is on a journey to create 'productive' products keeping in mind all the aspects right from affordability, quality to environmental sustainability. We wish Madhur years of great success and creativity.