Belgian artist's painting have a strong pop and street art influence.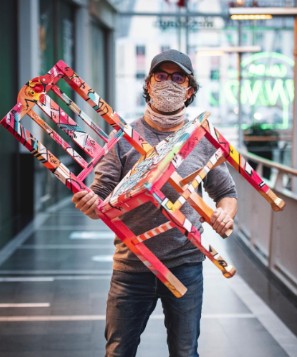 Florian Caucheteux alias Florkey
Artiste plasticien-graphiste, belge.
Né à Verviers en 1976, Florkey sera formé dès le plus jeune âge à l'académie des Beaux-Arts de Verviers dans la classe de Serge Gangolf et Jacques Dubois. Ses études secondaires sont orientées vers les arts plastiques.
En 1998, il sort de Saint-Luc Liège avec un diplôme de graphiste et de l'académie des Beaux-Arts de Verviers avec une formation en peinture décorative dans la classe de Guerrier.
Durant les années 2000, il travaille comme graphiste créatif dans des agences de publicité à Bruxelles, Liège et au Luxembourg.Florian continue à créer pour son épanouissement artistique mais sans projet d'exposition.
Adepte des couleurs vives, des techniques de peintures à l'aérographe dans un premier temps pour ensuite se recentrer sur un mix de technique comme : le spray, le posca, l'acrylique; Florian dessine et continue de faire évoluer son art figuratif et graphique.
En 2010, il réalise plusieurs expositions consacrées à l'argent et billet de banque oubliés. La peinture numérique mixée aux techniques traditionnelles feront de cette période, une révélation graphique importante. En 2015, il entame une nouvelle série de création picturale qui seront le lien technique et créatif d'un langage coloré, pop, street et parfois bouillonnant de sens.
Artiste engagé, son expression est reflet de notre société de consommation.
Depuis 2010, Florkey propose des œuvres colorées et construites qui nous questionnent sur sa ligne de conduite, son thème récurrent «ce que l'homme abandonne» .
Ses créations sont réalisées sur des supports qu'il récupère ou qu'il façonne. Sa technique artistique est le spray, le posca, l'acrylique, le pochoir. Ses peintures ont une influence pop et street art.
En 2017-2018, il réalisera une expo solo sur le thème de l'abandon. Une peinture colorée, hyper voir surréaliste avec des accents de street-art.
Fin 2018, pour des raisons de santé, il doit faire un pas de côté dans ses activités professionnels. Il décide de se lancer dans une performance #playmocatching. Réaliser 100 petites toiles #freeart de 25cm de côté. Ces playmo seront réalisés en série et abandonné un peu partout dans le monde. Cette performance lui prendra une année complète.
2019 sera une année de création boulémique, une remise en question totale sur sa production. Sa peinture va prendre un virage à 180°. Plus questions de peindre sur des supports achetés en magasin, il va fabriquer ses propres supports à base de récup'. Bâche publicitaire, palette en bois, carton, customisation... Ses nouveaux pochoirs seront inspirés de la [re]naissance et des motifs des châteaux de la Loire se mélangent avec des éléments hyper graphique, caligraphique et typographique.
Il a reçu divers prix artistiques en 2019, prix du jury Bernard Massard Signature Edition et en 2020 gagnant du #whitepagechallenge catégorie artiste pour la magazine parisien Graffitiartmagazine.
Fresques, livepainting, pop art, ventes aux enchères, tirage d'art… la progression de Florkey est aussi prolifique que sa créativité.

Follow His Artwork