Internationally acclaimed sculptor creates beautiful sculptors out of waste. Trash is what they call him..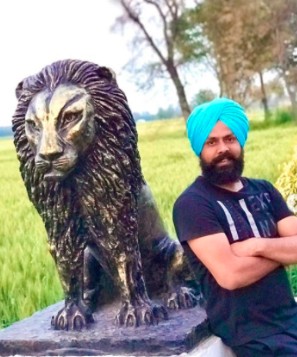 The fish sculpture that was carved out of his artistic hands is not just a visual treat but is also a treat to the hearts of environment lovers because the sculptor is made out of discarded bottle caps. He made huge cannons out of wood, fiberglass, and metal, and these cannons were displayed at Gurudwara katana shaib (Ludhiana), Punjab on 13th April, the day of Vaisakhi. He installed a ferocious-looking lion in front of his house which he made all by himself out of fiberglass. "Dream come true", he quotes. When you check out his Instagram handle, you will be wowed at his artistic flair and I'm sure you will be driven to a completely new world from where you refuse to come back. Presenting before you, the story of Harminder Boparai, the man who beautifies trash.
Well, Thanks For Calling Him Trash – He Discovered His Love:
Indians believe that when elders scold you, they actually are their blessings. When we look at what happened to Harminder Boparai, this belief seems to be true! His parents, teachers and almost everyone around him would call him 'Trash' in his childhood. Born in a village called Ghudani Kalan in Punjab, Harminder was never a scoring student. He was a below average performer in academics and could never please his parents or teachers with his academic performance. However, Harminder was exceptionally good at art. The boy who was never seen in the toppers list of the class was sure to be found in the front row when it came to art events and competitions. "In hindsight, I can say that it does not matter, but it was tough when I was in school and was a below average performer," he recollects. Unfortunately, in those days, importance was given to academics rather than extra curriculars. Art was not considered to be 'useful' to lead a 'successful' life. Harminder was thus thrashed always for not being good at studies.
The Moment Of Discovery To His Parents:
When Harminder was in Class 7, he participated in a sculpture-making competition in which participants were asked to make a sculpture at home. Harminder sculpted Mahatma Buddha and looking at the boy's work, his parents were amazed. They understood how talented the boy is at artwork. "That was the first time I saw my parents being proud of me.", said Harminder. But this skill, as every other parent of that time expected, was expected to be extrapolated to his studies as well which Harminder couldn't do. He tried hard to study but he could not fare well. Though his parents were happy about his artistic skills, they felt that only education can give him a good life. Harminder felt undue pressure from all sides to fare well in academics. At the same time, he suffered a paralytic attack due to which the right side of his body turned immobile. He took around three years to gain some strength and by that time, he further deteriorated in his studies. Taunts were thrown from people like pots and pans who expressed despair about what he would do in life. "The situation is so different today; schools are willing to look for aspects that children are good at other than academics. When I was growing up, I had no such luck. I grew up in a time when academics was important. I cannot blame anyone; all they were doing was look out for me. My parents had to worry about marrying off my five older sisters. I understand why they were sometimes hard and harsh on me" he says. Recollecting the days when the family struggled the loss of his older brother along with working hard to make the ends meet, Harminder mentions that things were critical.
Life Turning For Good:
Thanks to his teacher Manoneet Kalsi who noticed the potential in Harminder and encouraged him to participate in the college cultural fest. The teacher took Harminder to the arts department laying foundations to his future in art. He won a Gold Medal at the Zonal Clay Modelling competition not once but for three consecutive times since 2002. He enrolled himself at the TAC Academy of Fine Arts in Ludhiana in 2003 where he pursued diploma in sculpting. Eventually, his work started gaining recognition and was also displayed at the India Academy of Fine Arts. In 2015, he went to his sisters living in the United States, and the way of learning there amused him. "I encountered a completely different way of life and learning in the US, and that has also contributed to shaping the person I am today," he shares. Though he credits Punjab for laying the foundations to his artistic life, he says that he was a self-taught artist there as very few knew about sculpting and clay modelling back then.
When a solo exhibition was sponsored by the Holland Arts Council, Harminder's life changed. He sharpened his skills and continued to do more and even more. What he began to do was to generate beauties out of 'trash'. Discarded wooden golf clubs, waste from garages, discarded bottle caps – all those that are considered 'Trash' was moulded into enchanting pieces of art that received people's admiration and love. His work was also displayed at the Van Singel Fine Arts center in December 2016. Harminder was selected in the Top 100 ArtPrize 2016 among 1500 artists from various countries across the world. This man of 'Trash' also won the Lalit Kala Punjab Award in 2012 along with the National Art Ikon Award from HammerArt in 2013.
Harminder is a living example to prove that books and grades are not everything. Love for anything and true passion coupled with hard work, endurance and grit can make anyone 'successful' – be it in any field. Hats off to Harminder Boparai who didn't lose hope when when no one believed in him. The national and international accolades he won proved that no one is 'Trash'.
Follow His Work