Hyderabad has a new look with this Artist's amazing Art all over. People cannot stop admiring.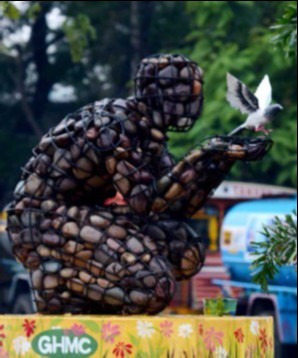 After looking at the walls that stand in the city of Hyderabad, Telangana, one would have wondered why the administration hasn't has taken care of them leaving them with half-done and distorted posters with their appearance spoiled with paan marks. But that is all the past story. Today, when someone walks in the Khairtabad area or drives through the areas of Masab Tank, Lakdikapul, and Film Nagar, they will surely be jaw-dropped. It's not an exaggeration if I say that people will stand there for a while to immerse themselves in the beauty of those walls – colourful and meaning-oriented. The man behind beautifying the city is one of the four amazing artists, Santosh Buddhi.
Crossing The Rough Path

:
Santosh Buddhi hails from Kagazhnagar and comes from an underprivileged background. His childhood and growing-up years were rough and non-rosy. With critical financial constraints, Santosh had no money to pay the college fee too. After he joined the college, he used to work during the nights as an ambulance driver at a hospital. Recollecting those tough days, he said, "It was challenging for me but since I loved the art I could somehow push." Santosh obtained his Bachelor's degree from the Jawaharlal Nehru Architecture and Fine Arts University and went on to pursue a Master's degree from the Sculpture Department of the University of Hyderabad. He started his career and began to establish himself as a prominent artist making the city walls brighter and beautiful.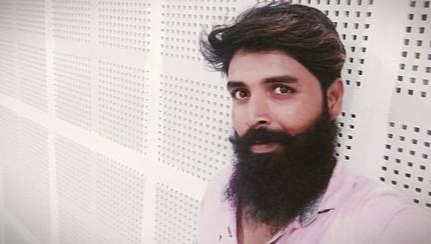 The Artistic Hand:
Santosh has made miraculous paintings on the walls, on the roadsides of Hyderabad city. The responsibility posed on him by the city municipal authorities to make the city look brighter and beautiful was efficiently taken up and fulfilled by him. He works in a team of four. When we look at the five-foot-tall sculpture on road No.1 Banjara Hills near the GVK Mall, we are sure to stop by and take selfies with it. The statue displays a man on his knees with a bird that's about to fly from his hands. With a thermocol base, the sculpture was first created by joining the iron rods and is further filled with pebbles. To give a sense of movement, Santosh and his team designed a bird that's ready to take off. Santosh's recent art installation that has been attracting everyone is near Tank Bund. He made a dustbin in the shape of a bottle. Talking about the design, Santosh said that while he was given the project, Mayor Gadwal Vijayalakshmi has shown him a similar installation in another city. Santosh then worked to generate his own prototype and took two days to come up with the project sketch. Santosh prepared it with iron and gave it a door at its bottom to collect trash. The design is about 35kg in weight and Santosh has got it done with the help of two welders. Santhosh has also made similar installations in Karimnagar and Siddipet as well. He was also a part of the team that has installed the 'Palapitta' sculpture at Road No.70, Jubilee Hills. He has got into his credit, the beautiful carvings, paintings, and sculptures at several places in Hyderabad including the Lakdi ka Pul Railway Station area, Khairatabad Flyover, and near Pension Office Bus Stop, Banjara Hills.
Answer To All The Haters:
When Santosh, who is a first-generation Art student in his family started studying Fine Arts in Hyderabad, people did not understand what he was doing. People around him thought that he was just wasting the time on something that has trivial value. However, looking at how Santosh has been grabbing bigger projects and how he has been accomplishing them with perfection, people started to understand what he was up to and began to shower waves of appreciation. Santosh expresses his gratitude to the city authorities for giving him a chance to showcase his talent and artistic skills. "These works have given me an identity and scope to work further. Many other government departments are also approaching me for work. Several higher officials and bureaucrats have appreciated my work. It is really motivating.", he said.
An Emerging Artistic Icon:
Santosh has recently finished the iron bottle installation project at Siddipet. He also created a wall mural in Khammam. He has also worked on a piece of art called "Helping hands" which is made of nuts. He says that it is yet to be installed. Santosh and his team have launched Art Tree in September 2020. Talking about their venture, they say, "The way a tree spreads its canopy and provides shade, we hope this endeavour will nurture and help budding artists to spread their wings to reach new horizons"
What an amazing artist whose journey started with rags, crossing thorns and has reached a place that provides a fresh look to the city along with serving a visual treat to the on-lookers.