Meet the Aipan artist and know more about her and the dying ART.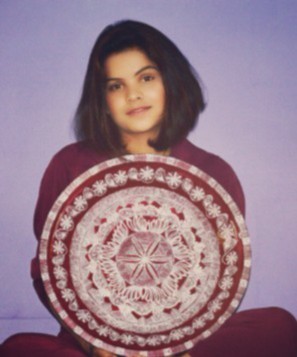 Traditional art forms are not only the reflections of a country's cultural heritage, they are also the bread and butter to many lives associated with them. With modernization and the love for western culture, people paid no eye towards traditional art forms – be it learning them or owning them in the form of products. With this, there was a point where traditional art forms dangled at the verge of extinction. Right then, many people, especially youth, identified the beauty in traditional art forms and brought them to spotlight to making them suit the taste of the present-day generation. Fusion forms and revivals of ancient artistic works started to sprout love for various forgotten art forms in people. Those who saw their lives dependent on these extinct arts, have got to live back, lives that they dreamed of. Hemlata Kabdwal is one such young mind, who, with her love for traditional folk art called Aipan, has devoted herself towards its revival.
Hemlata Kabdwal, who is popularly called "Himani" hails from Satoli, Mukteshwar in Uttarakhand. She was in 11th standard studying in State Inter College when she developed immense love for the Aipan folk art. She was inspired by her mother and her elder sister. She decided to pursue Aipan art as her full-time career. The untimely demise of her father put brakes to her artistic pursuit, and the road to reach her goal was not clear. Her family wanted her to study science and so she joined SSJ Campus in Almora to pursue her Bachelor's in Science. Though she was pursuing Science studies, her heart longed for arts. Her family slowly understood her passion and flair for Aipan art. After her under-graduation, she wanted to get into a prestigious Arts institute but due to the lack of relevant resources and information, she couldn't get through. But she sought admission in the Arts stream.
Artistic Journey:
Aipan is believed to invoke divine power that attracts goodness and positivity and is practiced during specific rituals, ceremonies and special occasions. Aipan is originated in Uttarakhand in Almora district and was discovered during the Chand Dynasty's reign. Hemlata Kabdwal immersed herself into learning the motifs and designs which were inspired by innumerable aspects of nature and beliefs of the community. One should check her social media pages like her Instagram handle to find out the creativity in her hands. Kettles, pots, trays, fabrics – many normal and ordinary things have taken extraordinary shape with the magic in her fingers.
Hemlata's career break happened with Woodhouse Farm, Mukteshwar's offer to exhibit her art products. This opportunity also helped Hemlata meet her academic expenses. She came to be known ever since then with leading digital media platforms like The Logical Indian writing about her. She was also hailed by Prakash Javadekar, the Human Resource and Development Minister of India who congratulated Hemlata for popularising Aipan, the ritualistic folk art of Kumaon, by not only making paintings and potteries but also by training young girls of the area. She has become popular for her art in both domestic and international arenas. Also, her artworks were purchased by the prominent actor, Manoj Bajpai who also offered her candid professional art tips.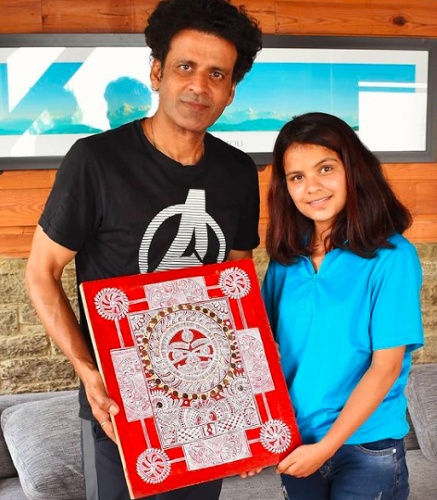 Hemlata Kabdwal, who learnt a great deal of art from Vivek Chandra Bisht, has been continuing her journey in learning varied other folk-art forms from different parts of India to create their fusion with Aipan. She also conducts online classes on folk art on Zoom and Instagram. She sells her folk artworks on online platforms. Hemlata Kabdwal is also working tirelessly to pass on the Aipan proficiency to the rural women so that they can attain financial independence.
"Art begins when a man, with the purpose of communicating to other people a feeling he once experienced, calls it up again within himself and expresses it by certain external signs" – it is in this saying that Hemlata firmly believes in. People like Hemlata are an example to say that the young generations haven't totally drifted away from traditional Indian art and its richness. We wish more youth with vibrant ideas come forward to revive the forgotten ancient art forms and help not only in sustaining their heritage but also in uplifting the communities associated with these artistic forms.

Follow Her Work

CheckOut Her Art