Mumbai's illustrator, a brand designer is spreading the goodness of Reading. Sure to get hooked on to.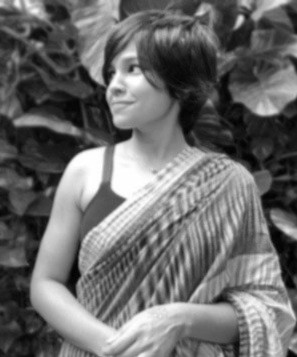 She decided upon what she is going to become when she grows up, at a very young age. She worked upon it and directed her education along the same lines. She achieved her dream of becoming an illustrator but then, she wanted not to give up on her love for teaching. She turned into an educator and taught art to students. Again, she didn't want to limit herself to one or two things. Thus, Ankita Shinde emerged as an entrepreneur, illustrator, creative educator, painter, and a brand designer. Let's look into her works and contributions to the field of art.
The Right Brained Girl:
Mumbai based Ankita Shinde displayed her flair for art and drawing ever since she was a toddler. According to her mother, little Ankita started to draw ever since she held a crayon. Her parents, who discovered the girl's love for art, provided her with all the materials and the girl made beautiful arts and crafts with them. At a very young age, unlike other children, Ankita knew very well that she is going to become an artist or a teacher. So, she directed her education towards achieving the same. She pursued art professionally and eventually became a professional artist. She always found inspiration from various aspects of life.
A Versatile Personality:
This artist who combines art with eccentric illustrations, is a versatile personality who never found herself satisfied with one profession. She always explored various other interests that were hidden in her, be it her flair for teaching or entreprenuership. While she discovered her interests, a whole new world of opportunities came infront of her leading her to do more. She started her career working for a design studio and then decided to launch her own venture. Thus, in 2016, she launched her own brand under the name, "Another Day Another Colour Studio" - a visual illustration and branding studio out of Mumbai, India. ADAC works with prominent brands from across the world providing fun filled visual illustration and branding projects. "Some of our clients include Ebay, Adidas, Lenovo, Redbull, Vogue and loads of other awesome brands", she mentions about her studio. Post this, she decided to pursue her passion in teaching. She started conducting creative workshops at a nearby school. She also enrolled herself with Teach India training program offered by the British Council. After she completed her training, Ankita offered to take online classes on creativity courses. She taught more than 200 candidates within a year. "I don't need to be limited to one profession. I can be and do whatever I want to.", said Ankita Shinde.

To Kindle The Fire Of Reading:
An illustrator, painter, brand designer and a creativity facilitator, Ankita Shinde is also taking up freelance projects. She is a continuous learner and an ardent book lover. She knows how powerful reading can be and used her art to spread awareness on the same. Her project named "How To Develop a Reading Habit" is creating waves and is turning effective in driving people towards picking up a book. Excellent illustrations coupled with easily understandable messages are what letting people fall in love with her initiative.

Know More About Another Day Another Colour Studio

Know More About Her Work

Follow Her Work