Grand old Granny becomes the Commonwealth's Learning Goodwill Ambassador. Learning from her great grand kids, this illiterate gran topped the exam.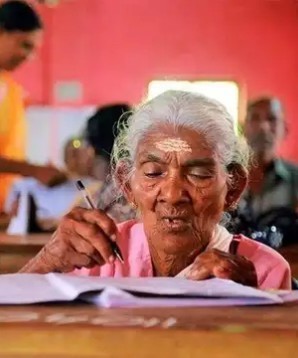 Many a time, when we speak about exams and toppers, we come across in the newspapers and television ads several young boys and girls who secure top ranks and stand first in the state and national level. It's quite rare that we come across someone as old as 96 years securing the highest percentage in a qualifying exam. Though it is surprising, we should admit the fact that it is not impossible to achieve anything if we have the willpower and passion. What if you are 96? Not just your age, nothing for that matter can keep you away from reaching your goal. This story is about a lady whose body has become fragile with age, but not the mind. She is Karthyayani Amma from God's own country, Kerala.
When 98-year-old Karthyayani Amma was selected as the Goodwill Ambassador of the Commonwealth of Learning, the world took a closer look at Alappuzha, Kerala. It was such a proud moment to the Keralites as well as the Indians. What was so exceptional about a 98-year-old for having selected as the Learning Goodwill Ambassador? The Commonwealth of Learning, headquartered in British Columbia, Canada, is an intergovernmental organization that aims to promote distance learning among 53 nations. When Karthyayani Amma had topped the state literacy examination, the Vice President of the Commonwealth of Learning personally met her. As she stood out as the oldest person ever to stand first in Kerala's Literacy exam, she received this honour.
Never Went To School But Topped The Literacy Exam:
Karthyayani Amma Krishnapillai, a resident of the Muttom village in Alappuzha, Kerala was born in 1922. When she was 96 years old, Karthyayani Amma secured 98 out of 100 in the formal examination conducted as a part of the Kerala Literacy Mission's 'Aksharalaksham' (Million Letter) programme. This dynamic granny has never attended the school and hasn't received any formal education in her lifetime. Due to financial issues and the then perception about girl's education, Amma had to give up schooling. Later, she got married and lost her husband to fate but was left with the responsibility of six children. She took up menial jobs as a domestic helper and a sweeper to raise her children. The whole of her life was dedicated to earning a livelihood to support her children. So, there was never a chance for her to step into the school or touch a book all her life. Then, how is that she has cleared the state's literacy exam?
Daughter's Victory - Amma's Guiding Light:
Karthyayani Amma's daughter cleared her Class X equivalent examination at the age of 60. This inspired Amma to embrace her love for education and prove herself. In August 2018, she took an examination as a part of the Kerala State Literacy Mission Authority's Aksharalaksham ("Million Letter") programme.
"In our days, girls never went to school. When my daughter Amminiamma qualified in the tenth equivalent examination in 2016, I took it as a challenge," she said.
Her great-grandchildren, 12-year-old Aparna and nine-year-old Anjana have trained her in reading and writing. The examination had three core areas viz. reading, writing and arithmetic. Amma scored 38/40 in writing and 100% in reading and mathematics scoring a total of 98 out of 100.
"I learned so much for no reason. The tests were way too easy for me", she said.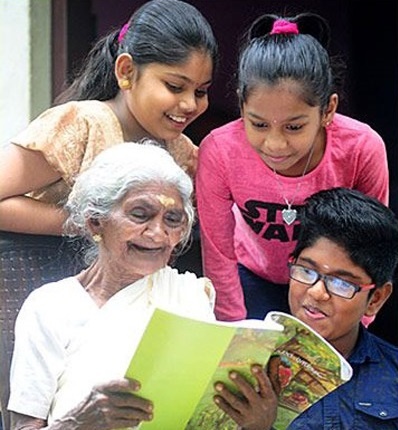 An Old Lady Who Was Lauded By Mighty Heads:
Post her success in the exam, Karthyayani Amma received applause and gained recognition at regional, state, national and international levels. The year she cleared the exam, during Diwali, film actress Manju Warrier met and congratulated Amma. The Education Minister of Kerala, C.Raveendranath presented her with a laptop, and the Chief Minister of Kerala, Pinarayi Vijayan presented her a certificate of merit. The Commonwealth of Learning made her its Goodwill Ambassador in 2019. In March 2020, the Government of India honoured her with the Nari Shakti Puraskar 2019. She was presented the award by the President Ram Nath Kovind.
As The Saying Goes, There's Never an End:
Having cleared the fourth standard equivalent exam at 96, she didn't want to stop there. She wanted to pass the tenth standard equivalent exam when she turns 100. She raised the bar for herself and wants to continue her studies. She is also enthusiastically learning English. She says that her great-grandchildren are studying in an English medium school and that she also wants to learn English like them. Using the laptop gifted by Kerala's education minister, she is also learning to be tech-savvy.
So, to all of those who say "what can I do in this age?", understand that age cannot stop you from learning more and achieving great. You Go, Granny! More power to you!