Historic moment for Jammu. The first female bus driver who is winning hearts.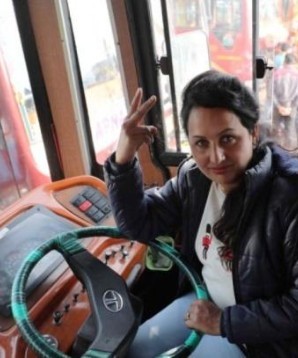 Union Minister Dr Jitendra Singh's post on Twitter dated 25th December featuring a woman from Jammu and Kashmir caught the attention of netizens including the celebrities and politicians where everyone started pouring in love, respect and best wishes for the lady. When we have gone into the details of her, we felt a pressing need to present her story on our page as it is much more than inspiring. So, read on to know about the first female bus driver of Jammu and Kashmir, Pooja Devi who has broken all that came her way and emerged as what her dreams wanted her to be like.
Steering the Wheel of Life, Now A Bus:
Pooja Devi who hails from the family of farmer spent her life with bare finances pouring into the family. As the family couldn't get the girl educated, her dreams of holding books shattered. But that didn't stop Pooja from dreaming. She always dreamt of driving heavy vehicles like the truck or bus. Pooja was later married off to a daily labourer and she has three children - the daughter is in Class 10, son in class 7 and the youngest son in class 2. Pooja supported her family financially by driving cars and worked as a driving instructor at a driving school. She also drove taxis.
To Get The Childhood Dream Come True:
While Pooja involved herself in driving for a living, she wanted to switch to driving heavy vehicles as she wanted to ever since she was a child. She trained in a driving truck from her maternal uncle Rajinder Singh. She mastered the skill and went on to become a bus driver. There were times when Pooja doubted her ability and feared that no one would give her a bus to drive. But the Jammu-Kathua Bus Union trusted her and offered her to drive. Thus on 24th December 2020, Pooja held the steering wheel of the passenger bus and drove passengers on the Jammu-Kathua road with her younger son innocently seated next to her.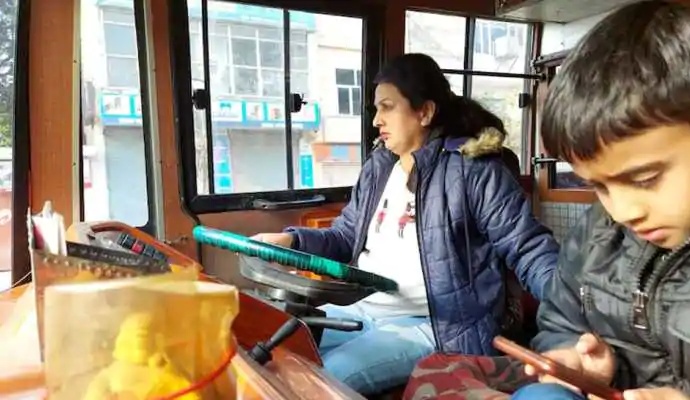 Not-so-happy Family:
Pooja faced severe opposition from her family members including her husband and in-laws. But owing to the poor financial status of her family, she set to work. The work, she decided, despite family's resentment, will be the one she dreamt of as a child. This time, like in the case of her education, Pooja didn't want to give up on her dreams. Her spouse expressed his opinion that driving isn't the right profession for women. But Pooja told him clearly that she wants to pursue her dreams.
Proud Colleagues and Happy Passengers:
Though Pooja faced negativity from family, she received immense support and respect from the co-drivers and passengers. Male drivers expressed how proud they are looking at a woman holding the steering wheel. Kuldeep Singh, a bus driver said, "It is a matter of great pride for all of us. She has shown immense courage. Other women should draw inspiration from her. Women are doing very well in every field. They are even flying fighter planes. I hope more women in J&K will start driving passenger buses". The passengers who boarded the bus and saw a woman on the driving seat felt surprised as well as proud as it was the first time ever in the history of Jammu and Kashmir that a woman was driving.
"When I saw a woman driving the bus, I was very surprised. We feel proud of her. It is a historic moment for J&K," said a passenger.
When there are women doing everything stepping into the male-dominated fields and are proving that what the society thought of them all these years was absolutely wrong, it is time for the people with patriarchal and chauvinistic thoughts to wake up and clap for the girls and women around them.