Am a young widow, I carry loads on my head to shoulder my kids' responsibility. Tearful story of a strong woman.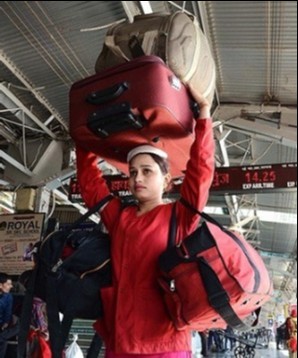 My mom always says, "Women should unfailingly be ready to take up anything in life. Even a dependent woman or a housewife who doesn't have the need to work or take up a job should be ready to take over the responsibility when circumstances demand". Women are not just to remain in the shadows of patriarchy and dissolve into helplessness when something happens to the male head of the family. Being ready to take over and support the rest of the family, saving them from drowning and giving them a sense of security lies on her shoulders. That's what Sandhya Marawi from Madhya Pradesh has done exactly when she lost her husband to illness. She didn't let her mother-in-law and three kids suffer after his demise. She instead took over the family responsibility by shouldering a job that no woman did before her. Let's greet India's first woman coolie, Sandhya Marawi, a 32-year-old dynamic personality from Madhya Pradesh.
Kundam village in Jabalpur district of Madhya Pradesh is home to a 32-year-old iron lady Sandhya Marawi. Her happy family life with three children - eight-year-old Sahil, six-year-old Harshit, and four-year-old Payal and mother-in-law came to face hardships when the sole breadwinner of the house, her husband, fell ill in 2015. In October 2016, her husband lost the battle with his illness and died. With his death, the family started to face difficulties. They were not able to manage three meals a day at times. Unable to see her family in such a poor state, Sandhya shouldered the responsibility of her mother-in-law and three children. Initially, she searched for work in nearby places but couldn't find any. Finally, she decided to take up her husband's job. But that was not something usual. No woman has done it before. She chose to work as a coolie in Katni Railway Station like her husband did.
No. 36 - The First Woman:
Coolie No.36 is the jaunty woman coolie in Katni railway station of Madhya Pradesh. She is Sandhya Marawi, the lady who took up her husband's job and tied his coolie badge on her red dress joining as the only female porter among 40 male porters of the station. Every day, Sandhya travels 45km from Kundam to Jabalpur and then to Katni railway station. She does this two-way long journey every day just to feed her children. Though she requested the officers to transfer her to Jabalpur from Katni, the request still seems to get its kind approval. Ever since her husband succumbed to a prolonged illness, Sandhya, who didn't want her children to suffer, took up this challenging job in January 2017. She finishes cooking and other household chores then travel all the way to Katni, finishes her day's job and goes back home to attend to the household chores and children again. She has thus been single-handedly taking care of her children and mother-in-law. She desires to educate her children so that they can live decent lives.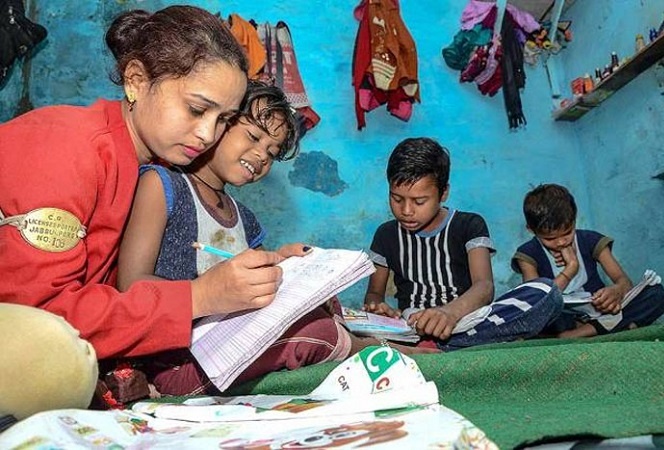 Praises To The Inspirational Woman:
The selfless labour and courage of Sandhya Marawi were recognised and Mainline Pharma felicitated her. The leading pharmaceutical company, Mankind Pharma, after knowing about Sandhya Marawi, came forward to support India's first lady coolie. They rewarded her with 1 Lakh rupees for breaking the stereotype and supporting her family. The CEO of Mankind Pharma, Rajeev Juneja said, "Women like Sandhya are an inspiration for the whole society, they are the true symbol of Aatmanirbharta. Sandhya overlooked her problems bravely without any complaints and devoted herself to ensure a better living for her kids, like a brave mother. Personalities and heroes such as Sandhya are the ones who are helping society move steadily towards "Aatmanirbhar Bharat". We at Mankind feel if our humble help can ease her situation in any way, we will be privileged and happy with a sense of contentment of giving back to society. With our little initiative, we urge others as well to come forward and help and support all women who are self-reliant and are diligently working towards sustaining a happy life for their families." When Sandhya's story went viral, many people on social media showered praises on her with one of them comparing her to 'Mother India'.
When it comes to taking up responsibility for the sake of family and children, no woman is weak. All the potential she has in her, that was not visible until then, shines like a burning sun and glorifies her existence.