His father was no more and he took on responsibility. This is how he turned into a successful entrepreneur.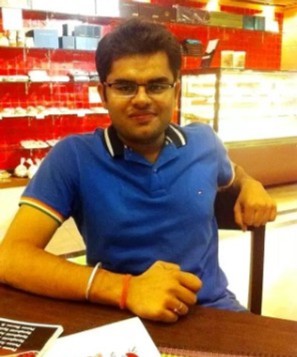 If you have enjoyed all your childhood with good pampering from parents, received whatever you asked for, leading a carefree life, but then all of a sudden your teenage years turn their back on you and give you the biggest blow in life, what next? When all the sunny days that you enjoyed till then suddenly demanded the adult in you, do you have an option other than saying 'Yes'? This is the story of a determined young man from Chandigarh. To most of the grown-ups who say that they were highly pampered in their childhood and thus lack life skills, Ankit Goel is a checkmate. Life changed from being a butter ride to a bitter bite to him when he was just a teenager. But he didn't sit feeling anxious and did not even bother his mother. He took the responsibility on his shoulders and started to move ahead with zero experience and zero skills and emerged as a successful entrepreneur now. Let's look into the dashing story of Ankit that serves you, the syrup of courage.
Life Can Change It's Course Anytime:
Ankit Goel was born in Chandigarh and his father Sushil Kumar Goel was a paper exchanging vendor who ran a shop at Panchkula in Chandigarh. His mother is a home maker and Ankit has a younger sister. Ankit pursued his B.Com from Punjab University and went on to study Interior Designing from INIFD. He had the experience of working with various prominent design companies. At Livspace, he served as Design Team Lead and then extended his services as the Managing Director of Our Design Story. In the year 2019, Ankit laid foundations to his own venture called Jack Hammer Studios. He is currently the Co-founder and Design Head at his venture. When we bring before you, his educational background and work life, it might sound as if things were free flowing. But they were not. Ankit had a great childhood and still recollects the way his family would go out for shopping, eating out and merrying every week. But when Ankit was 12 years old, things with his father's business started to take a downward curve. Young Ankit and his sister also could sense the difficulties of their parents and stopped pestering them for extravaganzas. Ankit sat in his father's shop during his Class 12 vacation and on one of his days at the shop, he suddenly saw his father collapse complaining of severe acidity. He was rushed to the hospital and after a couple of hours, his father collapsed forever owing to heart attack. While this is an irreplaceable loss to Ankit, he didn't have the chance to grieve his father's demise as he had to attend to his mother who fainted in shock and was paralysed for the next 25 days. Ankit shouldered the responsibility of his mother and younger sister by taking over his father's business. He sat in the shop and slowly learnt everything he had to do with the trade. To continue his further studies, he didn't find a way to enroll himself in a regular college as he had to work for the family. So he chose to pursue his B.Com in correspondence from Punjab University. He worked during the days and studied at nights. Thus Ankit grew up from being a carefree child to a responsible adult.
Falling Back And Rising Ahead:
While things were somehow going at a reasonable pace, another blow came in the form of a worker who stole Rs. 40,000 from the cash box. With that incident, Ankit, who was already struggling to repay the debts and manage the family, lost his little hope to step any further. He sold the shop that was located at the main commercial centre in the year 2012 and cleared all their debts. Now the plan before him was to take up a job and keep his family going. He decided to take up a PG Diploma course in Interior Designing and also held diplomas in CADS and 3D Max - the softwares related to interior designing. Post sharpening his professional skills, he started to take up projects, the first of which knocked his door in 2014. With the help of a Business Development Manager, he could crack his first deal of Rs.50lakh. "Later, I started doing small projects for as little as Rs 2 lakh," says Ankit. He later got associated with LivSpace, an interior design firm in Delhi. For his exceptional and outstanding designing skills, he grew very well in his field and in February 2020, he was also honoured with the Global Architecture and Builder Award (GABA) in Dubai.
The Wake Of An Entrepreneur:
In March 2020, owing to the pandemic lockdown, Ankit's salary was cut to half and he also lost his job in July. Ankit came back to square one. This time, he decided to use his knowledge, experience and skills to start something on his own and that's how he founded Jack Hammer Studios in Chandigarh. He could fetch a couple of projects within a month and in November he started to operate from Delhi as he started to get more projects in the NCR. He eventually became a franchisee of LivSpace. This experienced design associate thus made his way in the highly unorganized industry and proved himself to be successful. So far, Ankit has taken up projects worth Rs 3 crores. "We make a margin of about 10-12 percent on each project, which means I got Rs 30-39 lakh as my profit in the last 10 months, which is triple the amount of Rs 12 LPA (lakh per annum) I was drawing at my last workplace,", says Ankit who bagged projects worth one crore INR in the last two months.
How inspiring is the journey of this man who started from zero to becoming the job provider today. Life hit him hard in many instances but he didn't fail to go ahead. Today, his story is worth telling to many youngsters out there, who feel fallen and dejected at every small setback.