Gave up his high profile IT Job to be with the Nature and today runs a successful Dairy Farm.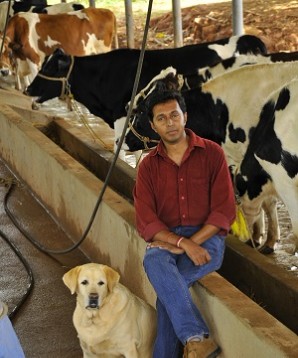 Luxurious Corporate LifeStyle
Santhosh had everything going for him from comfortable jobs at MNCs with big fat pay cheques to globetrotting. While introspecting, he realised that he was caught up in a rat race and did the same things like shopping, savouring various cuisines etc., but his weekends brought much relief and excitement with camping, trekking, cycling, watching wildlife and just embracing the nature, breathing fresh and clean air while pursuing his hobby of photography and videos. Is it a good option to be with nature forever was what he pondered about.
Apprehensive but Sure.
A bit hesitant on whether to take this huge leap to settle down permanently on a farm or whether he would actually enjoy the life of a farmer or an agriculturist. On one hand, he had the challenge of sustainability and on the other zero knowledge. After discussing with his parents and family, he said goodbye to his corporate career. Switching from the comfort zone of a corporate job is never easy but he knew the journey would be thrilling and exciting.
He is not willing to exchange his healthy, happy life for anything in the world today and says he did the right thing and the going is excellent.
Reality Check.
Before taking the plunge, he visited many farms and traditional farmers to gain knowledge and experience but was left more confused. He knew that growing crops depended on unpredictable rains etc., and checked up about Dairy Farming as he knew it could be a viable, feasible and a sustainable option. It is always advisable to take professional help and ended up doing a full term Programme at the (National Dairy Research Institute) in Benguluru. The institute sent him to live on the farms with the livestock around so that he could gain the first-hand experience of tending and caring. Totally convinced and concluded that he wanted to be with the cattle and chose a 20-cow model dairy farming under the directions of NDRI.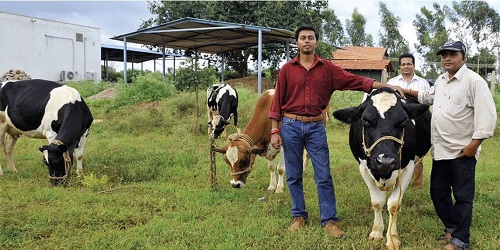 All set for the launch.
After conceptualizing and coming up with a blueprint, the weekend getaway of his 3 acres ancestral land in Doddaballapur was christened Amrutha Dairy Farm. It started off with buying 3 cows and within 2 years purchased 85 with the support from his brothers and family. The experience and expertise he gained in the corporate sector on managing people, finances, project management, analytics etc., came to good use.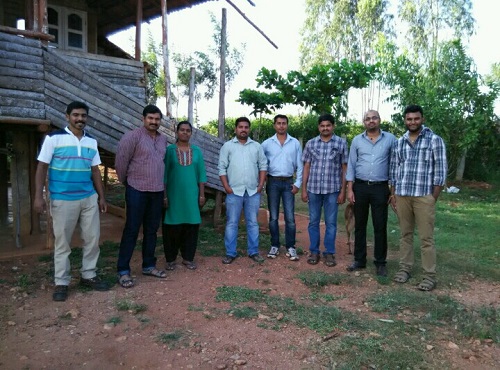 The Beginning.
Under the 20 cows plan, he had to dirty his hands and started feeding, bathing, grazing and milking the cows and also clearing the sheds each day. This was a great and an enjoyable experience but had to scale up to at least a 100 to make a profitable venture. With his calculations, he could easily make 1 crore with 1500 liters of milk each day. The funding from State Bank of Mysore helped him set up a full-fledged unit of 100 cows.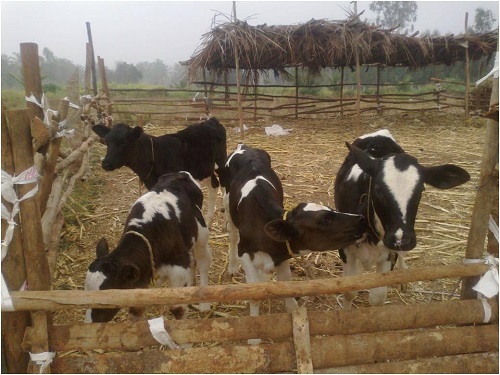 Unexpected challenges.
Like any other business or enterprise, challenges are plenty like untimely rains and drought can play havoc. Santhosh encountered one such huge challenge during the drought for nearly 20 months where green fodder was either not available or the price was 10 folds. He was quick to take action and set up a Hydroponics plant which produced one ton of green fodder per day. There are many many other challenges like manpower and training, but one has to have the patience to find solutions and not just wind up which actually many traditional farmers did.
Other Opportunities.
After Seven years of hard work he not only runs a profitable venture but cashed in on other opportunities. He now provides counseling to those who dream of setting up Pilot farms and has already done a few. His weekend workshops are attended by many enthusiasts and will be extended to Full-Week programmes soon. He is invited to give presentations and talks across the country. He has attracted International visitors and Clients who are looking to work with him on Cheese produce and other Dairy products. There are never-ending opportunities and milk and milk produce can only create more demand.
Enthusiastic Entrepreneurs
Seek Professional help like counseling, enrolling in programmes, courses or workshops. After gaining classroom knowledge one must go in for a Pilot Farm with rented or own to get the exact experience and the nature of the business. One must be consistent and it is so much to do with caring for the cattle and building a beautiful bond. Training others to look after the farm is important too.
To know more one can reach Santhosh on

9845190600 or send him a mail on

santhoshdsingh@gmail.com or visit his website amruthadairyfarms.in
Read more: http://www.rediff.com/getahead/slide-show/slide-show-1-achievers-he-quit-his-it-career-to-start-a-diary-farm/20130904.htm
More on Hydroponics: https://www.bookofachievers.com/details/lt+cdr+cv+prakash