7 year old Crowned with a Bronze at "The Little Miss World" Pageant in Greece.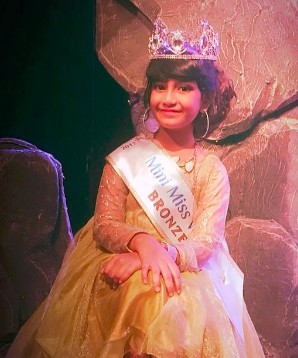 Like Mother like daughter.
Sana's Mom Nanditha Sandeep is an accomplished Model and that's where the inspiration comes from. She says with a wide smile that her Mother is her role model. Mom enjoyed dressing up her daughter and Sana liked picking up things from the dresser, trying on sarees and mom's clothes and do what her Mother did.
First appearance.
It was when she was 4; at the India Kids Fashion Week; she looked absolutely glamorous, stylish and cute and it was such a treat for the audience to see this little Miss oozing with confidence. Mom carefully hand-picked the dresses and the right makeup and surely had quite a few rehearsals for the newcomer on the ramp.
Grabbed offers.
Children's Wear brands, small and big screens always have a hawk's eye for new faces to promote and attract sales. Sana landed herself with an offer from Pantaloons, a few TV serials and also a couple of movies and offers continue to come. One will probably see the Mother and daughter walking the ramp and signing some assignments together.
Loves facing the Camera.
She has never been shy or nervous to face a Camera and in fact, loves to pose and with a broad grin says "Anytime is show time". While at home, her favorite pass-time is repeatedly changing dresses, using Mom's makeup kits, painting and polishing her nails, trying out different hairdos, taking selfies and videos. Every time she showed her videos to her Mom, invariably there was a lot of training involved on poise, walking style etc.,

Mother's grooming.
What goes into preparing a 7-year-old child for the cat-walk; surely only a Mother knows. All the experience gained over the years, it came to good use says Nanditha. Its takes months on end of preparations which includes dress trials, trendy clothes for casual wear, swimwear, sport wear, western wear etc., right make up for a child and the stage, looking fresh and attentive throughout, getting along with other contestants, speaking with confidence and presence of mind to answer questions and above all Patience. It's a laborious process but since both love modelling, it's a lot of fun.
"Little Miss World" – 2017 at Thessaloniki, Greece.
International Children's Festival Little Miss World was established in 2000, aimed at attracting talent from across the world and build friendly ties. On 5th of October 2017, the stage was set for grand opening of the Contest with cultural dances, songs from different countries etc., There were more than 60 plus contestants from all over the world and Judges ready to carefully take note and give their valuable remarks. In the midst of all this, Sana said she thoroughly enjoyed meeting other kids from different cultures and it's such a lovely platform to connect. After four days of going through various vigorous rounds, every child was anxiously waiting for the results.
Sana was clenching her fists, hoping and waiting and the Jury announced "The Third Place goes to.......SANA, she immediately jumped and her eyes were filled with tears of joy. Little Princess with her crown on her head enjoyed the cuddles, kisses and congratulatory wishes from her family, friends, and everyone. They are just back and celebrations have already begun and will continue for some time. She is probably watching the videos with her family and liking the attention.
Future Plans.
Not sure at the moment what Sana would like to do as she grows up but all support is assured from her Mom and family in whatever she wants to pursue. She takes studies seriously and loves Science subjects and also plays tennis and wants to be in the kitchen trying a few things. Nanditha says, its good to have a lot of interests and hobbies so one can explore various career options.
Is Modelling a good hobby for kids?
Gone are the days where Moms thought looks, makeup, the dressing was when one grows up. Every child today is conscious of their looks and also particular about following fashion trends. It seems a lucrative profession and parents must support a child's ambition.
Bookofachievers.com congratulates Little Princess and wishes all her dreams come true.