Twin child prodigies rock the dance floor with recreation of Jonas Brothers, Michael Jackson and more..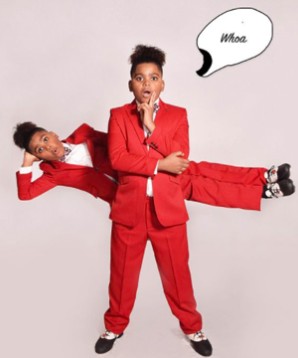 Most of us think What Can Kids do? Well, kids can do anything and everything they want.. They don't just throw tantrums but also set up high standards for the adults to even try to reach their Achievements... Because they are innocent and have crystal clear minds.
One such pair of Twins "Freddie & Teddie Tisdale" with nothing but Extraordinary Dancing Skills, became a global sensation. Their arena is Tap Dancing and they Rock at it at such a young age.
Throwing In much more Details of these Child Prodigies...
Freddie and Teddie Tisdale are Identical Twins and were born on August 29, 2008, in Toledo, Ohio. They are currently residing in Los Angeles, California. These twins were extraordinary even from the age of 4. They started dancing like pros when they were mere toddlers. Their mother discovered their love for dance while they were 4YO, and enrolled them in their First Dance Class.
They learned Classical Ballet, Jazz, Technique, Hip hop in the second year of training and excelled in what they did. This classically trained pair dedicated more than 15 hours a week to Dance. They Dance with so much enthusiasm and gracefulness. For the first three years, they performed in numerous local, community and private events.
In 2015, they got a chance to display their passion for dance on stage in front of more than 1400 people at their "Spring Dance Recital". The duo received a standing ovation for their recreation of the Nicholas Brothers in "Stormy Weather". In August 2015, Freddie and Teddie performed in the "All-Star Tap Concert" for the LA Tap Festival. This gave them a big breakthrough and won many hearts.
Freddie and Teddie are represented by Go 2 Talent Agency and focus on Dancing, Acting, Modeling and playing the drums.
These Smarties lit up every show they were invited to..
The twins Freddie and Teddie Tisdale were so popular, they got invited to all the popular shows in The USA and Europe. Firstly they appeared on the popular TV show Little Big Shots. They were featured on commercials, magazines, and Access Hollywood Live to promote their episode of Little Big Shots.
The twins got selected to be a part of the Walgreens Red Nose Global Campaign. They have also appeared on the popular shows The Tonight Show Starring Jimmy Fallon and Despierta America. In July 2016, they travelled to Bogota, Colombia, to appear on Grande's Chicos. ​In January 2017, Freddie and Teddie had the honour to perform at the 49th Annual Martin Luther King, Jr. Commemorative Service in Atlanta. They have also appeared in Siempre Ninos Con Don Francisco Film in Miami.
They were invited in the Europe, the duo visited Paris, France, where they were Special Guests Performers at a Paris Summer Festival, which they performed with a live Orchestra. Later they returned home and gave a fantastic performance at the OC Tap Festival.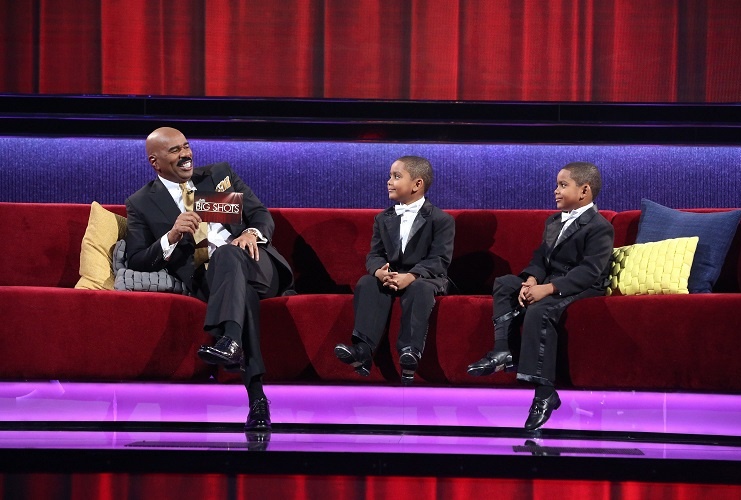 There Connection with an Indian Music Band...
An Indian Music Band featured 45 and more child prodigies from all over the world to be a part of the Music Video produced by Maati Baani. They invited our Extremely Talented Twin Tap Dancers Freddie and Teddy Tisdale to take part in it. The child prodigies were eager to take part in it.
Maati Baani recreated Micheal Jackson's inspirational song "Heal the World", throughout the song we can hear the taps of Freddie and Teddie as well as see them throughout the video.
To date, the video has received over 55 MILLION views on Facebook!!
Global Child Prodigy Awardees...
The twins got recognized globally, they were Awarded The Global Child Prodigy Award in January 2020 for their record-breaking Tap Dancing skills at the age of 11.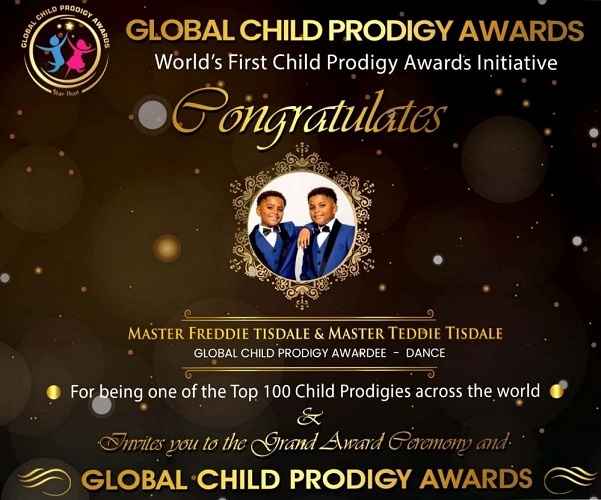 Follow Them