Two year old makes it to the top 12 finalists at the Mr and Miss Little Bangalore beauty Pageant.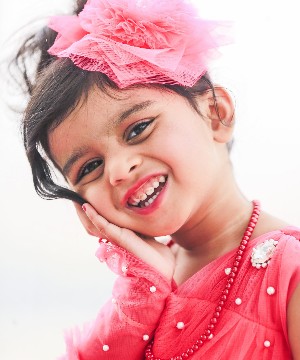 Beautiful Smile.
This Bubbly Beti fondly called as Khushi at home because the day she came into this world she brought some much Khushi or joy to the family by a beautiful smile. Though her name is Suhani she remains Khushi for everyone around.
Right Age?
What is the right age to start in this glamour industry? Nobody knows. The current trend makes us believe that it could be 2 years or even younger. This is definitely due to the exposure of the visual media and all the talent shows since a decade or so.
Anytime is Dance time
At 2 years plus, while other toddlers were barely learning to speak, she was already tapping her feet to the rhythm of Bollywood songs and intelligently grasping the lyrics as well. Every child is glued to the TV today and it is next to impossible to keep them away from this Idiot Box, but for Khushi, a definite time schedule is drawn. She grabbed the attention at every family function and was the blue-eyed girl who with her smile and dance entertains all. Later she was trained for few months at Step Up Dance studio at her hometown Berhampur by Mr. Sandeep Kumar.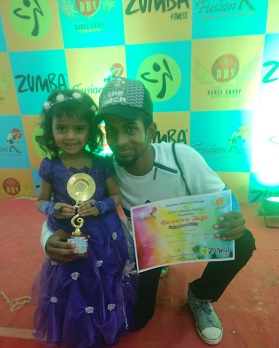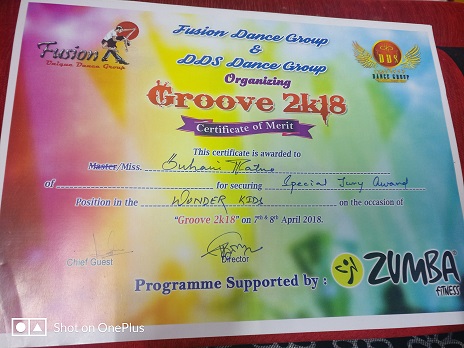 Home

Schooling?
Don't drop your Jaws when you hear Home Schooling. Its gaining popularity like never before. Khushi's father Sangram Patro who is a Project Manager and her Mom Suchismita Patro who is a qualified software engineer is a homemaker now, opted for Home Schooling as they have the time at their disposal. Khushi's tight schedule will tell you why? It is a Pakka routine she follows. She teaches her daughter everything as they go along with the schedule. For instance, while brushing her teeth, she insists that the little girl closes the tap so there is no wastage of water, to touch the feet of elders as a mark of respect, to sing few mythological bhajans and many more. Different days have different things carefully chalked out so it doesn't become boring for the child. The whole package includes eating and leaving the plate in the sink, listening to Mom reading story books, watching cartoons and movies which have something to learn from, then there is fun time with Bollywood dancing, going to the park, learning to play games, relating to colours through pictures and it goes on and on which pretty much covers what the kid learns in school but at her own pace. Khushi too loves the variety and always wants to try out something new and something different and is active and jovial. She is undoubtedly an extrovert who loves to party, meet people and yak yak and is not one bit shy.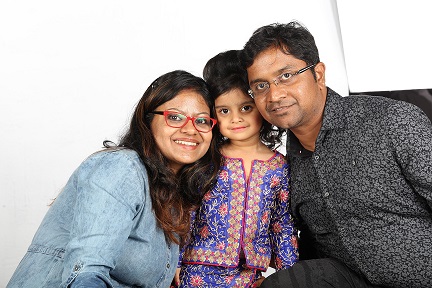 Let's Talk about success.
It is true that Magnitude Company is a launching pad for all kid models. When there was a running Ad for Mr and Miss Little Bangalore beauty Pageant, it was from 4 years and above. Suhani's parents knew that their Beti would do well and sent her to auditions when she was 2.7 years old and she sailed through.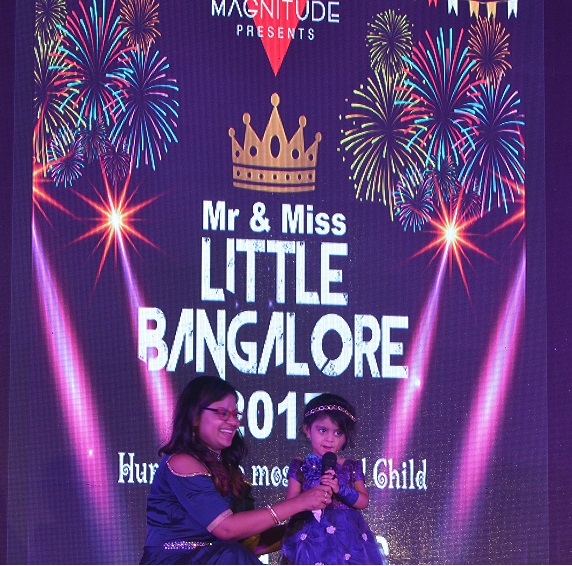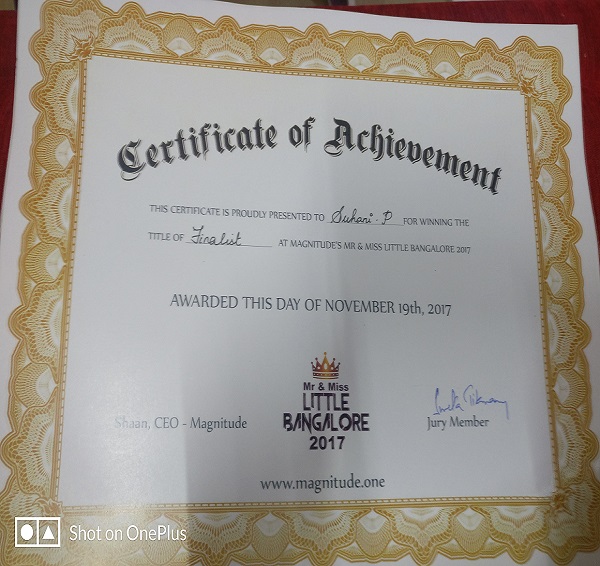 When she walked the ramp, people literally stood up to give her a standing ovation and she finished among the top 12 finalists. Nobody could take their eyes off her and congratulated her, for her confidence, smile, and her photogenic look. What was absolutely commendable was her question and answer round when the crowd went frenzy. She was suitably rewarded with a certificate and a scholarship of 35 K. Whoops !! what a thrill it must have been for this little kid.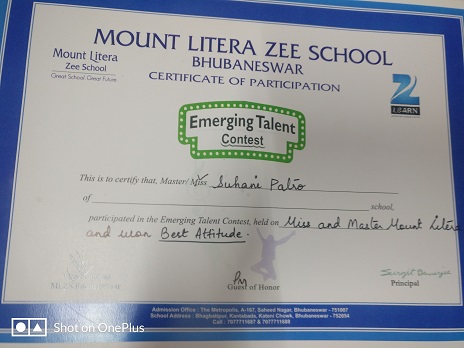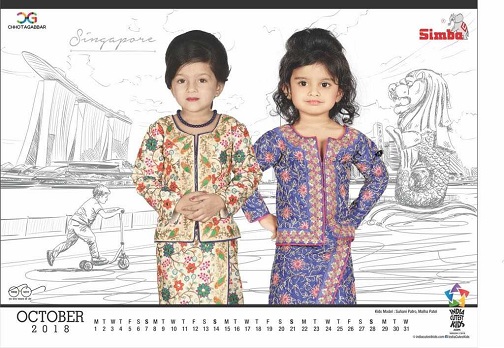 Soon she was picked up for ICK Calendar shoot by famous Bollywood photographer Munna Singh from Bangalore auditions where from all India 5000 kids participated, which was a very happy moment for the family and immediately after she grabbed a few modelling assignments for kids' brands.
Efforts?
Yes, admit their parents. One has to put in effort in anything and so they too are helping their little one. The parents feel that excelling academically is great but combining with all these skills like confidence and being an extrovert is an added advantage. People more often than not, go for personality development courses etc., and they believe taking part in fashion shows, answering questions, preparing for the dance, facing the cameras, facing the audience, performing all adds up to personality development anyway and makes a child stress-free and independent in future. It is true indeed!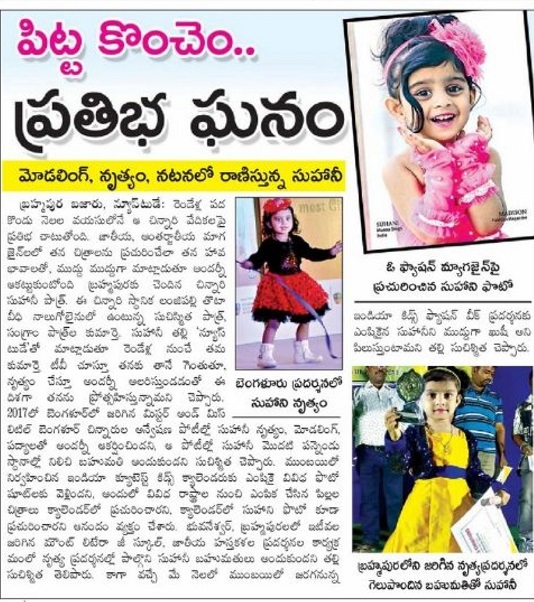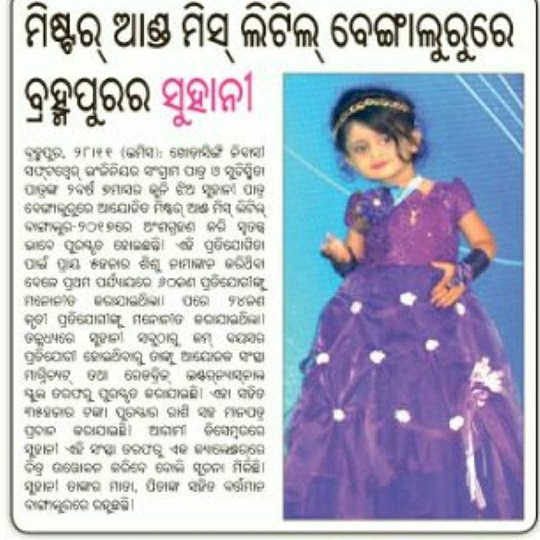 What the future holds
She is certainly a drama queen and a natural actress and one day could well be in the movies entertaining or represent India in the future Pageants, and why not if she has got what it takes