The Duo's "Saturday Date" on FB has audiences from across the globe. Why?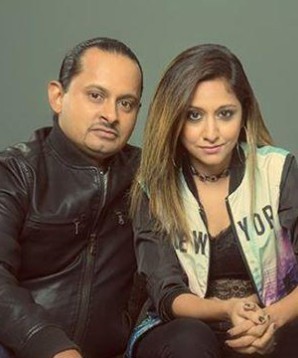 The Global Pandemic has whipped away all the fun-filled stuff's from all our lives. Amidst this chaotic scenario, we are searching for an escape from all the blues of life. One such escape mechanism is provided by Duo Reena and Lindsay during this hectic lockdown which on and off.
What Magic did Reena and Lindsay Cast?
The Magic is Music! We all know how Music is a Healing aid to all of us...
The duo is from Mumbai City, they host a Music show on Saturdays at 10 pm called "Saturday Date".
What made them kickstart this Gig during the Pandemic...
Reena and Lindsay got a call from their old pal Alrick who was one of the announcers of the All India Radio show "Saturday Date" back then a few decades ago. He brought back his nostalgia about the show he hosted and this triggered the duo. Lindsay finds the concept of Radio very soothing. Then the duo decided to Restart and revives this Saturday Date show during this Global Pandemic.
Reena and Lindsay Love for Music...
Their love for music is shown while they put on the show! They are a very small band of two. Lindsay sings along while playing the guitar and Reena sings incredibly and as well as keeps her audience very entertained with her monologue.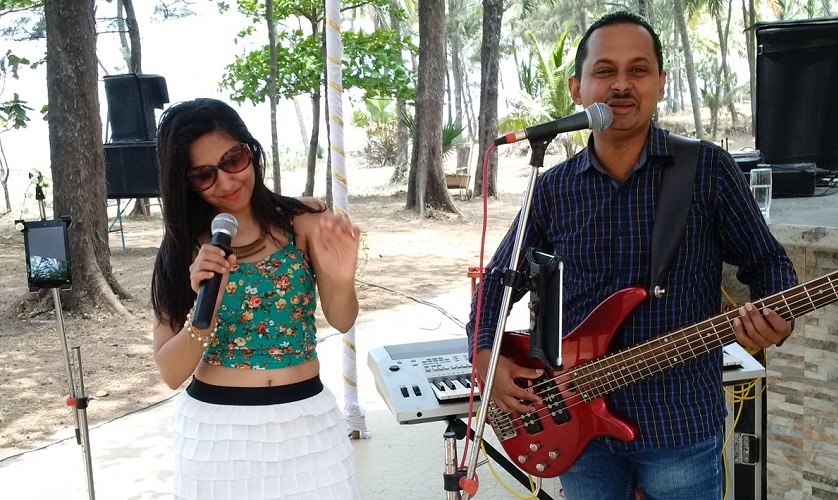 Songs they play will melt our hearts out... The Beatles, Dolly Parton, Elvis, and there's a dash of contemporary sounds too.
People send them song requests and they select from those requests and play for about an hour, but after seeing the outreach of the Saturday Date Show, they now prolong the shows for up to 2 hours and above... "An average of 500 requests is made every week. And what started as an hour-long show at 10 pm now extends past midnight." says the duo.
Listeners tune in from all over the world as they Live Stream the show on the Best Social Media Platform- Facebook. On Facebook, listeners can also see what others have picked and keep adding new songs. "We play the music that the radio show would have aired, we even play bits of the signature title tune, and Christians loved that show. Their children grew up with these songs playing at home, and the community has spread around the world — some families, now in five different countries, coordinate on WhatsApp so they can all watch together," says Lindsay.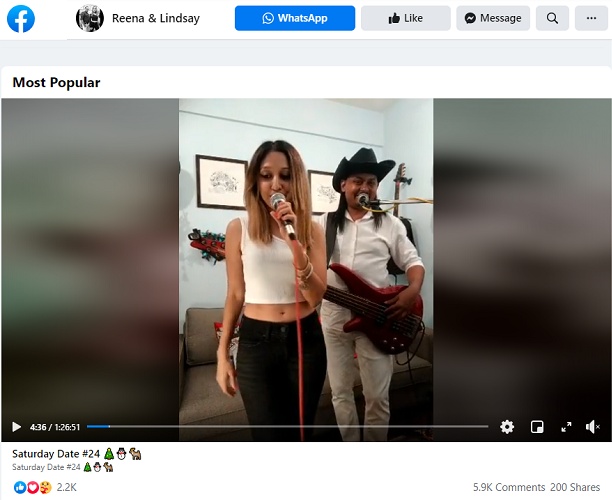 Comments on the Facebook page have people saying they clear out Saturday-night chores to hear the band, or make a party of it with drinks and terrace barbecue. This is what we exactly need right now amidst this gigantic chaos.
Reena and Lindsay play extraordinary songs that are not in the playlists of today's Radio shows anymore. In a typical gig, Reena & Lindsay croon their way from The Bellamy Brothers and Kenny Rogers to the '80s' power ballads and '90s' boy-band harmonies. Because of their remarkable playlist that brings nostalgic viewers, viewers are tuning in The Netherlands, Greece, Italy, Korea, Malaysia, Canada and many more countries.
One of their Viewer's reviews about Saturday Date...
Ricardo Pereira, 42, a Mumbai-based travel service provider, has been watching the duo live for years. He's now a regular at their Saturday Date. "It's a great selection of songs and Reena and Lindsay have a nice sense of humour between their renditions, It's not quite like a live show, where the crowd would be dancing too, but it's amazing to see the comments flying in as thousands of more fans tune in."
The Duo's partnership...
The duo's chemistry comes through too. Their professional and personal partnership goes back 20 years, to when they broke from a six-piece band to perform covers together. They've played parties, wedding receptions, hotel lounges, events and, before the pandemic, were typically booked for four to six nights a week.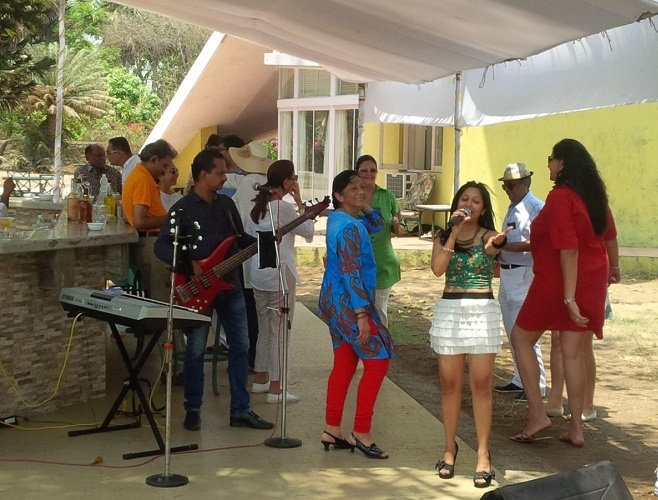 They treat Saturday Date equally as any other paid Gig...
Saturday Date is not their paid gig; they are doing it to turn away the blues of pandemic. They are creating a happy space with their music, and have impacted many families. The duo treats this show equally as any other paid gig, "Even though we're at home and the gig is free, we treat it like every other show," says Reena.
This Free gig has led to other engagements...
The free gig has led to paid virtual engagements too and offers to play to new audiences in Goa, Singapore, and Uganda. They would travel when it gets safer. Even when the pandemic ends, they are not ready to stop this, neither is willing to give up Saturday Date.
"We'll move it to a different day, perhaps play a Sunday brunch so people in different time zones can tune in comfortably, It's unbelievable how far and wide the show has reached. Someday, I'm going to write a book about it," says Lindsay.

CheckOut There Songs Here

Follow Them For More Songs