Meet the young photographer who is taking the internet by storm through his Paper mask pics.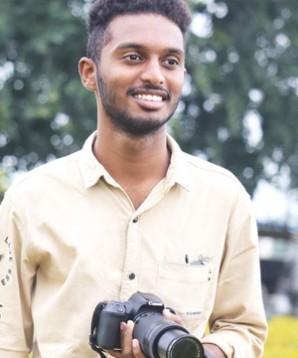 Can you imagine a painter with no canvas and colours? What if a drummer has no money to buy drums for himself? Can anything stop an enthusiast who puts his soul into what he loves the most? What if there's no canvas- a passionate painter sketches his art on anything he finds - the ground, the sky and even in the air. Any surface that evolves beats on striking can be a jazz drum set for an ardent drummer. Here we present the story of one such passionate person who embraced the love for photography but doesn't own a camera. He is Subhash Damera, a budding photographer from Warangal. Let's know more about him and his work.
Not Encouraged By Any But Stood Firm In His Decision:
Subhash, who was born on 25th May 2000 in Warangal, Telangana to Sampath Kumar who runs an SBI Customer service point and Mamatha Damera, a housewife is studying his graduation final year at Masterji degree college. He is an ardent lover of photography and has been trying to capture the beauty of everything around him through the camera lens for four years now. However, in a country where education and scorecards are given utmost importance and where secured jobs are preferred, it's not the mistake of the parents to warn Subhash about not being lost in his own world of photography. Subhash received the least encouragement from his family when he wanted to take up his passion - photography.
"Do you want to go to weddings and capture pics or what? Instead, get yourself a good job", Subhash recollects his mother's words. He still remembers the incident that happened during Ganesh Chaturthi years ago. Subhash wanted to click high-quality pictures of Galli ka Ganesh but he had no camera. So he rented a camera for a few hours. His brother commented if it was necessary to rent a camera for such a trivial thing but Subhash didn't take his decision back. He clicked pictures of the spectacular Ganesh Chaturthi event covering the wonderful sights of chanting priests and glittering lights. Once his brother saw Subhash's photography, he melted in his artistic fountain and there you go, his support for Subhash started since then. "Don't think of anyone and anything, go chase your passion", he encouraged his brother. Though Subhash doesn't own a camera even to date, his photography didn't stop.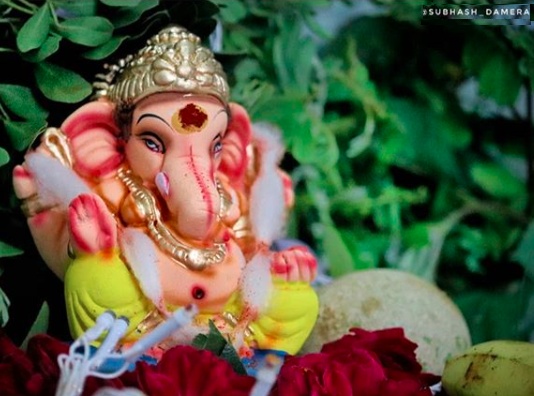 Beautifying The Beauty With Lens:
"Smile Like A King" the caption to one of his photographs in which a farmer is seen beaming smiles on a small log takes you to a different land. His another click wherein three individuals sit in front of a nation's flag conveys that every religion is the same. His beautiful capture of a bride with water dripping from her head during Haldi ceremony is sure to capture your hearts. The "No farmer, No future" picture truly reaches every nerve of the artistic heart. Everything to one side, there's another iconic click that captured everyone's attention and took the internet by storm. In it, a girl wears a paper mask and a small teardrop is spotted falling from her eye like a snowflake dropping from a leaf. One cannot understand its beauty if read, one must see it and feel every bit of it. A thousand violins greet your heart the very instant you look at the picture. All the other captures to one side, this single picture alone made Subhash famous overnight and the social media was stormed by this viral pic. He even started getting orders to shoot.
From Print To Digital Media:
Subhash's clicks became so viral that many of them crossed 9 lakh views over the social media. The New Indian Express paper and the Telangana Today have featured his clicks and wrote about him telling the world that passion is that, which takes you from nowhere to somewhere if taken seriously.
His parents, especially his mother who objected his passion initially started patting his back and are now encouraging him in those lines. "Everyone started supporting me. My dad started saying "My son is a good photographer and he is the best in it ". My friends started supporting me and helping me with shoots and all. I want to become the noteworthy photographer in my city.", says Subhash with bliss.
Everyone Has A Story Of Their Own - Never Drop The Pen:
Subhash, who wants to become the No.1 photographer in his city advises aspiring photographers to never give up. Let the world don't believe in you initially if you stick to your faith, the world shall clap for you at the end. When parents don't accept your passion, he says, it's out of fear of your own future and not anything else. It is in your hands, he says, to create faith in them that you can do something. So, Subhash asks the budding photographers to never give up on their love for photography come what may. This is the story of Subhash Damera, and we wish that his lens tell us more inspiring and touching stories in the days to come.

Follow His Latest Works

CheckOut His Tweets