The Indian-origin British Doctor Bhasha Mukherjee crowned Miss England.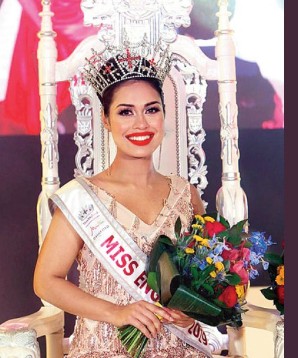 Bhasha Mukherjee is a 23-year-old, Indian-origin British who was crowned Miss England 2019. She was born in India, a Bengali descent, the Mukherjee family relocated to the Derby UK, when she was nine. She will now head to compete in the 69th Miss World Pageant in December this year.
Biography:
Bhasha Mukherjee is fluent in five languages Bengali, English, French, German and Hindi. She is a doctor by profession who has earned two different medical degrees; one in medical sciences and other in medicine and surgery from the University of Nottingham. Just hours after winning the Miss England title, she was due to start her new job as a junior doctor in a hospital in Boston, Lincolnshire. She also boasts of an IQ of 146 which officially makes her a 'genius'.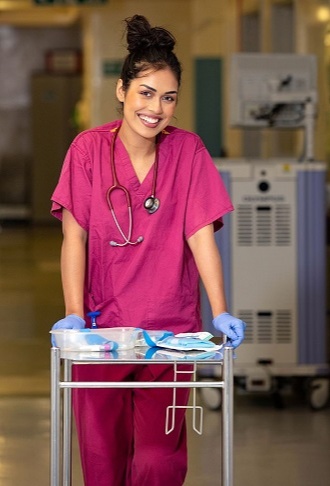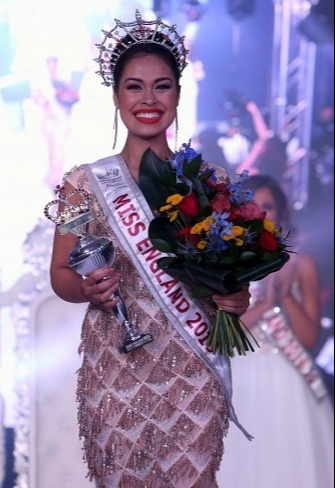 Miss England Contest:
In this year's contest was the first time introduced a 'make-up free' round where the entrants were required to submit their photographs without any makeup and without the use of any filters or editing.
The competition was earlier criticized for setting an unhealthy beauty standard and for being too critical of women's bodies. This year also saw a woman wear a wetsuit in the optional bikini round. The current Miss Lincolnshire competitor, Aysha Khan, also wore a wetsuit during the swimwear round.
Early Years:
Bhasha's recollects that her favorite childhood memory was with her grandparents back in India, which is very close to her heart. She said that she had learned so much from them in terms of being spiritual and it is that special faith in God which has helped her to remain grounded. Thus, it is her spiritual memories which are her favorite childhood memories.
She said that she was very grateful to God, firstly for her graduation; she graduated on July of this year with her medical degree, followed by her job, and now the Miss England title.
Career into Modelling:
Bhasha had been modelling for seven years now. She has previously participated in a couple of small-scale pageants in the past, and did not have a very good experience with the beauty pageants though. The director of Miss Asian face of Miss England, a sister pageant of Miss England, took a whole year to convince her to participate. Later she also won Miss Asian face of England. The purpose of that particular title was to encourage south Asian women, from other countries such as India, Pakistan, Bangladesh, and Srilanka to participate in such events.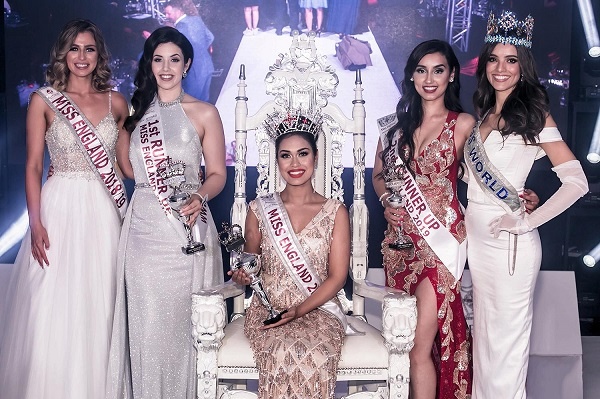 The aim was to give them the motivation and to help them to build self confidence to go ahead to participate in such platforms, as they are an ethnic minority in the country. Most south-Asians are not confident enough to participate in such events. Thus, the pageant's main purpose was to increase the diversity of Miss England and eventually, Bhasha was very proud of the fact that she won that title of Miss Asian Face.
After Bhasha won the Miss Asian face title, it had indeed become a great deal to represent England as her country, where she had received utmost love and support from. In an interview she had stated that it was a matter of pride for her to represent England. The support and good wishes that she got from Indians and South Asians from across the globe was mind blowing. Being the title winner of Miss England was a factor of pride for the Indians too. She went on to say that she was immensely proud to represent two huge nations and hence, it is a sure win for both the nationalities.
Message to young women:
In an interview Bhasha said that the message that she would like to give to young women out there is that it is very important to dream, and then work hard towards it, because if we do not have the inception to dream, then there is no chance for the dream to ever come true. So, do not ever stop dreaming, have the wildest of dream and then work towards it. It does not really matter as to what background you are from. One just needs to work hard towards your dream and make it a point to see yourself in that position one day, you can definitely make it happen.
As a winner of Miss England, she has bagged a holiday to Mauritius. We wish her all the very best for her future endeavors. Hence, with her achievements she will set a new benchmark and be a role model for many youngsters.