Teen Flutist Suleman takes home the Trophy at the 2017 India's Got Talent.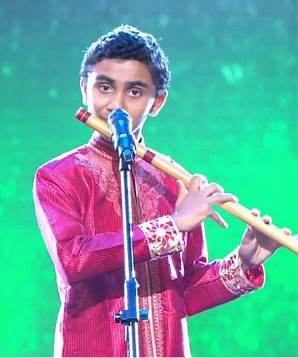 With a god given talent nurtured well one can make a fortune. This 13-year-old boy Suleman from Amritsar had the crowds swinging and the Judges dropping their jaws to his melodious flute tune at the 7th edition of India Got Talent.
The Show begins.
This teen didn't look nervous but in fact, was oozing with confidence and couldn't wait to give a scintillating performance. Mind you, he was up against some of the well known seasoned performers like Mallakhamb, Akash, Atharva, and Papai. Once on stage, he just focused on his job and the result was the proof. He was also modest enough to say that these professionals equally deserved to win.
It was no surprise to this little chappy and his parents when he was voted the best by viewers and declared by the Judges as a clear winner. Elated and exhilarated when he was presented with a cash prize of Rs 50 lakh, a Maruti Suzuki Celerio car. What was even more precious was the trophy engraved with the signatures of Kirron Kher, Malaika and Karan Johar. Though he cited AR Rahman and singer Arijit Singh as his idols, his best moment from the show was meeting Salman Khan during the actor's promotion of his latest film Sultan.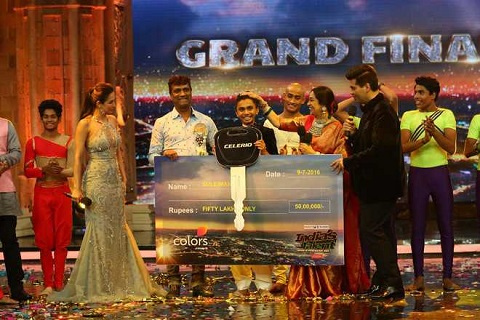 Family game.
When you have professional musicians in the family, the environment is already set. Waking up to the eminent flutist his dad's soothing music, his antennas tuned in automatically. While he took after his Dad, his sister followed in her mother's footsteps a harmonium professional.
At 3 he had a sharp ear for the pitch and pulse of the beat and as he grew older surely had the ability to recognize the intonation wavers and could subtle change to his embouchure. Repeated listening and learning a particular piece helped him improvise. Then there are the elements like articulation, vibrato, tempo which all collectively demand a lot of effort. Exposure to different types of flutes like Piccolo, wooden, alto, bass etc., has taught him to understand and appreciate. All this and much more is being taught by his Guru Pandit Hariprasad Chaurasiya, who undeniably deserves much of the credit for his winning the show.
Tricks of the trade.
Knowing how to play an instrument perfectly may not be a great deal, but being a great performer completes the game. Watching a flute player's Live performances, recordings, videos, taking tips from the audience from earlier shows can also be invaluable. Through this, one is able to judge what looks good on Stage including small detailing like attire, the gestures, reaction of the audience and judges.
Future holds.
Winning this has opened plenty of doors for this talented flutist who received instant offers and is busy performing in various cities like Ahmadabad and Bangalore. This teen though has a long way to go to enter the industry and make it a career, but he certainly is one guy to watch out for. But for now, Suleman is not too keen on jumping into the lucrative full-time profession as he would like to focus on academics.