An unconventional Queen of Fashion. Something new ?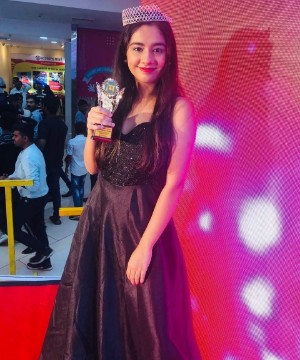 A Bizarre fashion Design.
Bizarre design fantasy of a little child Srishti– "A model walking the ramp wearing a duck hat/head-gear with a shirt and maybe a bikini". Such was an innocent child's wild imagination and seemed like an inborn yearning to be a designer. She giggles saying "I am one of those weird designers".
For this kid "Tom & Jerry, Chota Bheem" were too boring and uninteresting but kept flipping through the channels to stop at anything "Fashion". This grew stronger each day and she was at it round the clock... dressing up, looking in the mirror, modelling, cat walking, imitating models, watching fashion shows, serials, Fashion TV which became a serious addiction.
Teen Talk.
It was just not the childhood thing but strangely there never seemed a dull moment when the girl was creating visuals of designs wherever she was. Deep down the voice echoed that YES I will one day rock the Fashion industry. A little whisper, a little chat, a little discussion with her Mom when she was in class 12th about her vision, didn't get her very far. Like most moms she responded "Beta, 12th kar lo, fir to aish hi aishhai, fir jo marzikaro" which literally meant that just focus on your exams and we'll figure it out maybe if we have time. "So I did the very courageous thing what an Indian kid can do, I waited for exams to get over" said Srishti. Got done and over with the all important class 12th and finished with flying colours.
Just when Mom thought her little girl's passion was a passing phase - Shristi picked up her discussions and rather ended up in heated arguments and got her way and finally her folks thought after all either she will realize her dream if she so badly wants it or change her career path and hence had no choice but to concede.
Until in Pune –
All set on an adventurous career tour to the big education city of Pune. A bit nervous, a bit anxious, a bit apprehensive but never one bit confused about the choice. Dreaming, doodling, visualising all the time about being a designer with a difference and how she would influence others through fashion shows, events as a fresher and as a NOBODY.
Arriving in Pune to face the harsh reality and quickly realized that she is not the only one in the race and thousands like her land each day in the city; dreaming to make it big too. For a dreamer to make it a reality the only way is to comparing herself, work towards her daily goals and move on.
BUT - How, What, When ?
What ? A Blog was the first thing came to her mind. But why should people prefer her's over others Blogs. If Srishti had to browse through a blog what would she be looking for ? Yes, it would be how one feels about styles just like her, how to wear things that one can enjoy and are comfortable in, how to get them to feel just like what she experiences as a teen/student. It all technically boils down to on how one can influence others with your styles.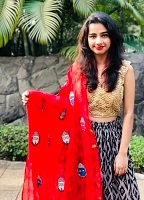 Check out her Blog for New Fashion Updates
First hand experience of being a student in the city of Pune. With students LOVE is always in the air and falling in and out of love is an ongoing thing. When in love and dating one must look good and impress your partner is the general rule. Out of love one must look even better to look cool and unaffected. Pubbing, partying and cafeeing are another must hang-out for students but many unaware so many places. So any which way "LOOK and FEEL GOOD" is the mantra.
Blog, Blog and Blog about the places visited, exploring new hang-out joints, clothes she wore for parties, dates, break-up time, events she went, fashion shows she attended, college, cafes and basically all what a fresh or a seasoned student wants to see, wear, go etc., This style of blogging did the trick – everyone was using her BLOG to look not only about fashion but everything a student would aspire and explore to do like shopping and hang out joints, travel etc., and attracting huge traffic on the BLOG has been her biggest achievement she admits.
I am a Winner.
"As the audiences grew in numbers I started winning some fashion contests and saw how people were being influenced by my styles" says with a smile. Srishti was crowned the Unconventional Queen and what an unconventional way to taste success
Follow your heart.
No matter what if you have a strong desire to do something in life and you have gagged down to it give it all you can and success will automatically follow. Not boasting or being modest but surely she has a long, long way to fight in this competitive fashion world. But one thing is for sure that nothing's going to stop Srishti and her followers will continue and increase provided she feeds them with good stuff. Parents support and encouragement goes a long way and they will provided they strongly believe in your belief.
Srishti has influenced thousands of campus goers and seems to be only getting better each day.