Slamming the society through Slam Poetry. What's this new poetry all about?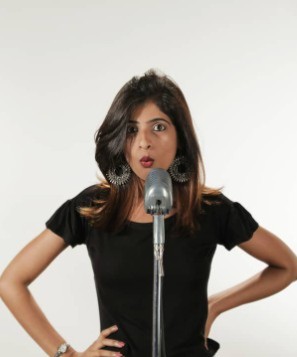 Ever heard of slam poetry? Okay! Ever seen people taking the stage, holding a mic and speaking volumes of truths that prick the society? They do it live in front of a massive group of audience and the most vital point is that they receive an instantaneous response from the listeners - love or hatred, thumbs up or screwing down - that's slam poetry which is basically performance poetry that combines the elements of writing, competition, and audience participation.
"There is no shortage of books in this world Baste is a little less There is no shortage of pain in this world The heart is a little less."
How do the above lines sound? They are thought-provoking, aren't they? That is what Pooja Sachdeva does exactly with her words. Her words are sharp arrows that hit the right target at the right time. Listen to her words and she highlights the harsh realities and presents on the ramp, the tough-to-accept mindsets of the society. Her voice roars at the stereotypical thoughts of 21st-century humans. Her words straight-forwardly condemn the patriarchal society's illogical doings. Her poetry highlights the rough truths that are hard to accept and pokes conservative hearts.
Pooja Sachdeva is a modern slam poet who questions the notions of the patriarchal society with her poems. She is a great storyteller, passionate poet and undoubtedly, a social media influencer. Her performance poetry that circulates widely on YouTube is a treat to watch making her the youth sensation.
Pooja Sachdeva has worked as a Radio Jockey for five years and is now associated with Reliance as a media professional. With her shows running on television and OTT platforms, she was also featured in the Adidas campaign, The Week magazine, Scroll.in, Lokmat etc. A few of the gems from her pen include One-sided ishq", "Haan main characterless hoon", "Bloody Women", "Cinderella", "Jaadu ham sab ke paas hai", "Aankho aankho wala pyar" and "Kis baat ki jaldi hai".
When you look at her poetry, they deal with every injustice that prevails around. But why is it that Pooja picked her pen to target the unethicality? Pooja says that in her life span of 30 years, she has faced everything right from harassment and molestation to losing loved ones including her father. This lady of strong voice was passionate about her dreams even as a kid. People used to say that she gets everything that she puts her mind to.
Pooja always dreamt of becoming an RJ in Delhi but she has got offers from every city other than Delhi. Post that, she has gone into clinical depression for around two years. However, she didn't lose hope even in those darkest days. She knew what she was going through, she understood that phase and to pull herself out of the darkness, she chose a pen as the panacea. She thus wrote a book named "Tharki Ladki" that dealt with women's sexuality. "My life has been a rollercoaster ride.", she says. When life showed her the graveness of the society that subjected her to evils like racism, sexism, gender bias, she turned the frustration in her into aggressive poetry. "People ask me why my writing is so aggressive and my answer is that I chose my pen to vent out my frustration at the society.", she says. She says that her writing is a reflection of what she is as an individual and what her beliefs are.
"My first poem that went viral was called "Haan, main characterless hoon" and it dealt with women safety. I have picked up fights for other women when I realized they were being harassed.", she says.
Pooja, who donned multiple hats as a music manager, an RJ, a media manager and now, a poet, is surely the voice of countless voiceless people out there who are suffering injustices every day. May her poems reach every corner of the rotten society and slap it harder. May her words bring about the ability to question and oppose the mishappenings in society.

Follow Her Work

Like and Subscribe Her Channel