Give him an ordinary picture and see it turn into an iconic mythological frame - a graphic artist's magic is mesmerizing the world.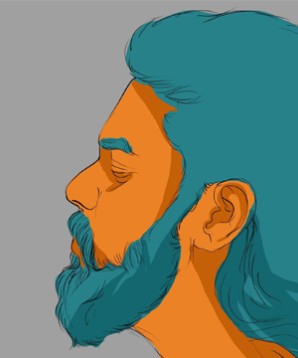 Art has the power to give the earthly, a status of eternity. An artist envisions flowers while looking at the thorns, paints a rainbow amidst the lightning strikes, captures rising wings from among burning weeds and has the power to bring to life, almost everything inanimate. Give him a mud pot and he will gift you an emerald case, give him some bricks and he will gift you a castle. Whatever you place in an artist's hand, it manifolds into what you can never even think of. An Indian artist, who has got the power of art filled in every inch of his body, is leaving the world jaw-dropped. Let's know more about Karan Acharya, a Bengaluru based artist and how he has been being the talk of the Twitter and Reddit towns in the recent times.
A Daring Attempt To Break the Conventional:
It was 2015. A picture of "Rudra Hanuman" in saffron with black outlines started appearing on car windscreens, window displays, phone covers, t-shirts and has travelled all over the country. The man behind this iconic mythological design is Karan Acharya who designed this on his friend's request for an annual temple festival. The image went viral once it was posted on social media and went on to receive appreciations from everyone including the Prime Minister, Shri. Narendra Modi.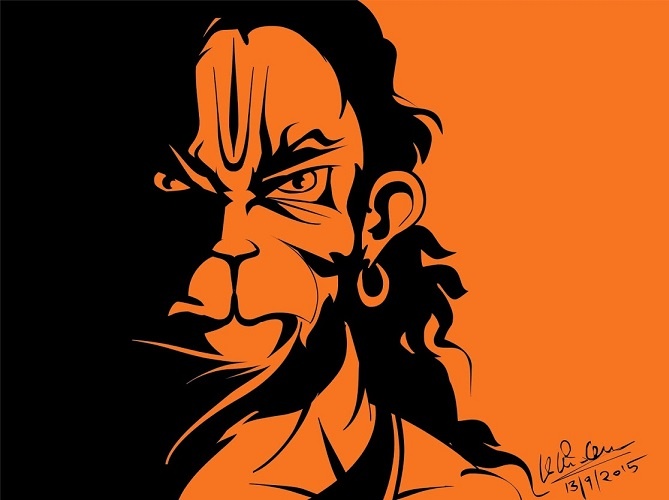 If it's the regular Hanuman image, it wouldn't have received much prominence but as it has redefined the pre-set visualization of Hanuman, it created waves of sensation. Not just positive waves, a rage of high-rising terrible waves also engulfed this artist. The poster left fireballs burning in the bellies of the leftists. His artwork was criticized attributing Hindu militancy to it. The intensity of this criticism that was backed up by a few politicians too was so high that even those Uber drivers who had this poster stuck on their cabs received 1 star rating. But, all such criticisms were washed away with the ocean of appraisal tweets and the support received by the Prime Minister, Shri Narendra Modi. During a rally in Mangaluru, P.M. Modi said, "I want to applaud artist Karan Acharya whose Hanuman portrait has captured the imagination of people across India. This is a laudable achievement and is the power of his achievement, talent and imagination. This is the pride of Mangaluru."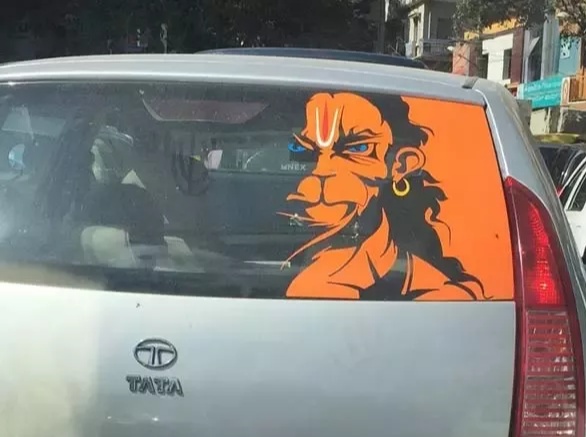 An online t-shirt portal has obtained permission from the artist and has commercially launched t-shirts featuring the image. NO ONE CAN STOP THE EVER-RISING ART FLOW. Isn't it?
Immersed Into The World Of Design:
An outstanding graphic designer who is stealing the hearts of everyone globally, Karan Acharya is a creative director at Paridhi Media Works. He has graduated from Rhythm Art School in Kasargod and pursued 3D Design at the Institute of Thrissur in Kerala. This Bengaluru based photo editor has close to three lakh followers on Instagram who immerse and melt into his colourful and magical portraits of the ordinary. Karan Acharya draws his inspiration from Raja Ravi Varma and he grew up listening to the stories of Ramayana and Mahabharata since childhood. As a result, these reflections are seen in his artistic works and his interest in using mythological characters for his graphics delights every heart.
Here's A Peep Into His Iconic Works:
The morning of Ganesh Chaturthi, "I woke up to a WhatsApp status update and was mesmerized to see little Lord Shiva and Little Amba smiling along with a white idol of Ganesha between them. As I further checked, the image is a re-creation of the portraits of two kids sitting amidst the dusts of an idol-selling tent" said one of the receivers. The pure smiles and innocent faces of two dusty kids are moulded into divine characters. Bliss!!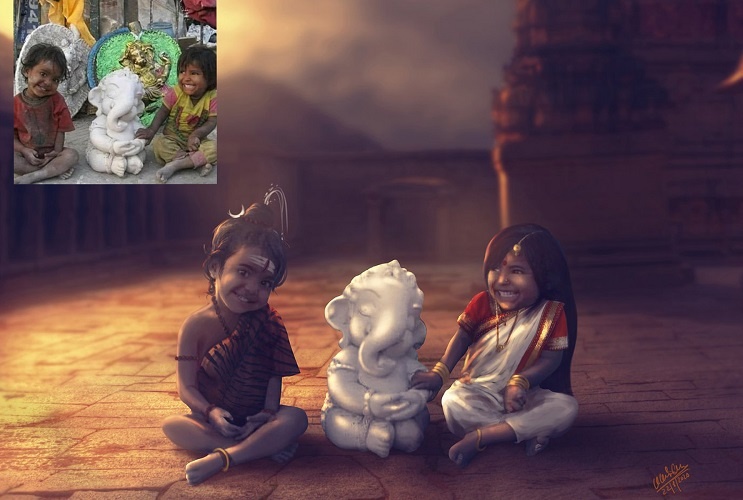 Prior to this, a small family of three, ordinary than the ordinary, was re-modeled into the family of lord Krishna with a large palace in the background and that image took away millions of hearts worldwide. People remained dumb struck and had nothing to say apart from WOW.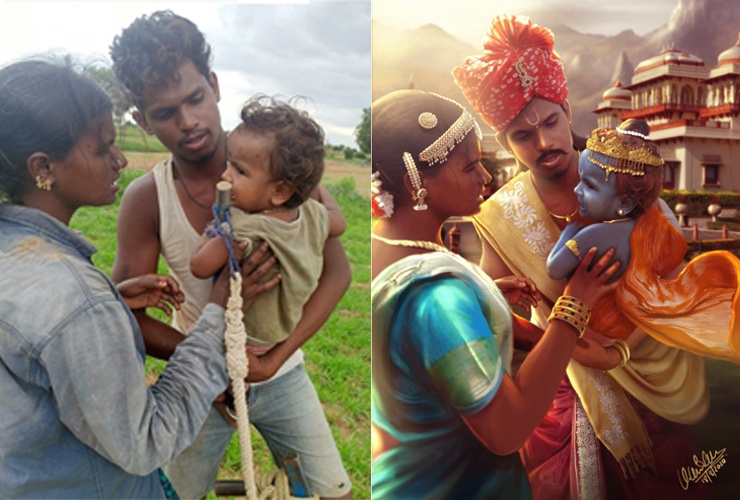 A social media user took to Twitter and gave Karan a task. He sent Karan a picture of a cloud in the sky and asked him to remodel it. On his request, Karan set his skills to action and there emerged the revered Hindu god, Lord Ganesh delighting his followers yet again. While these are just a couple of what he did, one can dive into the ocean of his art works by following his Instagram account.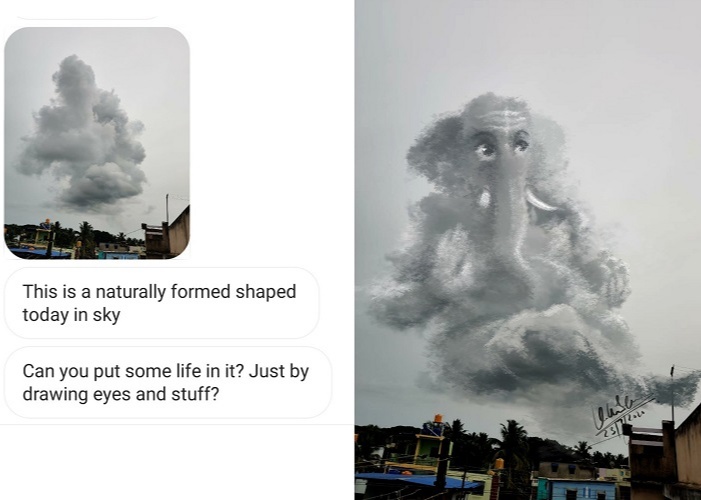 Art That People Ask For
:
While photographers, graphic designers, and other artists choose famous subjects to work upon, Karan picks up subjects as ordinary as a kid playing on the roadside, a baby girl lying in cradle, a tree in a park, or a cloud in the sky and creates pieces of eternity out of them. He invites requests from common people and designs their taste. He receives requests from people either as emails or through social media who give him different concepts that seed in their minds. Acharya takes up the challenge and finishes it with ease without missing out even on minute details. The subject forms the main focus and then a complete re-modeling of the original image is achieved through his vision. Some of these pictures were recently shared on twitter.
A Skill That Has No Bounds:
From mythological characters to historical figures, from a toddler to a flying cloud - anything and everything is transformed into something that no common man can ever think of! The vision of Karan is so intense that the viewer is left with no option but remain stagnant with widely-opened eyes. Very few are gifted with spell bound talents and out of them only one or two can make the best use of their innate abilities. We wish Karan Acharya long years of artistic life- a life which he can very well put into transforming lives.

See His Tweets

Follow His Works

CheckOut His New Works