Musician by Choice, Software Engineer by profession and Super Chef in the Making.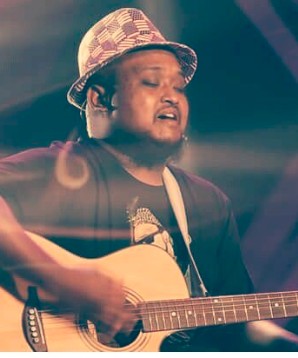 A Mizo boy, even when he was little, knew he was connected to MUSIC by instinct. As we know that North-Easterners all feel that way and needless to say they have it in their blood. To some extent, most agree to that.
Vinayak's parents didn't mind his love for Music but were very keen that he earned a professional degree. Nothing wrong with this, as they believed that with MUSIC alone, one cannot make a decent livelihood. As a child, he didn't pay much heed nor understand the importance of academics but went about doing his school routine.
School Choirs are Fun!
School Choirs is where it all started and at St Paul's Higher Secondary School, Aizawl, he joined the Choir. Singing and playing the guitar seemed pretty easy & natural and it totally took him into a trance.
Christmas season, especially in Mizoram it is like partying all the time. Carolling from house to house, to Aged Homes, to the underprivileged children's orphanages was the best part. What was most satisfying was to see the SMILES on the elderly and the JOY amongst the kids. Till today he does a couple of charity shows to bring these SMILES back and he is grateful to the school, his parents and the community for imbibing the habit of GIVING.
Music of all sorts he listened...
He loved the western music and was inspired by Deep Purple, Backstreet Boys etc., He drew his inspiration from John Meyer, Guns and Roses to name a couple. It's also fascinating to know that the traditional Mizo music has more than a hundred classifications. The themes revolving around Love, Nature, Surroundings, Hunting etc.,
He continued to learn, listen, enjoy music but at the back of his mind could hear his parents' voice saying.... That music alone is not enough !!!...and was back to preparing for his Engineering course. Of course, since he was a bright kid sailed through admissions to get into one of the prestigious Engineering colleges – N.I.T in Karnataka. His parents and family were ecstatic as their boy was doing exactly what they wished.
Mingling with the Localites.
He was well aware of the grilling syllabus of the Engineering course and was quite prepared to burn the midnight lamp. Initially felt odd with everyone speaking Kannada and Tamil but did manage to find a few Hindi speaking kids. He realized that it was better to join them if you can't beat them. He made concerted efforts to learn Kannada, enjoy the local cuisine including the BY-TWO coffees, the dosas, idlies and soon felt at home.
At the campus, he became very popular as he would entertain the students at every party and get-together with his singing and the guitar. He was part of the college Music group and bagged a few prizes during inter-college competitions and at fests.
Academically Brilliant?
He never neglected his studies and always ensured was a brilliant student. Time flew by and before he could say, Jack Robinson, he was coveted with the Engineering Degree which his parents treasure more than he does. He picked up a job as a software Engineer but his first LOVE will always be Music.
Love was in the Air.
When in college, Vinayak started dating and still believes that it was the best part of his life as everything was going right for him. His lady love beside him, studies going great guns and his weekend performances earned him enough to have a bit of fun.
Did ALL that love fly out of the window?
Yes, it did... Their relationship took an abrupt ending and he just couldn't come to terms with it. As we all know that breakups are heartbreaking for anyone, Vinayak was no exception to this syndrome. He still has a great regard for his first love.
Brooding must end.
He had to vent out in order to overcome this break-up. The lonely times had to be replaced with something and that's how he started composing songs and scribbling some lyrics. Remembering the Mizo music that influenced him as a child, he composed songs revolving around surroundings. This brought him a lot of peace and solace.
"KAAPI" his composition (in Kannada means Coffee) which is such an integral part of the people of Karnataka took people by surprise. They were appalled by his talent and that he could find a way to connect with people. He truly won the hearts of Kannadigas....
Desperate for a Good BREAK.
When he heard that auditions were going on for a TV Reality Show "Sur Sagar", he just decided to take a chance. He was surprised that he was chosen and then on it is history. He was the award winner of "Sur Sagar" 2015. He was part of the India's Got Talent Show. Now, that he had gained popularity, thought it would be easier to take up MUSIC as a full-time profession.
Simply Enjoy Karo!
The audience must relax and Enjoy the Music he says. Feeling the pulse of the audience is probably the key to success. Before and as the show progresses, he gauges and quickly adjusts accordingly.
Hidden Talents
This software engineer has a whole lot of other interests. He loves to bake and cook which relaxes him, he loves to travel and meet people from varied backgrounds. We may probably see him as a Master Chef in the near future.
It's a tricky business.
Musicians are plenty in today's world and especially in India its a craze to be a musician. It's a tricky business and only a handful can make it and sustain. An alternative profession is necessary.
www.bookofachievers.com hopes this young man continues to enthrall the audience with his performances.