Miss Trans Queen India is a strong contended for the International crown.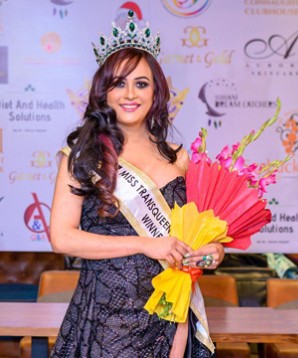 Males carry their own set of rules and females have their restrictions to live in the society. People often struggle to fit into the conventional constraints and pressures that society lays on them. Society, overall, forgets that it is a summation of population. While males and females strive to satisfy the stereotypical gender roles, there is this third community, who are not even allowed to fight. Neither they are considered a part of the society nor are they given any opportunities to survive in the world outside. Transgenders are made to live a life of disgust, guilt and distress. They are subjected to humiliation, insult and are constantly bullied for what they are and how they are. Though changes in lifestyle, technological advancements, and amendments in-laws are making their way to brighten the lives of the third gender community, things are still not inclusive on a real-time basis. Born a biological male, a Trans woman who was mistaken to be a gay by her mother and was constantly bullied by everyone around made her way from being a victim of societal pressure to become the Trans Queen India, 2020. Let's read the story of Shaine Soni and I am sure this is going to serve us a great deal of inspiration.
Was Never A Part Of The "Normal" Community?
Shaine was born biologically male. As she grew up, she imbibed and displayed feminine qualities right from mannerisms to fashion sense. This aggravated her mother's fury who thought that she is gay. Shaine faced severe disgust of her family members, relatives and friends for being what she is. Shaine struggled with "What's wrong with her?" question and the answer to this, she could only find out at 17 years of age. She understood everything about gender identity and could make out how rigid society is to accept this fact. So, she resolved to leave home and live life on her terms. She then joined NIFT to pursue her education in Fashion. During her graduation years, Shaine opted for hormonal therapy to attain physical transition. Even at NIFT, she didn't get any support from her friends. However, she travelled as a lone fighter and in her final year, she happened to win a reality show. This gave her an opportunity to intern with a Hong-Kong based trend forecasting company, WGSN.
A Brand Of Her Own:
Shaine returned to India after completing her internship and started her own brand, "Nude", a start-up that made leather lingerie. She felt that she wants to set her foot in styling as well, for being designer confines her just to a small box while being a stylist opens a world of opportunities for her to travel and explore. Thus, along with managing her studio in Shahpur Jat in Delhi, she also started styling. She also set to blog her journey and stories thus becoming a designer, a blogger and a stylist.
I have a strong inclination for art and craft. Also, owing to the turmoil I experienced in my growing up years, I found comfort in fashion and I felt I will be accepted in this industry, says Shaine.
Being the Trans Queen:
During her journey as a stylist, she met Reena Rai, the organizer of Miss Trans Queen India, 2020. Though Soni was associated in extending her support to Ria in the previous events, she never took the centre stage. Due to pandemic, as Ria could not organize the event, she wanted a perfect representative of the LGBTQ+ community from India to be sent to the world stage. For her, Shaine turned out to be an obvious choice.
The pageant isn't just about beauty; it's about empowerment and inclusion. If there's no competition being organized, I should make sure that I'm sending a strong contender, someone who knows the value of becoming Miss Trans Queen India. She is someone that a lot of people will draw strength and inspiration from, said Ria.
Shaine also found this as an opportunity to share her true identity with her family while becoming a ray of hope to the LGBTQ+ community. So, as an advocate of Trans rights and the LGBTQ+ community, Shaine found herself as the voice of these unvoiced. Thus, this woman of multiple hats accepted the crown and will represent India at the Miss International Queen Pageant to be held in Thailand next year.
Kudos to this 33-year-old fashion designer, stylist, image consultant, Trans rights advocate and Miss Trans Queen India who showed us all that no matter what society throws at you, you can still walk forward without having to put your head down. The real "head-down" moment comes when you cease to walk ahead. We wish Shaine Soni, great success in all her future endeavours.

Follow Her Works