Meet the first-ever medico of Kerala who won the Miss Kerala 2020 title.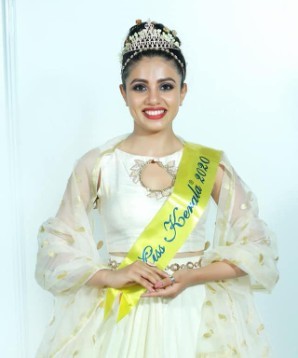 She was just a medical student until 31st January 2020 but the moment the results of Miss Kerala 2020 beauty pageant were announced, she became Miss Kerala 2020. Ernakulam-based MBBS student, Erin Liz John surprised her friends, relatives and all her acquaintances when she bagged the title and the celebrations have been touching the sky ever since the title announcement. Let's get into the beautiful world of this girl who became the first-ever medico in Kerala to win a beauty pageant.
Medicine and Yeah, Fashion Too:
Erin Liz John hails from Ernakulam, Kerala. She is currently pursuing her MBBS at MCH, Kozhikode. Her parents are both doctors. Owing to their profession, they worked in different states and thus Erin's schooling happened majorly outside Kerala with her high school education at Kochi Navy School, Intermediate from Kanjirappally St Anthony's School according to the reports. As a child, Erin was inclined towards Fashion, modelling and acting. It could be because she belonged to a family of doctors, pursuing medicine also was her passion. Though she always worked relentlessly to join MBBS, she also strived to achieve her dreams of getting into the Fashion industry.
Miss Kerala 2020:
Owing to the COVID-19 pandemic, the beauty pageant, Miss Kerala 2020 was organized online. Auditions were conducted in two stages and for the final round; there were a total of 50 contestants out of 200 versatile contestants. The finale had four rounds. Armana, the Indian ethnic round, in which the beauty of mind is evaluated; Basque that looks into the cocktail evening appearance of the contestants; Keraliyam that emphasizes on the traditions of Kerala were a part of them. Erin won the hearts of the judges with her magnificent performance and stunning looks. Styled by Arunima Gupta, a West Bengal dancer who provided the costumes and jewellery, supported by the makeup artist Santosh from Kochi, this medico was crowned Miss Kerala 2020.
Congratulations and Celebrations:
As soon as the news of Erin's victory was aired, everyone was amazed.
"Since the competition was online, most people did not know about my participation. Friends were amazed when they saw the results from the news," Erin said. Kozhikode MCH celebrated her victory by putting up congratulatory posters. Sweets were distributed and Erin received a grand warming welcome post her victory.
To all those who keep saying, "Hey what have you studied and what are you doing now?", Erin's victory is an answer. It doesn't necessarily mean that an engineering student should become an engineer and an MBBS student should only work as a doctor. It all depends on the person's interests and passion to perceive their fields of love. Our team wishes Erin, whose current focus is on graduating as a doctor, great success in whatever she chooses to do in the days to come.