TIGP 2021 selects Mangaluru s fashion stylist as Miss Glamorous Fashionista.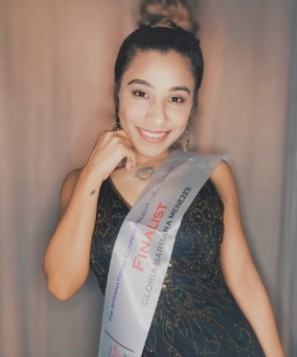 "Courage is grace under pressure!"
"Life is beautiful if u start looking for the good in everything"
"We can increase charitable giving by creating a culture of giving."
"Pay attention to every bite you take , eat more proteins and less empty carbs!"
"Growth is Painful, Change is Painful, but nothing is as painful as staying stuck somewhere you don't Belong!"
When you read the above lines, you must have understood that they are from the heart of a determined, persistent individual who loves to lead a healthy lifestyle, who is kind and generous, and who loves to take pressure with pleasure. This is the glorious story of Gloria Barbara Menezes, Miss
Glamorous Fashionista from Mangalore.
Gloria Barbara Menezes is thirty years old and hails from Bejai, Manguluru. Her parents are Lancy Menezes and Victoria Mabel Menezes. She completed her schooling at St. Agnes College, Mangaluru and went on to study at St. Aloysius College, Mangaluru. She then pursued her higher studies in Auckland, New Zealand. Gloria is an entrepreneur and a Fashion Stylist. She is a kind-hearted individual who loves pets and is a fitness enthusiast.
The Prestigious Event's Glorious Face:
The International Glamour Project is an international pageant based in Miami, Florida. It is a unique event that aims to provide equal importance to resources and skills of women of all ages and walks of life. The selection criteria are not based on the outward standards of beauty but also celebrate inner glamour and accomplishments of women. Thus, this project identifies women with potential and allows them to achieve their dreams by giving professional training and constant mentoring. This prestigious project comes with three unique titles targeting different age groups. Miss Teen India, Miss India and Mrs. India allowing room for age inclusivity and fairness. The International Glamour Project Miss India 2021 event was held on the 3rd of September at Marriott Hotel in Mumbai. When Gloria Barbara Menezes came across this pageant online, she applied to it and represented Mangaluru in the event at national level. She has also been nominated for four subtitles and made it to the top 15. When Gloria shared a clip of her ramp walk on Twitter, it definitely gave goosebumps to the viewers. Her grace and confidence caught the jury's eye and she best deserved the title of Miss Glamorous Fashionista.
Grateful To All Those Who Were With Her:
Gloria, after winning the event, expressed her gratitude to all her mentors for their constant support and extends her thanks to judges and jury members, host of the red carpet event and the entire team of TIGP. "It is such a great platform to empower women to become confident and it taught me that there is more to women than beauty, it taught me self love and to be the best version of myself. I am very honoured to have received this title as it has always been my passion," said Gloria.
Carving Her Way To A Glorious Future:
Gloria said that her unique sense of fashion is her strength. With this in her pocket, she said she is looking forward to establishing herself as a personal stylist. The deep spiritual connection she has and her inclination towards yoga helped her in maintaining healthy lifestyle. She said that yoga is a very important part of her life. In the month of December, she said that she will take up Yoga teacher training course in Rishikesh.

Follow Her Work