The Mangalorean born Australian Lawyer made viral news by her sensational victory at the Miss Universe – Australia 2019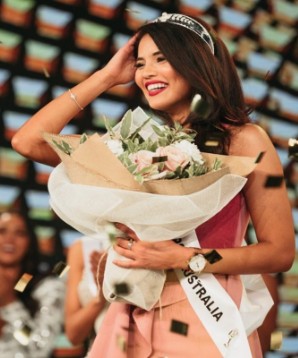 The Mangalorean Beauty...
Mangalore is known to churn out some of the most beautiful models and actresses. Priya Olivia Serrao a 27 YO Indian Australian is one of the recent Pageant winners who has made Mangaloreans and Indians proud by bagging the Miss Universe – Australia and will represent Australia in the upcoming Miss Universe 2019.
What motivated Priya?
It's one of the biggest platforms where the title-holder gets an easy access to advocate social issues globally. Since Priya believes and supports diversity in the society; Pageantry definitely is the best way out she thought and why not give it a try?
Little bit about Priya.
Born in 1992 in a remote town Belmannu in Udipi District of Mangalore moved to the gulf with her parents as a kid. At 11 she migrated to Australia and now an Australian citizen. Priya is a private person and has been mum about her parents and even who she is dating and everyone keeps guessing through her insta pics. Whatever the case may be Priya's stunning looks and personality attracts everyone.
No big Secret.
Priya's academics and profession is no secret at all. She has two university degrees: one in Law and the other in Arts. Priya was to be admitted as a lawyer to the Supreme Court of Victoria later this year in 2019 and is working as a Policy Adviser to Government of Victoria. While Priya loves her profession she makes the best use of her leisure time travelling, hiking, playing basket ball and reading her favourite mystery novels.
Road to Success
First winning the National Finalist on March 10, 2019, was an ecstatic and a thrilling moment. The Bali trip of the National Finalist was something to write home about she adds. The different Hotel locations each one was so beautiful with exceptionally gorgeous rooms, super views of the blue waters, the healthy yoga sessions and the sumptuous and mouth-watering cuisines, the warm and courteous people everywhere, the team building activities, the friendships created amongst participants and last but not the least that each photoshoot from swimsuit, different attires, the locations was simply unexplainable. All together these memorable moments will always remain dear to Priya.
Miss Universe Austalia 2019.
On 27th of June 2019, even Priya was surprised and shocked when amongst 28 finalists was declared the Miss Universe Australia when hundreds watched her live at the Sofitel Hotel in Melbourne . Never in her wildest dreams did she expect to win so didn't even care to invite her family or friends to the Pageant.
With the Ramp being a new experience, she had to stay optimistic, confident and keeping in mind the doors of opportunities open if she won and give it her best shot. Eating the right food, doing Lagree at K-kore in Melbourne (pilates on steroids) to make her feel relaxed, exercising, getting the hair-dos right, yoga, swimming, etc., was indeed a pleasurable and enjoyable journey leading up to the Pageantry. All the preparation paid off and the rest is history.
Laughable moments...
Priya as a child would dream of being an adult and go to the university just to avoid wearing an uniform and thought it would be wonderful to create and wear new outfits each day; BUT now the reality is that there is no creativity works at 6 a.m. when she needs to rush to work and its pretty much like going back to school..laughs Priya. In another instance Priya with her boyfriend drove for a few hours to the 2nd highest mountain in Victoria to was pleasantly surprised to find the snow covered mountains and filled with skiers as she had not realised it was Winter. Opps ! Laughing at herself they both returned to relax at the their AirBnB...
Watch out for this beauty......
All eyes will be on the Indian Australian Lawyer when she will compete with winners from across the globe at the Miss Universe 2019 in December in South Korea. Is it going to be a Repeat performance of Miss Universe Australia ? One has to wait and watch !!