Magic Man sets Guinness World Record. Enthralls children in hospitals.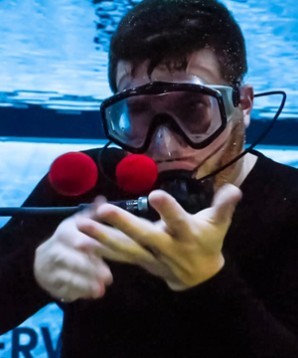 "Magic on the land, Magic in the air, Magic under the waters, Magic everywhere."
Well. Not a nursery rhyme though. If you read this story you shall also sing these lines with me. Magic! Magic is fantastic and magical indeed! When there's a flower bouquet popping out of an arm sleeve and when a bird spreads its wings slit opening a coin, cheers of the audience and light in their eyes is as magical as the act itself. When magic is performed on the stage, it invites huge astonishment. What if the magic tricks are performed in the air? Under the water? In a tunnel? We know you are shocked.
Be ready to know that it's not a fantasy but a man from England brought it to reality. He is Martin Rees and let's enter into his magical world to know how he has made the Guinness Book of World Records his permanent ally. Every time he sets a fresh record and breaks his own, the Guinness Book creates a page to showcase his achievement. Sounds interesting. Is it?
One... Two... Now Five:
Martin Rees who hails from Hertfordshire, England was allured towards magic as a child and has been practising it since he was just four years old. Today, when he set his fifth Guinness world record, the globe recollected his magic stunts. He set a record for identifying most cards in one minute, making it to 18. In his 28th year, in 2016, this magic master set another Guinness World Record for performing most magic tricks while skydiving. After taking off from the Old Sarum airfield in October, Martin performed this feat. He took five minutes on the whole to perform the stunt. But when he took his position and opened his parachute, he just had three-and-a-half minutes left to perform during the freefall. He performed 11 magic tricks in this attempt. This feat was verified with the help of footage taken from Rees' helmet and by another skydiver. On account of the celebration of Guinness World Records Day 2016, Martin accomplished this feat to raise money for a charity called Spread a Smile, which provides entertainment to children at hospitals including the Great Ormond Street Hospital.
On 5th May 2016, most magic tricks performed in a wind tunnel in three minutes which was achieved by Martin Rees at Airkix Indoor Skydiving in Milton Keynes, UK. The wind tunnel was operating between 122 mph and 144 mph throughout the attempt that was overseen by two members of the Magic Circle.
Martin also holds the record for most magic tricks performed blindfolded in one minute - he performed 24 magic tricks by blindfolding himself.
The Fifth And The Toughest:
Martin set his fifth Guinness World Record recently for performing the most tricks underwater in a span of three minutes. He performed 20 magic tricks under the water. This Hertfordshire man went into the pool in the Underwater Stage at Pinewood Studios in Iver Heath in order to perform the tricks. This record was broken after more than a decade by doing 7 more tricks in the same span of time. Water was a big mystery to Martin as it slows down at any moment. Moreover, the magic tricks solely depend upon the hand movements. The hands should move swiftly even before the eyes of the audience could track them. Thus Martin found it extremely challenging as compared to his previous feats.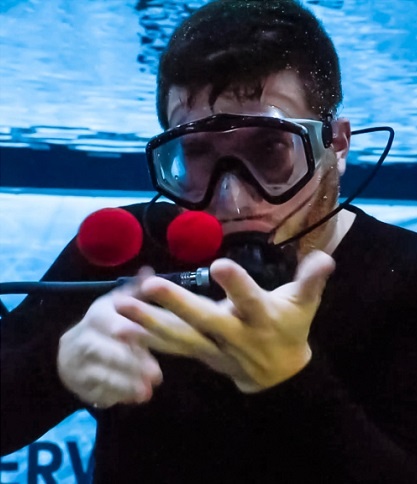 Motivation That Drove To Break the Record:
When Martin was a young boy, he nearly drowned in the waters since when he had a fear of being underwater. As years passed and as he kept setting records for performing tricks in unique and adventurous ways, he motivated himself to overcome the fear of underwater and perform tricks deep down under the water waves. This self-motivated man thus achieved an incredible record by doing 20 tricks in 3 minutes under the water. Along with this, the empathetic side of Martin also played a vital role in pushing him to do this task. A charity named Spread a Smile that strives to provide entertainment to the hospitalized children became the do-factor for Martin. Martin dedicated this record to the children and the families of Spread a Smile who keep inspiring him each new day.
Magic Man with Mighty Heart:
Martin is closely associated with the Spread A Smile charity and is deeply connected to its cause. As he hasn't been able to visit the children at the hospital due to the coronavirus pandemic, he has been organizing online shows for them once a week.
This witty man with multiple Guinness World records to his credit is surely a magic man in the lives of children.
Holding different world records feels incredible and gave me a unique identity as a magician, said Martin.
Each record is pushing me out of my comfort zone and I am learning and enjoying it all, he concludes.