A lady auto driver's life depicted in the short social issue film "Auto Driver" bagged the best documentary award in California.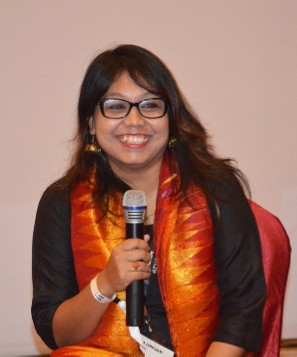 Meet the producer.
The lady behind this amazing 30-minute production is Dr. Meena Longjam, a communication graduate from Madras Christian College under her Film production unit Airameen Media. Her unit began producing short documentaries in 2015 and are based on social issues and women empowerment. She is also a freelance broadcaster at Doordarshan in Imphal, a Scriptwriter, and a Narrator.
Woman of substance.
She is a single mom with two kids, struggling to find time to pursue her professional ambitions. Having seen the plight of women in the conflict-torn areas in Manipur, she wanted to bring out the real-life issues and what better way than through visual media.
Breathtaking Idea. How?
On a day at Pangei Bazaar, Meena happened to notice a woman in a green khaki, standing next to an auto waiting for before she could say, Jack Robinson, the woman drove off with the passengers. The flashes of this vivid strange sight led her imagination wild and she started searching and thinking about the life of this woman.
Making of the "Auto Driver".
A glimpse of all that she saw for a few minutes about the Lady auto driver, made her come up with the Film Auto Driver. She thought it would be the best way to promote freedom of expression of women's struggles for everything from being heard to gender rights. Laibi the woman auto driver who gives up her daily wage job to run an auto against the norms of the society and to support her ailing husband and her two children's education. The trauma she goes through with discrimination of passengers and being looked down upon lady drivers.
Awards galore.
"Auto Driver" in 2015 won the national award and in 2017 bagged the award in California. A Jury Special Award at the premier at Signs Film Festival in 2015. In 2016, she was conferred the "Young Achiever's Award" by Dalmia Bharat groups in recognition of her work in the field of documentary films and presented by none other than Mary Kom the brand Ambassador.
Over the Moon.
She is certainly elated and feeling completely over the moon; especially because this story has truly been able to connect people across the globe. If anyone has missed watching; it's highly recommended as its truly an eye-opener.
Kudos to Dr. Longjam, through whom many women will have the freedom to raise their voices on social issues. Bookofachievers.com takes pride in featuring a woman who is making an impact.