An art enthusiast's attempt to create global peace and harmony.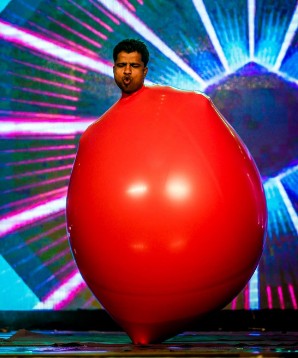 Art is an emotion. Not just a way of projecting inner self but it also serves as a foolproof guide to how the world can be. "Show what you are to the world by bringing out the fire in you". Isn't this true? No one is an exception in the lap of art. Be it a daily wager or a multi millionaire, art is not one man's asset. Here we have the story of Saravana Dhanapal, the son of a fruit vendor who leaped into the world of art and used it for a cause.
A Passionate Performer:
The son of a banana vendor who studied in a government school had a special inclination towards performing arts. At the age of 16, Saravana Dhanapal set his foot into the theatre studies. With her meager income, his mother Kasturi got him trained in learning African drums, fire acts, balloon acts and invisible acts. Later, his immense talent and passion bestowed him with a scholarship to continue his theatre program. Saravana excelled in art forms such as Fire dances and in the year 2000, he founded Agnii Art for All, an entertainment group that performed Fire dances and Drum circles using African instruments. Since then, he ventured into experimentation on various art forms including playing Djembe - an African percussion instrument.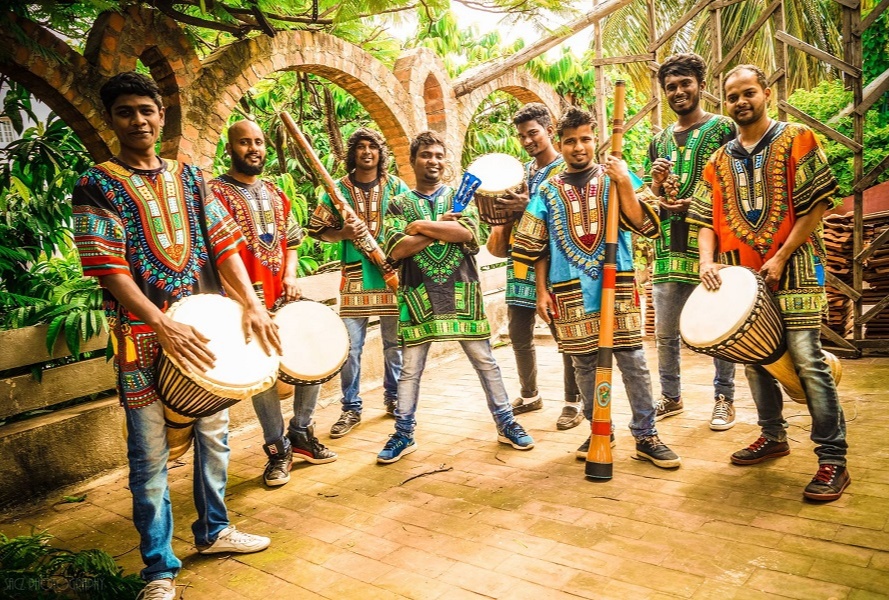 An Energetic Journey :
Saravana's acts gained prominence walking him towards national-level TV reality shows. He mesmerized the big heads of Bollywood like Vidya Balan, Farah Khan, and Anu Malik at Entertainment ke liye kuch bhi karega, a Sony TV telecast. India's Got Talent showcased his highly creative Balloon act and the special Puppet act leaving celebrities at show including Ranveer Singh, Karan Johar and Malaika Arora Khan jaw-dropped. His Hollow man act drove him to the semi-final stage in India's Got Talent. This Karnataka boy also exhibited his Balloon act skills in Asia's Got Talent. He travelled to various parts of the world representing his state and country with his Hollow Man act. What is more honorable than sharing a cup of tea with Thalaiva? Yes!! Superstar Rajinikanth himself invited Saravana Dhanapal to his house for a chai treat!! Blending forgotten traditional folk dance and music with contemporary dance forms, this team has performed all over India and in countries like Sweden, Spain, Poland, Austria, the U.K and Norway. Imagine an Indian boy stunting on an elephant in the streets of London at the Indian Carnival, isn't that amazing!!
AGNII - No Less Than A Power-packed Missile:
The team of AGNII has extremely passionate and enthusiastic artistic missiles. Cheerful and industrious drummers Anthony, Arun, Harish and Sujith team up with puppeteers and sculpturers Jayaram, Kumaresh and the fire dancer Palani. The team also has self-taught artists like Raja and Ram. This team doesn't just focus on the stage activities but also take care of the organizational management and functioning. The activities performed by AGNII are sure to create goose pimples among the audience. Out of all the activities, the one that engages the audience with simple instructions is Drum circles. Hundreds of drums collaborate to provide ground thumping beats in the air and this creates a spirit of unity among people. Spectacular fire performance coupled with acrobatics that goes for no less than 30 minutes is a breathtaking act that made itself synonymous with the name AGNII. A 20 minute Drum Show in line with the beat of Djembe and dance-musicals that throw light on various social issues intensify the glory of AGNII. The Hollow Man act is another unbelievably entertaining piece and stilt puppets also charm and marvel everyone's eyes as they dance and move across the streets. Mural painting and Big Balloon act leave the audience spellbound with their astonishing stunts.
Tons Of Fire From Within And Loads Of Sweaty Hours :
If honours from celebrities were received, if international acclaim was bagged, if awards were bestowed upon- all these wouldn't happen with the share of sweat and compromises. Each act requires a minimum preparation for about a year. Within this period, there would be so many hits and trials that cost them one lakh at the least. To bring age-old art like Fire dancing back to the contemporary scenario, it requires immense courage that Saravana exhibited when he was only in class 9. Initial minor injuries didn't scare but taught him to be extra cautious.
AGNII's Other Side :
No, not just entertainment, this cultural organization has a mission of its own under which it trains the street children and school dropouts in music, theatre, dance and sculpting. Underprivileged children are trained and provided a platform to showcase their abilities. To make the learning of art affordable to all, the team is planning to start a community centre for art, media and culture because art is not just a rich man's luxury but the right of every artistic soul. Saravana's group also highlights issues like women and child rights, environmental concerns, need for education etc in its captivating performances. Saravana Dhanapal went to Spain to serve the HIV patients for three months and in 2008 he travelled to India-Pakistan border to spread the message of peace. Saravana, India's Hollow Man has dealt with the difficulties of life and that has made him sensitive towards all those sharing the same environment. What began as an entertainment group is now an ART for a CAUSE group embracing both lost traditions and pathless lives.
We wish AGNII spreads the rage of innate fire across the world and with that fire, let the world unite and find peace!!

Follow AGNII

Like and Subscribe There Channel For More Videos