India receives a unique gift from an Iranian who is solacing the world with her music.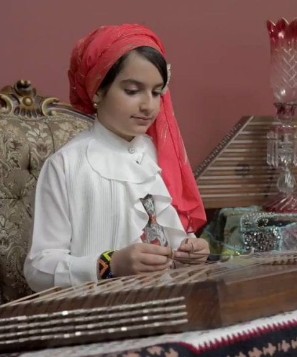 Music has no boundaries. No knowledge of the language is required to immerse into the goodness of music. It touches the soul and soothes the turbulent mind. It heals, it nurtures, it motivates, enlightens and does what not! Music conveys love, it gifts peace and joy, it spreads the message of oneness. Be it vocal or instrumental, classical or western, plain or fusion, music touches the deep of hearts and conveys the message it has to. Tara Ghahremani from Iran is a living example of this. When she sent love to India all the way from Iran on the occassion of Republic day, India was overwhelmed with joy. She made magic with Santoor, the instrument she plays with immense passion and love. When we check her YouTube channel out, we are sure to get dipped into her tunes irrespective of the knowledge of what she is even playing. Our hearts fill with joy and bliss. This child maestro is also recognised with the Global Child Prodigy Award in January 2020.
From Mother To Daughter:
Tara Ghahremani is a 13-year-old who lives in Tehran, Iran. She has been learning music since she was five years old. As her mother would learn Santoor then, she too developed an interest in the instrument and learnt to play it. She finally started playing the instrument when she turned eight before which she used to play a traditional Iranian instrument called Tonbak. Thus, Tara who was drawn towards this most loved Iranian instrument seeing her mother, says that she is probably a better artist than her mother because she has been playing it for a long time now in contrast to her mother who played it for just a couple of years.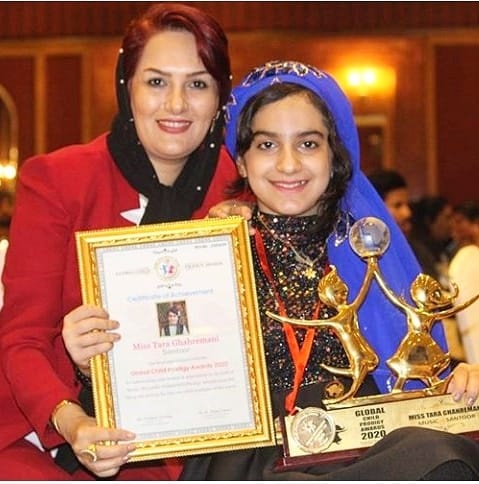 Tara's Musical Feast:
Tara has a YouTube channel named 'Tara Ghahremani,' where all her amazing performances are uploaded. She is seen playing Santoor on a variety of numbers. Her popular number called "Between Two World's - Santour and Guitar" received a great response on YouTube. It was this that calls her a memorable performance in which she played in coordination with Rafael Milhomem from Brazil who played the guitar. She mentions that it is one of her best experiences. A video that says "Playing around with rhythm from Iran sending love to the world during this outbreak" is one of her masterpieces that shows her brilliance as a Santoor artist. In that video, she urges the world to remain calm in times of distressing pandemic and asks people to follow precautions and stay safe. She also contributed to the collaboration, that set into music, Kabir Saab's timeless poetry and the video is worth watching. To her videos, people from across the world send huge love and support calling her music 'soothing' and 'peaceful'. She has adoringly sent wishes to Indians on the Republic day of 2021 by playing Indian National Anthem on Santoor. Indians felt overwhelmingly happy and conveyed their warm regards to the young girl. 'Vasudaiva Kutumbakam' sounds true in her case, isn't it?
The Child Prodigy:
In January 2020, Tara Ghahremani was conferred with the Global Child Prodigy Award, an excellent initiative to recognize, promote, and support child prodigies, from across the world, in their well-liked fields, for her exceptional talent in music. She was recognised as one of the Top 100 child prodigies of the world. Tara travelled to Delhi and received the award. She said that she has truly enjoyed her stay and the time spent. "That moment was fascinating, like a dream. I was very excited about coming to India and enjoyed it a lot here. I also made many new friends at that event", she said.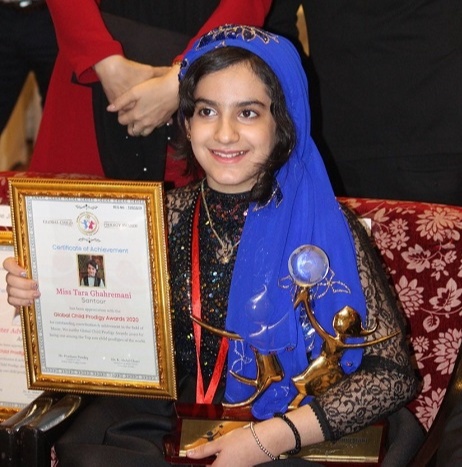 The Composer's Aspirations:
Tara Ghahremani, who also composes music on her own, says that she wants to become an accomplished Santoor artist. She says that she wouldn't turn away from achieving her goals, come what may. She says that her parents and teachers are her role models. "I always look up to them", she mentioned. She hopes that there is peace and calm everywhere in the world and she wishes that the world remains safe.
As long as we have musicians like her providing solace to the world, and as long as people truly understand the value of living 'boundary-less', the world turns beautiful and comforting. We wish Tara and her music heals, spreads love and bliss all over.

Like and Subscribe To Her Channel For More Videos