Two young magicians receive Child Prodigy awards. Performed on major stages, Hollywood stunts too.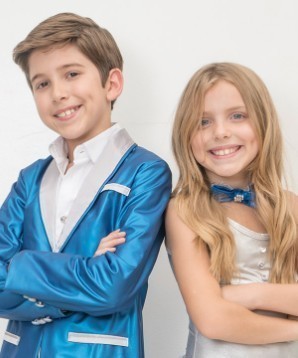 Magic is a performing art wherein crowds are engaged by stunts or fantasies of apparently incomprehensible accomplishments, utilizing regular methods. Magic includes the subgenres of deception, stage magic, and close up magic. Magic has become a popular theatrical art form. This art requires various skills like Humor, Storytelling, Misdirection, Acting, Public speaking, Showmanship, Multitasking, Promptness, and so on. For kids to have these characteristics show how keen and shrewd they are in grasping and learning. These days children have a high capacity in learning new abilities and adjusting them as quickly as could be expected under the circumstances.
Young Magicians
Lately, we have heard about numerous child prodigies awards. Various kids have outshone their talents in different ways like singing, yoga, educational field, and so on. But have you heard about a young professional illusionist? Who has managed to stir the viewer's mind with their exceptional talent? Meet Kadan Bart Rocket and Brooklyn Rockett, a brother-sister duo who have travelled around the globe almost appearing in 40 countries showcasing their unique magic skills. They tend to use everyday objects to come up with some amazing and worth watching illusions.
Well, it all runs in the Genes.
The duo's father, Bart is an accomplished magician, who presents a full-length show and consists of seven major illusions. Kadan and Brooklyn have been submerged in magic since they were toddlers. Kadan is the elder brother who is 15 years old while his younger sister Brooklyn is 13 years of age who fills in as an assistant to her brother and she is similarly gifted.
Bart Hosted CBS's Kids World for many years and they have their family show, known as The Bart Rockett show. Kadan has been to more than 1,000 stage shows and Brooklyn has been to about 500. Simon Cowell referred to Kadan as a "Real-Life Harry Potter".
Recognition
The duo had appeared in NBC's show America's got talent and was among the top 14 finalists. These two magicians have over 14 million views on YouTube and it keeps increasing day by day. They have worked in 6 movies, which include "Dark skies," where Kadan had the leading role along with actress Keri Russell. They have appeared on TV shows as well, including Blake Shelton's NBC special, Heidi Klum's seriously funny kids, and so forth Kadan was invited to the Little Big Shots season 3 in July 2018. They have also starred in around 20 national commercials like McDonald's, Doritos, Walgreen, Tombstone Pizza, and so on.
Kadan was recognized as the youngest child in Hollywood to do stunts. While shooting a kidnapping scene for the TV series Rush Hour on CBS Kadan hung from a 25 story building. The duo has appeared on television in more than 120 countries around the globe. More than acting, Kadan is also pursuing live music, Magic/illusion, and ventriloquism.
Global Child Prodigy Award winner 2020
This is a worldwide organization to perceive abilities from different nations all around the globe. Here children having extraordinary competency in their fields, for example, music, business, entrepreneurship, etc display their talent. Kadan and Brooklyn were awarded the Global Child Prodigy award 2020 in January for their unique and brilliant magic skills. The purpose of the Global Child Prodigy award is to provide exposure to excel in their respective fields and for people to be inspired by these little ones.
Kadan's dream is to produce entertainment-related Projects that will inspire as well as touch people's lives in a positive way.
Their talent has caught many people's attention all over the globe at a very young age. These children have proved that age has no barrier to learning. The two of them will unquestionably have a brilliant future anticipating their breathtaking awe-inspiring ideas.