Meet Surat's teen rising music star. Could well be on the "India's Got Talent" show.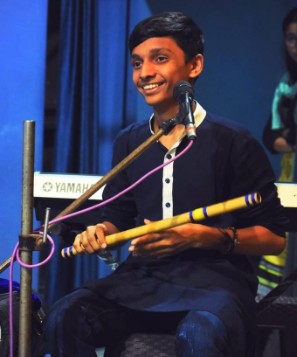 Om a teen from Surat is a classical musician who loves to sketch, paint, design, has a keen interest in learning music and since he adores the complexity of Math; ideally is dreaming of a career - A Product Design Engineer. It sounds like the ideal kid for any Parent!
Wonder why we are writing about Om?
Om is a rising multi-talented music star and truly his performances continue to mesmerize. Om's music basics are deeply engrained by his Guru Shri Dipak Kansara at Swaram Music Academy in Surat for about 9 years. Om is in the process of obtaining his Visharad level in classical vocal and has been playing the Harmonium since 5 years. This teen is so close to being part of the elite musicians- it's just a matter of time.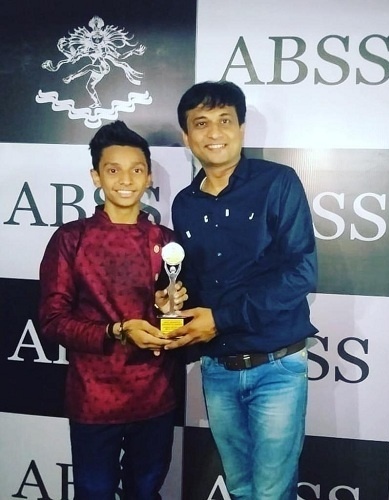 Flute his companion.
Flute became his greatest friend and companion ever since Suleiman at 13 won the "India's Got Talent".
He felt the immediate urge to switch and picked up a Flute as a friend forever. Of course, it is a complete perfect spiritual instrument used even during Lord Krishna's era. In a sense Flute singularly syncs with every aspect of classical music and which is why Om being a classical musician simply loves it. Its been 4 years now and Om has a solid grip of the techniques like proper posture, blowing techniques, finger movements and positioning, relaxing the elbows and shoulders and there is so much more to learn. Om is a perfectionist and from the start has made it a habit to get the perfect Raagas, Swaras, Surs, reading the musical notes and that's what is helping him today.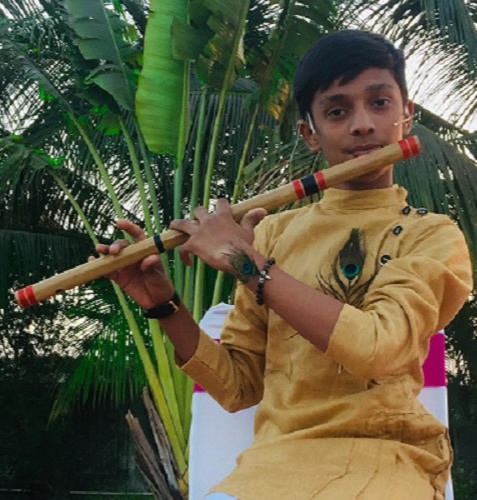 ​
Om proudly admits that all that he has learned as a Flutist today, the credit goes to Guru Anand Palsanawala in Surat and the other two Gurus Amrita Upreti Mam and Vaishanavi Joshi Mam from Vrundavan Gurukul in Mumbai. Om is and will always be grateful for their guidance and training.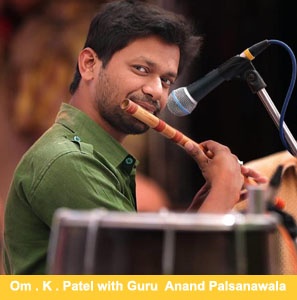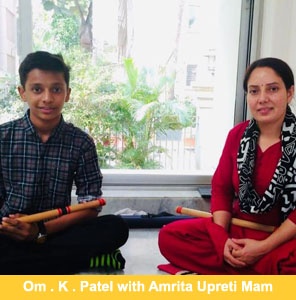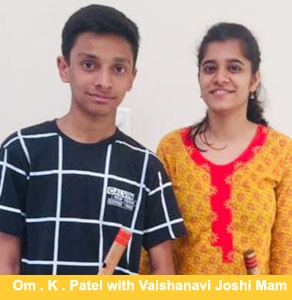 Om has performed at the Art of Living Fest in Delhi in 2016, Runner-up in Solo Instrumental Senior Category at a national competition in ABSS Pune 2019, and has many more accolades to his credit. Om is one of the most lovable Flutist on social media platforms where he continues to enthrall his virtual audiences and the fans and their comments and appreciation speak volumes.
Who are his music Heroes?
So many heroes says Om "I was fortunate to meet and take pics with my heroes - Padma Vibhushan Shri Hariprasad Chaurasiaji and also one of the world-renowned flutist Rakesh Chaurasiaji and of course Suleiman the star. He asserts "My mom Manisha and guitarist brother Manmay are my greatest heroes for all the encouragement, love and support they continue to provide. His Parents have now enrolled him at the Vrundavan Gurukul in Mumbai to further improve and fine tune his talent for which Om travels once a month.
​
What does western music mean?
Om is not really exposed to the western music. He is purely into Indian classical. Mixing western and indian he has not really thought of but why not if an opportunity comes by?
Reach the Top?
What does it take to reach the top? Om smiles "I have a long way to go and absolutely hours and hours of practice is a must and of course a bit of luck will go a long way". He also performs regularly and listens to videos of professional flutists. He is aiming to perform at the "India's Got Talent" show and with his exceptional talent surely will take the judges by surprise.
His dream
Wants to be part of the elite league of musicians and one day perform at the international level at concerts. We sincerely hope and wish his dream comes true and soon.
What can he play for us?
Surely, as a tribute to the greatest Bollywood star Rishiji, Om gives us a beautiful piece. Hope the Kapoors get to listen to this and appreciate. Rishiji's show continues in heaven.