The Dubai based bold style icon and fashion influencer of the modern-day.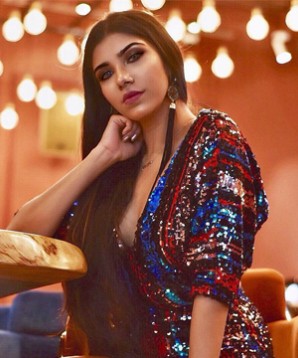 Beauty is not just the physique or fair skin. Beauty is not just hair curls and long lashes. Beauty is not just the glowing skin and pink lips. Beauty is being confident, being bold and self-reliant, and holding the right attitude and readiness to uncertainties. Beauty is a culmination of the external appearance and the qualities that add glow from within. Mumbai based Fashionista Gauri Mehta is setting new waves in the streets of fashion. Meet Gauri Mehta, a Dubai based Fashion Model who is very well acquainted with the current trends in Fashion and Modelling.
Recognition At An Early Age:
This hot model from Mumbai had stepped into her professional life at the very age of 18. She was approached to shoot for the top brand 'Jack and Jones'. Thus, she was first featured in front of the camera in her teenage. This boosted her self-confidence and since then, she has never looked back. She kept laddering up in the fashion industry. Facing the camera not only boosted her self-confidence but also enhanced her self esteem and helped greatly in her personality development.
The Path Is Not As Rosy As It Seems To Be:
Fashion industry looks glamorous for everyone who looks at it through the glass door. Lights, camera, gorgeous people, smiles and cheers!! Everything looks spectacular. However, only those who walk through it understand its challenges. The main challenge that every model in this industry faces is the heavy competition. Gauri Mehta is not an exclusion. Maintaining focus, good health and being fit, she says, are the key aspects. If not, there is always someone who grabs the attention and opportunities. One needs to be visible enough to the brands and agencies. For that, s/he must be active on social media. Days are gone when only fair skin and perfect physique ruled the glamour world. This is the time where the definition of beauty has broadened.
Fitness Secret:
Leaving behind routine fitness activities like gymming, Gauri Mehta's focus on fitness is a has activities of her own style in the list. She embraced activities like Belly dancing, Pole fitness, Body Pump to enhance her body flexibility.
Always Ready For The Worst:
Modelling is a field of uncertainty. Sometimes while the model has a handful of opportunities, at times the land goes barren. Gauri says that preparedness is the key to survival. Having known the highs and lows in this field, she chose to never remain without work. As she cannot rely on modelling career on an all-time basis, she set a backup plan for herself opting to be the Fashion Buyer for the brand 'Red Tag'.
Her Advice to The Young Modelling Aspirants:
Gauri says that it is very important for any model to set the right expectations and terms clearly well before the shoot. If, any time, the model finds herself uncomfortable with respect to any aspect of shooting, she can object it right away. Also, Gauri advises the aspirants to be visible enough to the brands and agencies all the time. She recommends that models should have a backup plan in hand that should help them at times when there is no work in this seasonal field.
Her journey from a confident teenager to a fashion influencer is untiring and she has a long way to go!! We wish Gauri Mehta, a multitude of talent, to rise above the rainbow.

Follow Her For More Fashion Updates

Check Out Her New Posts