Chennai school girl brings home "The Little Miss World 2017". Aspires to continue her good work through her pet project "Girl Power".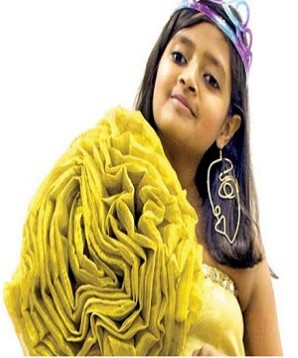 Where does this understanding about women empowerment and social issues come from at an age of 8 or 9? Mothers are the first teachers for any child who continuously provide exposure and teach about these issues. It all started when the duo actively got involved in the "Girl Power" project and Nirbhaya Foundation.
Kaamaakshee always had the inclination towards the fashion industry and her mother Deepika encouraged and supported her desire to become a model. While she explained that if she becomes famous or a successful model, she would be powerful enough to make a difference in the society.
She has the desired looks, confidence, and the poise to take on the fashion world. Kaamaakshee by the time she was 7 had a few modelling assignments and totally enjoyed doing advertisements. She still continues to get offers, but is choosy and accepts assignments if she has time. At 12 she went through a stringent audition got selected, participated and won the Miss Little India 2017.
All set and ready to represent India at the Thessaloniki, Greece in September 2017. The pageant had 65 contestants from more than 25 countries. Kaamaakshee without any glitches sailed through all the rounds confidently and clinched the gold to be crowned Miss Little World 2017.
Any mother would be proud of their daughter's achievement. The newly crowned Little princess with tears of joy confessed, that in her own little way, she wants to work for a cause and not only enjoy the applause.
Her immediate family, Relatives and school teachers extend all support and help to ensure that Kaamaakshee learns the art of study-work balance. Even as a toddler, her mother has provided the right kind of diet, a habit of sleeping early, waking up early, exercising, study times, staying healthy and most importantly staying grounded.
Yes, Bollywood is a far-fetched ambition but for now, settles for wanting to be an entertainment lawyer.