Happy tireless dancing queen receives the Pradhan Mantri Rashtriya Bal Puraskar 2021.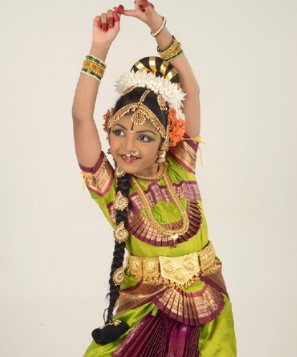 Interest on traditional performing arts has been declining and is hiding behind the shadows of the new fast culture. Especially, interests are varied in Gen Z and they are mostly inclined towards anything other than the traditional forms of creativity. However, there are a few, who are being exposed to such art forms and are developing interest towards them. One such young girl is Ameya Lagudu, who is adept at not just one or two but in multiple dance forms of India. Though this little girl, who performed on several national and international platforms, has been the star of her city and state, she came to limelight on the national front when she was awarded the most coveted Pradhan Mantri Rashtriya Bal Puraskar 2021.
The Dancing Queen:
Ameya Lagudu is a pre-teen who hails from Vizag in Andhra Pradesh, India. She goes to Sri Sathya Sai Vidya Vihar and is in Grade IX. Her father L.T. Murthulu who worked in a Multinational Company quit his job and is now an engineering consultant. Her mother L. Kamala gave away her teaching profession and is now a homemaker. It is to note that the parents have put the interest of their daughter before their own careers. They noticed Ameya's inclination towards dance at a very young age. They thus wanted to encourage their daughter to pursue dance. They got her enrolled in Bharatnatyam classes at the age of four. At 6, Ameya gave her first solo performance after successful training which is called Arangetram. This debut performance, unlike others do, was not on one but with 14 traditional dance items that went for 2 hours 45 minutes. "Social sciences and art forms, which are often overlooked, are key to society," said Murthulu. Ameya Lagudu then started tapping her feet to the tunes of Kuchipudi. Ameya says that dance has become an essential part of her life. She said that dancing gives her extreme joy and also adds to her focus. "I spend an hour a day practising dance. I feel more at peace when I dance," she says. According to her, she is able to maintain a fine balance between her academics and dance just because dance has increased her focus. She is equally good at studies as reported by this confident girl.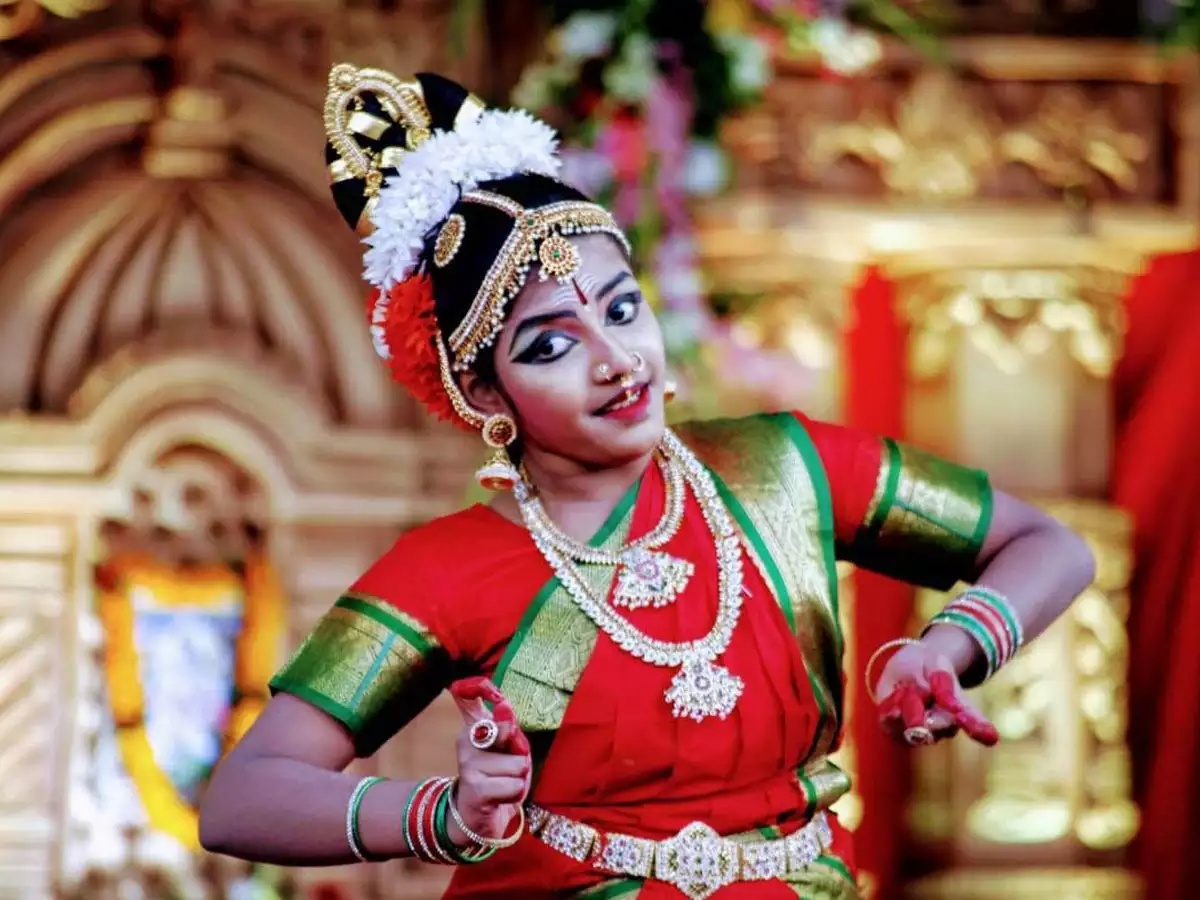 Parents' Efforts To Give Their Daughter, The Best:
Ameya's parents have left their jobs to make sure that their daughter receives the best of training from gurus across South India. To take her to the distant places for training and performances, Ameya's father has chosen a flexible job while her mother began to support the child completely as a home maker. Thus, Ameya got an opportunity to learn from different gurus across South India taht enhanced her skills both in Kuchipudi and Bharatnatyam. She also learnt to experiment with diverse styles. Over these years, she has performed over 100 programs on several National and international platforms held in Malaysia, Sri Lanka, Nepal and Vietnam.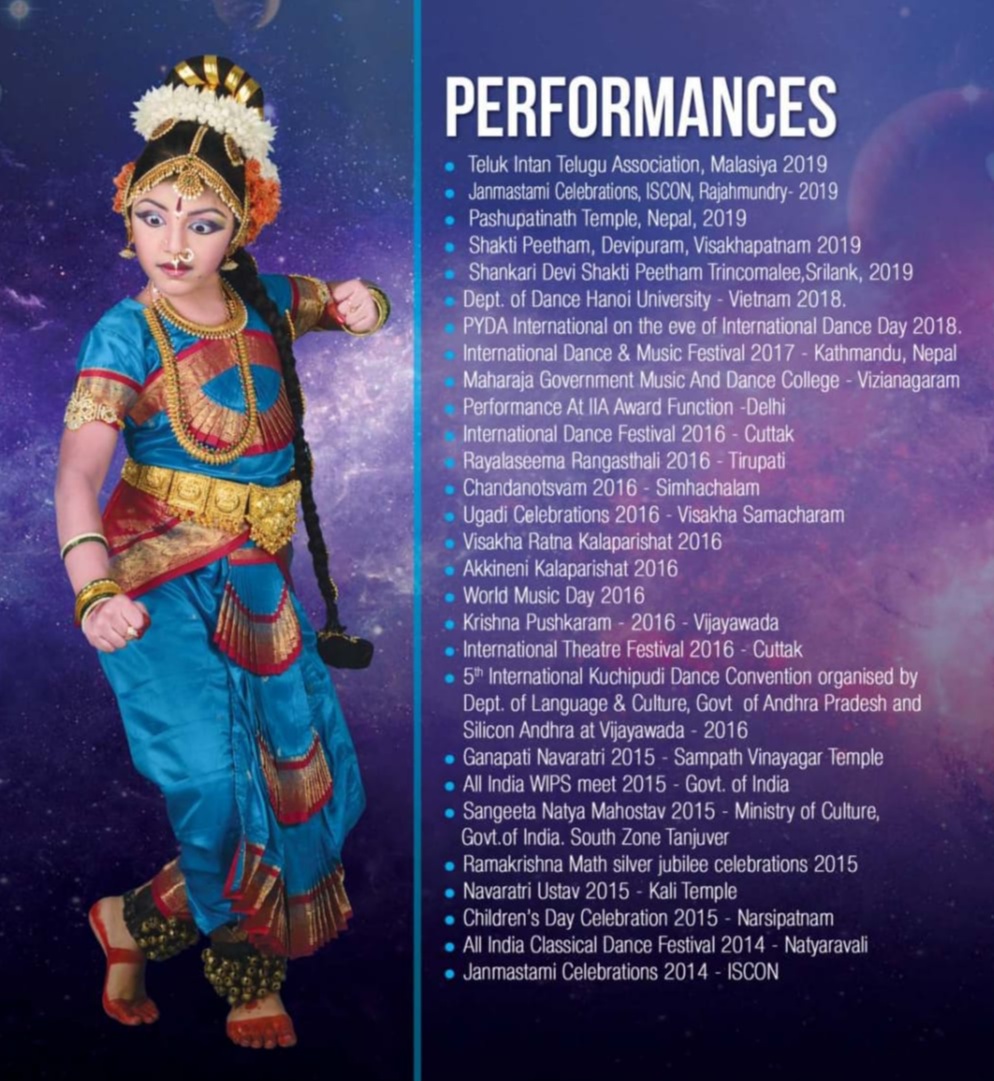 The Little Champion:
Ameya, who has performed on several national and international platforms has already bagged eight international and nine national awards besides 18 state-level awards. She has got 10 world records to her credit. She has entered the Guinness World Records for the largest Kuchipudi presentation with 6,117 participants and the Asia Book of Records for performing Bharatanatyam on a clay pot and a brass plate, holding lamps. India Book of Records recognised her for performing 14 traditional dance forms including dancing on a clay pot in 2015. This dancing star was conferred with the prestigious Pradhan Mantri Rashtriya Bal Shakthi Puraskar 2021 under the category of Art and Culture.
Meet 12-year-old Ameya Lagudu from Visakhapatnam. She has won multiple national and international awards for her prowess in Bharatanatyam and Kuchipudi. She performed her Arangetram at a very young age! Congratulations on getting the Bal Puraskar and wish you a bright future! pic.twitter.com/yPIuZkZ2e7

— Narendra Modi (@narendramodi) January 25, 2021
Grateful To Everyone:
Along with crediting her parents for her success, Ameya mentions the support she receives from her school. "My school has been largely supportive in encouraging me to unravel my creative pursuits.", she says. "I am grateful to my parents for extending unconditional support to her endeavour", she adds.
To Pass The Legacy On:
Ameya wishes that she takes the Indian art and culture and presents it on the global platform through the medium of dance. She also aims to pass this skill to the upcoming generations.
We wish Ameya's feet a long, tireless and graceful journey.