Redefining the notion of woman empowerment.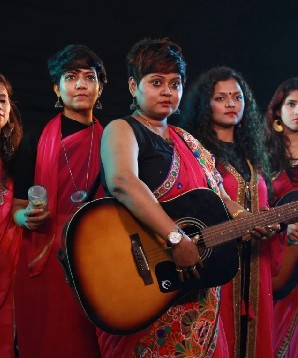 Advocating Power Through A Powerful Voice
What is women empowerment? Is it raising rallies and fighting for rights? Is it just raising voice against atrocities? No. The main fulfilment for the word Women empowerment comes into picture only when women are truly made stronger and more confident, especially in controlling their own lives and claiming their rights. Women empowerment holds true when women uplift each other and make each other stronger. On this note, Jaya Tiwari, an epitome of multitude of talents from Lucknow, Uttar Pradesh has chosen to voice the un-voiced.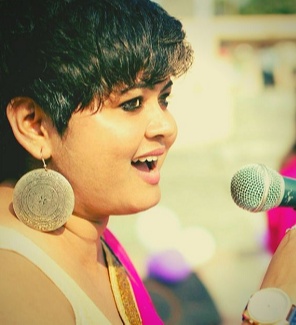 An Unique Idea:
It's not always a good idea to wait for external help instead of building our own self. Self courage and confidence can address many issues rather than raising rallies for rights. To instill this power in women and to make them bold enough to move forward, Jaya Tiwari brought up to the picture, a unique idea.
She chose MUSIC. YES! Music reaches millions of hearts and anything conveyed through tunes makes a great impact. Not just this, she chose to start a music band. And this music band, again, is first of its kind. AN ALL GIRL BAND. India's first female music band took breath to empower women. This, she decided to start, to break the stereotypical idea of men dominating the music bands till date. She named it Meri Zindagi.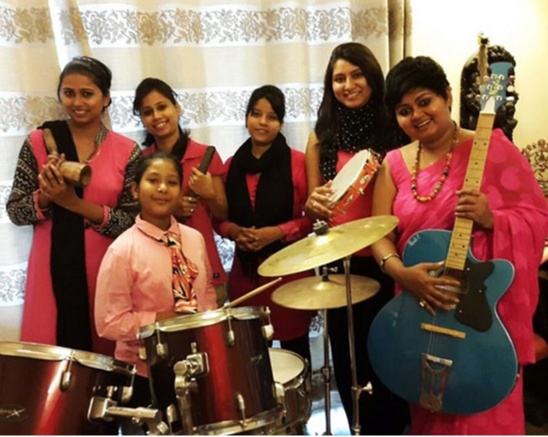 Who Is Jaya Tiwari?
Hailing from a family that had rich academic background, she chose to learn music due to her inclination towards it right from childhood. She completed Visharat in classical music from Bhatkhande Music University in 2000. She went on to do her Masters in 2003 and then a PhD in classical music. Married to her school bestie, this lady of melody has got complete support from her lifemate.
When she joined Red FM, things seemed critical in the beginning. The newly-wed girl in a saree and sindoor was perceived as dumb at the radio station. However, Jaya surprised everyone by preparing outstanding content for her first show.
From A Classical Cukoo To A Rockstar:
The lady who has engrossed herself into the elements of classical music joined AIR FM as an RJ in the year 2000 and this is where she was introduced to music production and sound mixing while creating songs and jingles. The number of shows she has done made her understand what she can do with her voice - any sort of communication. She spent hours sitting and composing songs in rock music. Eventually, the idea of an all-women music band sprouted.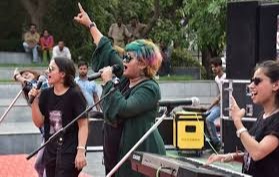 A Music Band With A Mission :
It was in 2010 that Dr.Jaya founded MZ Female Band and its aim was "Save the Girl Child". Initially, the band performed a lot of shows for free to spread their idea and mission and they used kitchen utensils such as metal spoons, bowls, glasses, plates, chimta etc. to give performances. Later, as they grew, they purchased synthesiser and percussions. They never stepped back as their main aim was to spread awareness on women's issues. They had a mission that drove them ahead. The mission is to raise voice against issues. The mission is to empower and support. The mission is to make women confident and powerful.
What Issues Does The Band Highlight?
The band is not focussed on providing entertainment. It's born for a cause. They have composed nearly 70 songs to motivate women to emerge as leaders and winners. Domestic violence, female foeticide, gender bias, discrimination, patriarchal atrocities are a few issues that this band composes songs on. It highlights how women can bravely overcome such problems to accomplish their dreams. Meri Zindagi also tunes for the causes that include water conservation, promoting girl education, child nutrition and anti-tobacco campaigns.

Check Out There Songs ON — MZ / Meri Zindagi FEMALE BAND


When Did The World Recognise The Band?
When MZ composed songs for Mahila Samakhya, the media has discovered them and their cause. It recognised the band as a standing example of women empowerment. Later, BBC's show "Full on Nikki" took their songs following an Australian radio to highlight their work.
Some Of Their Unique Numbers :
"Pushpa tera dare hai kya, Pushpa I hate tears" is a song that motivates women to fight against domestic violence. "Dreaming ke pressure cooker ki seeti ko bajne do, mere hauslon ke shank nath ko badhne do",is all about encouraging girls to dream big and move out of their destined four walls of kitchen. "Teri galiyon mein na aayenge kabhi is raat ke baad, maa, meri maa" is a heart touching rendition on female foeticide and "No Sutta", a song written and composed by MZ is a part of the PAN India Anti-Smoking drive, run by Cancer Aid society.
Their next song highlights the hypocrisy of 'gora and kaala'. It's in how derogratory remarks are made about a girl's colour by the groom's side.
It's All Green For Female Bands:
This band has laid a path for the upcoming years to encourage more women into performing bands.
Let's wish this vibrant band of energitic women with a noble purpose to spread its wings far and wide guiding more women into light.

Follow M Z / Meri Zindagi India's First Female Mission Band For More Songs