The author of 'If We Last' says that it's ok to sacrifice a few things for what you love.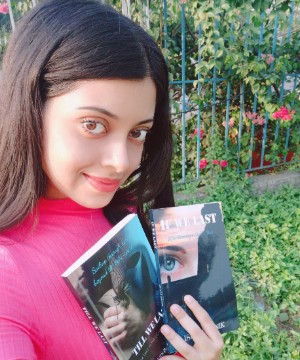 New College, new course, a step-up in education - nothing seemed to excite her. She felt she was missing on something. "Whatever I have now, is not meant for me.", she strongly felt from inside. Every morning she pushed herself to attend her classes but all the lectures drove off her head. Having secured a seat in the University of Calcutta for the Masters program meant literally nothing to her. One morning, she woke up to a firm, life-changing resolution. She made up her mind and stepped out of her house like every day. But this time, she headed not towards her university but towards the publishing companies. YES!! Her childhood love for writing took the form of her first novel and she set on a journey to get it published. She was determined to carve her niche by doing what she loves. That one decision made her the best selling author. Meet the brilliant author Ishita Banik who discarded what made her incomplete to accomplish a wholesome life.
Began Penning In Grade-1
Born and raised in Kolkata, Ishita was a zestful kid. She hopped, roamed and spent an exuberant childhood. She was an avid reader since childhood. While others of her age were learning to frame words and short sentences, she wrote her first short story and first poem at the age of 6, in her Grade-1. This Kolkata ki Pari pursued her graduation in Computer Application and stepped into the corporate world to draw her career graph. However, soon after she became a software programmer, her heart gave reminders of what she loved the most. While she was into her first job, she finished her first novel too. It is then that she decided to get it published.
"I never have had the plan to become a published author until I finished my first novel.", she recollects.
A Multi-faceted Persona:
This computer programmer published three novels in the course of 1.5 years. Her first novel "If We Last'" became the bestselling novel in thriller fiction. She extrapolated her faculty in becoming a successful entrepreneur by starting a clothing brand of her own. An ace traveller and blogger, Ishita has collaborated with nearly 100 brands so far. Leap yourself into www.feclatfashion.com and you will see an eye-catching e-commerce website that displays her flair as an entrepreneur. Under her able leadership, this clothing hub is eventually turning into one of the leading clothing brands in India.
A Signature of Her Own:
While managing her business, she released two other novels, "Till We Last" - the sequel of her first novel, "IF We Last'" and the third one being "The City of Tunes". Her work hit the Indian literary scene like thunder and made its space creating an everlasting impact. Her debut novel came as a romantic thriller. Though the characters and situations in the novel are portrayed to be realistic, the reader finds it difficult to guess what happens next!! The romance present in the story for a certain time, takes swift turns to make the plot unpredictable. Twists in the plot take the reader on a rollercoaster and finally land him on a message -oriented platform. The first two novels are into one series with the second one being the greatly applauded sequel to the first. Her third novel "The City of Tunes" fall apart from the other two. It is a romantic thriller coupled with jaw-dropping elements of mystery.
Writing Alone Doesn't Do It All:
To become the best seller, filling the white pages just doesn't work! The pages should be loaded with powerful content. Then comes the marketing. An author should work round the clock to make their own marketing strategies. With the weapon of social media in palms, what else can serve as a better tool to take your product into public? Immediately after publishing her first book, Ishita shared quotes and book trailer on social media and utilized it to promote her work. However, social media is the platform on which multiple promotions happen every minute. It depends on the individual how well he promotes his own product, how well he designs strategies to make his product reach the end users. In view of these challenges, Ishita created for herself a huge follower base on Instagram, YouTube and other social media platforms to reach out to the audience.
She invited people to listen to what her novels have to say and BOOM! Her strategies worked making her the best selling author.
A post shared by Ishita Banik (@ishita__banik) on Jul 19, 2020 at 7:41am PDT
Her Definition Of Success

:
Success, according to Ishita, is a costly affair to grab!! "It costs you just one precious thing - Your hardwork. There's no other way to reach there, the point of success, other than working hard." She says that there are only a few authors in India who hold remarkable works and they haven't reached there just like that. It took them years of sweat and toil. Success, as she says, depends exactly on what the goals are. "If you want to make your dreams real, stick to the hard work and be consistent. They will come true!" she concludes.
When Your Zeal Is Real, Everyone Comes To Pat Your Back:
Ishita has a loving and supportive family who never stopped her when she wanted to fly. They acted as pillars of strength through her thick and thin. Inspired by authors like Sidney Sheldon, Paulo Coelho, Ishita is self-motivated towards setting her own mark as an author. Right from the book editing to marketing, she has accomplished everything all by herself. Her commitment bore fruits when she hears her readers saying how deeply they could connect themselves with her characters. Their enthusiastic questions about her upcoming novels makes her forget the toil she underwent. Though she receives negativity, she filters the constructive comments wisely and moves on to mould herself up.
Long Way To Go

:
This multitasking author advises youngsters to never stop dreaming and working on goals. She shows the youth that one can maintain a perfect balance between profession and passion. Ishita maintains a routine to cater time to everything. Especially, she doesn't bother to cut off time from the least prioritized activities to do what she loves the most. She believes that consistency is the key and never ignores her passion for writing, not even for a day! She says that everyone deserves a chance in their life, a leap of faith at least once to live their dream.
Kudos to the lady who decided to take up what she loved and proved the world that success follows when you live your dreams. Our team wishes her the most fulfilling career.

Follow Her TO Get More Updates

Follow Her