4-year-old Mizo kid becomes youtube sensation with her innocent and mesmerising voice.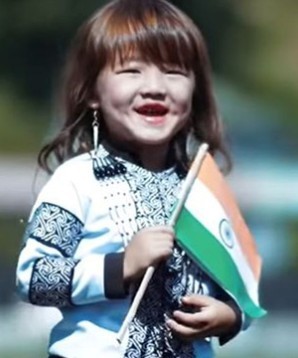 Esther Hnamte is a beautiful little 4-year-old girl from Lunglei in Mizoram, India. She became a Youtube sensation by signing the Song Vande Mataram which was originally sung by AR Rahman the Oscar-winning Musical Legend. Her video song has almost been by more than 2 million people Within a very short period of time. People have been showering her with nothing but love. This 4-year-old prodigy from the highlands of Mizoram has been recognized and appreciated for her voice and innocence by the Governor of Mizoram, P S Sreedharan Pillai. He not only verbally appreciated her but also gave her a cash prize of Rs.5000. The Indian Prime Minister Narendra Modi and the musical legend AR Rahman too shared their appreciation and love through their social media handles.
Her family is very proud of this recognition. Not only her family but all the people of the Mizoram state were also happy and proud to see the level of appreciation and recognition she received.
Esther usually sings kid-friendly gospels and is a well trained and well-promoted singer. She is been supported by her parents and siblings for the love of music.
Powerhouse of Music
The highlands of Mizoram is a Powerhouse of Music in North East India, it's one of the Song State of India. Music is the Mother tongue of the people of this beautiful hill state. Mizo people thought it's about time that the rest of the Indian Land recognizes the people of Mizoram and the talents which is been flourishing there. After all, when all else fails, music and art transcend borders and bring diverse people together. Music is a universal language that everyone speaks and understands. With one song, Esther has already put her hometown and home state on the musical map of India. She has unconsciously made herself the Little Ambassador for highlanders in this part of the country who have always wished to be known, heard, and appreciated and who wish to matter and be taken seriously as compatriots.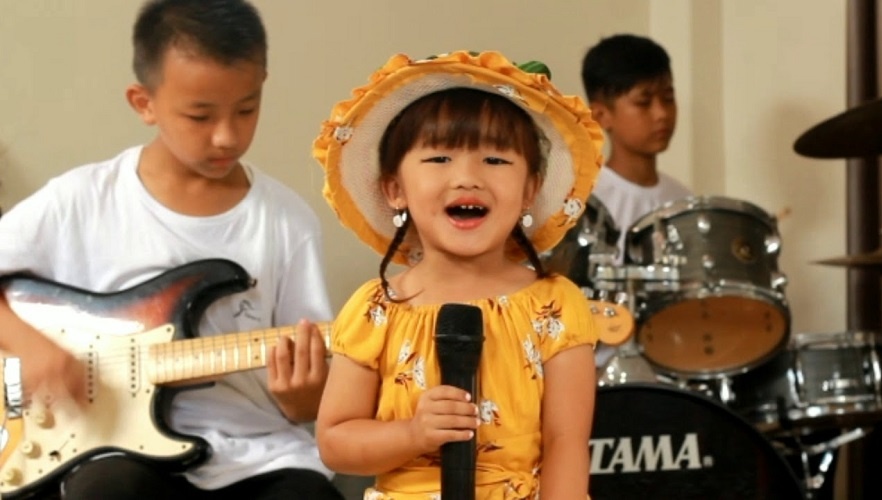 Esther's song got released at this time when the paradox of being Mizo, who are members of a Tibeto-Burman-tribe, and being a part of this gigantic nation called India, an Indo-Aryan-Dravidian-dominated country, and embracing the nationality that is Indian, has never been more stark. This is especially so with the recent surge in racism in mainland India as part of the hysterical responses to the Covid-19 pandemic during its initial phases. The misunderstandings and misconceptions that Indians from the North East – like Esther herself – have faced in this country with regard to their national identity, their loyalty, their physicality (for example, objectifying North Eastern women), and even the simple geography of their home and belongingness have just been an incredible change of phase.
Even as their presence and existence are slowly penetrating the consciousness of the general population, they are still largely placed outside the realm of the thinking and imagination of mainland India.
The surprising truth here is that people in the North East, Mizos who are neglected and underestimated as only a handful minority have developed their own pride in "being Indian".
That itself is evident in the breathtaking videography that showcases Mizo warriors in action and other cultural elements and the hill's scenic landscape as the background of a song that is about "Mother India". The video description too, is revealing in the emotions it contains. It urges the "brothers and sisters" to be proud of being Indian, calling India "our motherland".
The comments section of Esther's video reminds us that Mizos are proud Indians, as are the other North Easterners despite the region's enduring label as "rebel country". They have defined "Indianness" in their own terms and the Mizos are proud to be the second-most literate state in India and to be called THE COUNTRY'S HAPPIEST STATE.
Post-Colonial Struggles Of the people in Mizoram
Fifty-four years ago in 1966, this tiny hill state was up in arms against the mighty post-colonial Indian state fighting for secession, based on their unique identity and history and compelled by their bitter sense of abandonment before and during a severe famine called Mausam. On March 5 that year, the Indian Air Force in a desperate attempt to crush the insurgent Mizo National Front's strongholds attacked the capital Aizwal and surrounding areas. For the next 20 years, Mizos went through the most horrible times of their lives – known as Rambuai, literally "a land in turmoil' denoting the period of mass displacement, village regrouping, harassment, killings, beatings, torture, surveillance, and a general sense of insecurity at the hands of the Indian Army that sought to weed out the insurgents by all means.
ERA OF STRUGGLE to an End
With the signing of the Peace Accord on June 30, 1986, between the Mizo National Front and the Central government, an era of calm and tranquillity was ushered in. This made possible Mizoram's impressive socio-economic strides, with its thriving human capital and its talented and adventurous youth no longer sheltered in the mental and physical island that is Mizoram.
But still, there are so many people with prejudiced thinking about the people of Mizoram. They are facing racial discrimination, sectarianisms. Currently, the people of Assam have created a border dispute with Mizoram. They have blocked the only highway which connects Mizoram to the rest of India, they've built a Bamboo wall to block the road. This is not just alienating them but also very humiliating.
The Little Ambassador of Mizoram!
At this hard time, Baby Esther has Sung the Song Maa Tujhe Salaam and has taken an initiative to tell the Mainland Indians that we all are Brothers and Sisters and belong to the same Country. Unconsciously Esther has become the Little Ambassador of Mizoram and has made the whole state's voice to be heard to Mainland India. Lets all join together and Make this India Esther's too.
4-year-old Lil Music Prodigy- Esther Hnamte Became a Youtube Singing Sensation and has earned more than 2 million views for her Music video. Esther Hnamte is a Beautiful little 4-year-old girl from Lunglei in Mizoram, India. She became a Youtube sensation by signing the Song Maa Tujhe salaam!

Like and Subscribe her channel For More Videos