New Kid on the Writing Block: Published her First Book When just 8 Years Old.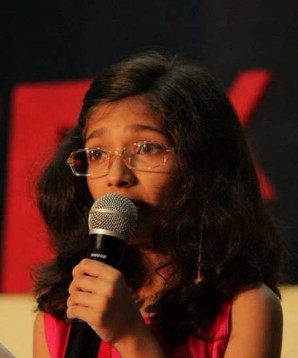 When she was 4 or 5 years old, her parents wanted her to take up some hobby or interest to keep herself busy. At this age, no kid will probably be able to understand this.
Ishita's Mom started reading stories to her when she was just a few months old. She was always attentive but not sure if she grasped or understood anything. Her Dhadi would tell her a story every night before going to bed. Her stories sounded so real and she would include Ishita in them. She loved all the stories as they were about children, animals and nature.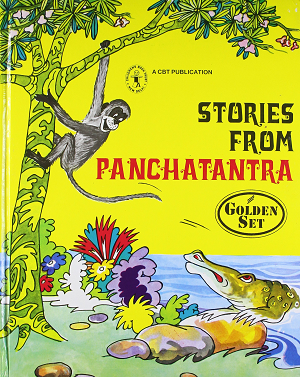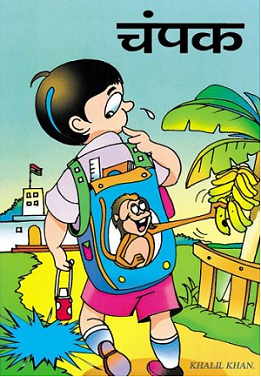 STORY BOOKS WERE her FRIENDS...
She slowly began to ask Mum and her family to buy a few story books. She was amazed to know that each story she read would take her into a different world and that's what stories do. She wanted to read more and more. She used to tell all her friends in the neighbourhood the stories that she read which apparently everyone found it amusing and interesting. They called her a great "STORYTELLER" and would look forward to listening to many more. Every birthday gift that she received were books, books and books which she was thrilled to bits. Indeed is lucky to have parents who shower her with so much reading material.
DAILY JOURNAL TRIGGERED IT ALL!
Jotting down her entire DAY on a daily basis brought her so much joy. She would include funny & sad moments, adventures, failures, anxieties, fears, thrilling moments, bus rides, fussing about food, Dhadi's evening walks and practically everything that happened in that day. Never did she retire to bed without penning these precious moments.
DAILY DIARY led TO "SIMRAN'S DIARY"
Somewhere when She was 6 plus, popped up the idea of writing a book to her Mom. Mother dear was a bit puzzled and confused but was excited with her daughter's idea. Ishita was so touched when her Mom took this idea seriously and didn't shrug it as as frivolous.
Mom whispered to Daddy and the rest of the family about her daughter's idea and plans. Mom and she put on their thinking caps to "MAKE IT HAPPEN" but where and what does one begin with was the question ?
Topic of discussion at every meal and every day led to writing a Diary which would narrate the experiences of a 8 year girl. "Simar's Diary" took several months to take shape but finally turned out to be super thriller. Soon was published and more than a thousand copies were sold and every child and parent who has read it has raving reviews. If any kid has missed it, its worth picking up a copy at Amazon.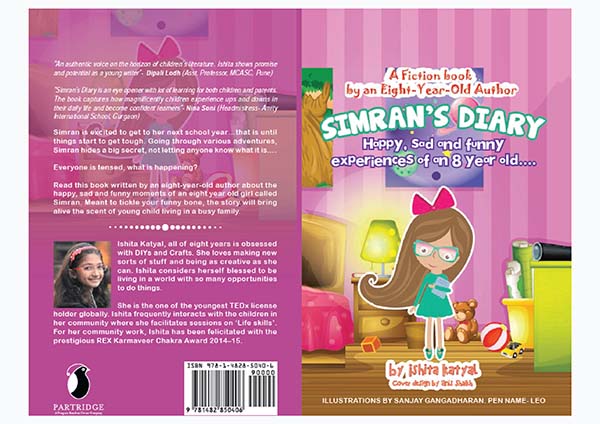 TODAY SHE LOOKS BACK AND..?
While enjoys reading and writing, what is satisfying is passing on this happiness to the other kids and she has been able to bring smiles on many and quite a number have taken interest in reading.
FIRST BOOK HAD GREAT REVIEWS. WHAT NEXT?

ANOTHER BOOK? NO. NOT NOW!!
At 9 She was quite fascinated by the TEDx talks. She always wanted to be on the show but had to work very very hard. She was a bit shy and obviously, speaking in front of the audience, one is always jittery. Everyone around was confident that it would be a cake walk for her and finally there she was and did a fabulous job.
She was over the moon when she was declared the youngest kid to get a license of TEDx Youth event in the Asia Pacific Region.
STRANGE FEELING!!
Success sure she was enjoying but found something was missing. Bagged a few awards including REX Global Fellowship 2014-15. In the midst of it all, She felt strange and thought what would the less privileged kids of her age do? Do they have access to story books, do they have enough to eat or even go to school ? At a tender age she could feel for these kids and was itchy to do something in a small way. Mom came to her rescue and helped her participate every week at the Balewadi Community and conduct workshops for them. She is more than satisfied that she is giving something back to the society and will continue to do.
LITTLE PRAYER...
"GOD, THANK YOU FOR GIVING BEAUTIFUL PARENTS AND A FAMILY. HELP ME TO BE KIND TO MY LESSER-PRIVILEGED FRIENDS. MAY ALL PARENTS LIKE MINE TEACH THEIR CHILDREN TO BE COMPASSIONATE TO THESE KIDS."
Bookofachievers.com congratulates and hope that many more kids will learn from her.