A dull boy becomes an all-rounder through Yoga practice. A tested therapy though.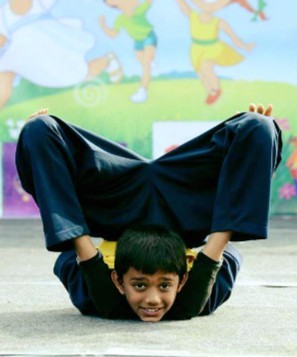 When umpteen methods are being devised and proposed to solve people's mental and physical issues, with the increase in technology and awareness on diverse methods of treatment, everyone irrespective of age and economic background is seen rushing to the healing centres, going behind the doctors and counsellors. If a child is hyperactive, he is taken to a counsellor. If a man finds his job stressful or if a woman faces trouble with multitasking, they are sure to knock on the door of a counsellor, who calls in for a few sessions to get things back to normal. The question is that how many of us are able to get things right following the natural and harmless techniques before rushing to the doctor? Many of the physical ailments can be cured by following a healthy lifestyle. Majority of the mental illnesses can be cured with the right diet, exercise and support from friends and family. Going to a doctor is not the wrong thing to do, but can it be after trying a few things from our end? When you look at the story of this teenager from Bengaluru, you will so much be impressed that it would definitely inspire you to make the right choices in life to overcome complex issues. If a young lad could do it, can't we try?
Yashwanth A, 15, hails from Bengaluru, India. He goes to Treamis World School, Bengaluru. The child was super active but had very less inclination towards academics when he was a preschooler. He was extremely naughty, talkative and his teachers said that he is rather 'disruptive' in class. His concentration levels were always a concern to his teachers. It was then that one of his teachers suggested his parents get the boy enrolled in a music class so that his focus would improve. With an opinion that regularly attending the music class would help him with good discipline, he was enrolled. Yashwanth went to the music class for about six months. But every class seemed like a never-ending ordeal to him. He didn't like the classes at all and would cry badly to escape attending them. His mother, who was disturbed by this, started to look for other options that would give stability and discipline to the boy. She then found another option, Yoga. She thus enrolled Yashwanth, who was then five years old, in Yoga.
Yoga – The Door To Change:
Little Yashwanth loved Yoga from day one. He enjoyed attending yoga classes and did not miss them ever. There was no crying or making excuses. Within a few weeks, there were noticeable changes in the boy's behaviour. He became quite active – just what is required for good. Eventually, within few months to one year, his parents and teachers noticed considerable changes in the boy's focus and concentration levels. His discipline showed changes for good. The boy continued to attend yoga classes and he started performing asanas that his seniors would do. He quickly learnt most of them. Though he was enthusiastic to learn more and more of them, his yoga guru said that he was too young to learn and perform a few asanas. But Yashwanth was not convinced and he wanted to do difficult asanas too. His teacher told him that it would take time for him to master a few asanas and that his seniors were able to do them with ease because they have been practising them for a longer time. Yashwanth didn't give up practising. With immense zeal, he performed and practised the complex of the asanas and eventually mastered the toughest ones too. He also started to take part in competitions which further boosted his confidence.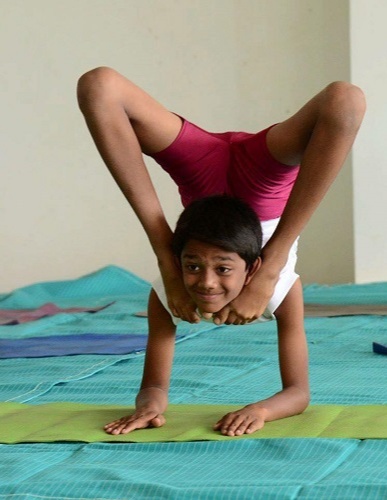 What Yoga Gifted the Boy In Return?
With practising yoga, what was once quoted as the boy's problem became his strength – his activeness. His active nature, which was once called to be 'disruptive' in the classroom, started taking good turns and made him the top performer. His focus increased and he also has won the all-rounder award from his school for his excellence in academics, sports, and other extra-curricular activities. The boy has become a gem when it came to his overall performance.
Talking about His Favorite:
Yashwanth loves to perform yoga asanas more than anything else. Out of all the asanas, he says, his favourite is Gandaberundasana. . "One of the most difficult ones that I learned as a child is Gandaberundasana. This is one of those poses that could fetch you a lot of points in a competition and it is like a dream for every student to perform on stage. I struggled to learn this but the challenge kept me going. The other one that took me some time to master was the handstand. I spent a lot of time perfecting this. It was almost eight months of practice to strengthen my arms and then balance my entire body only on my two hands," shares Yashwanth. This now 15-year-old practises yoga for 45 minutes every morning. He has already mastered over 3000 asanas to date and is also the proud recipient of the Rashtriya Karnataka Ratna Award 2021.
His Words Of Wisdom:
Having personally experienced the goodness of yoga in his life, Yashwanth says, "When I speak to other children, they think that yoga is just about bending your hands and legs and mostly physical fitness. But that's one of the most misconstrued explanations of yoga. Yoga is a way of life and not just physical fitness. More than physical, it works on your mental fitness, it gives you a lot of patience and helps calm your mind. Students face a lot of pressure during their teenage years mostly because of academics, yoga can help us develop self-discipline and make us look at things from a different perspective." He advises everyone to take up any activity that they love to do and that tells that it is only a healthy lifestyle and physical activity that cures half of the problems.
Congratulations to the boy who proved that passion and love for something will take us to where we ought to.

Follow His Yoga Asanas

Also Read About Shruthi Who is spreading the benefits of Yoga and encourages many to start young, By winning the Limca Book of Records and set a World Record in 2011.