Every PIC that tells the story of a woman. But why?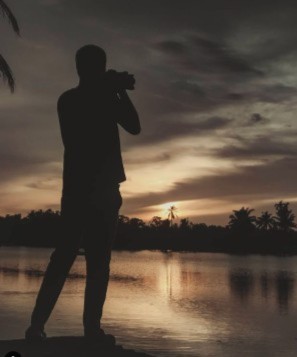 I have seen many photographers click the beauties of nature and wildlife, marvels of waters and woods, smiles of children and wrinkles of the old, birth ceremonies and wedding processions. But have you ever seen a camera clicking with love and passion, the photos of victims and survivors? Again, clicking the pictures of victims is common while covering the information. But have you ever seen any photographer conducting a photoshoot just like a pre-wedding or a post-wedding shoot for those individuals who are otherwise shunned by society?
Will a burnt face or the deformed face of a domestic violence victim be loved by anyone? People often snub them off even though it's not their mistake. This kerala- based photographer clicks women who are otherwise unseen and uncared by the society. No, not out of pity, he does it because he wants to bring before us, the untold stories of these brave women, one picture at a time. "I never want to be someone who takes predictable, boring photographs. I ask myself after every photo: is this good enough for a gallery, a museum, a photo book?," says Vishnu Santhosh.
Freelancing His Way With A Camera:
Vishnu Santosh hails from Kerala, India and is a freelance photographer. He says that he captures today's moments to create lifetime memories. "Creating a life, I love", he says in just one line that sums up about his love for what he does. To earn a living, this photographer offers extensive services to his clients and clicks photos for company websites, advertisements, commercial photography projects like creative and fashion, cinematographic wedding films, baby shoots, makeover and advertising. His efficient team is ready on their heels to make the best out of their lenses to bring the most out of the live moments.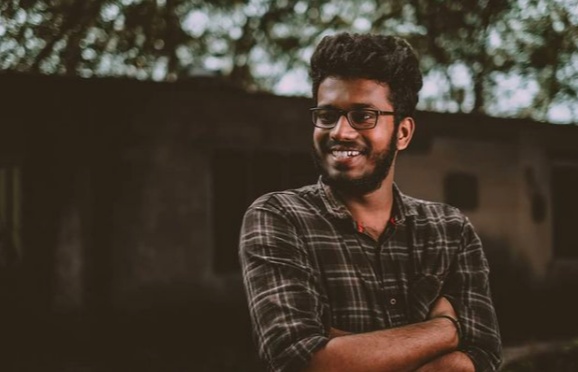 On The Other Side of The Lens:
While his lens cover the most beautiful moments that the world says, "Cute", they also cover those pictures (out of his passion) which the world never wants to talk about. Shahina Kunjumuhammed, a resident of Kerala got 80% of her body burnt when she unknowingly flipped a kerosene lamp during her childhood. Several treatments and surgeries went along but her face never lost its scars. Vishnu Santosh has made a beautiful photoshoot of Shahina and posted them on his page in Instagram. It's not for the publicity of his work. The aim is to bring before the world many things to be noted. One, any person should not be shunned off because of how they look. Two, she is an inspiration to all such people who have gone through similar fate and are not able to live among people with confidence. Three, it's a tribute to their strength and courage for accepting what they have gone through but not accepting that they should stop there. It's a salute to their willpower that made them stand and survive. Shahina faced problems, she admits, but she didn't give up. She studied hard and became a doctor. She is currently working as a medical officer at the Homeo Med College in Thripunithara.
After Vishnu's photography of Shahina, while they both were being interviewed by a TV channel, the Malayalam Superstar Mammotty watched it and came forward to offer medical help at the Patanjali Ayurveda treatment center headed by him in Ernakulam. Great things happen if you have great instincts. Above all, one should look at the pretty smile that Shahina wears in the pictures. She is indeed a treasure of self-confidence every teenager and youth should derive from. Vishnu, in another instance, has clicked the wedding of a specially-abled bride, his friend, Fathima Asla who married an artist Firoz Nediyath. That's again indeed one of the special stories that he has done out of his passion. Every click of his speaks stories that are never told to the world - be it the story behind the burnt skin or the bones beaten up to brutality.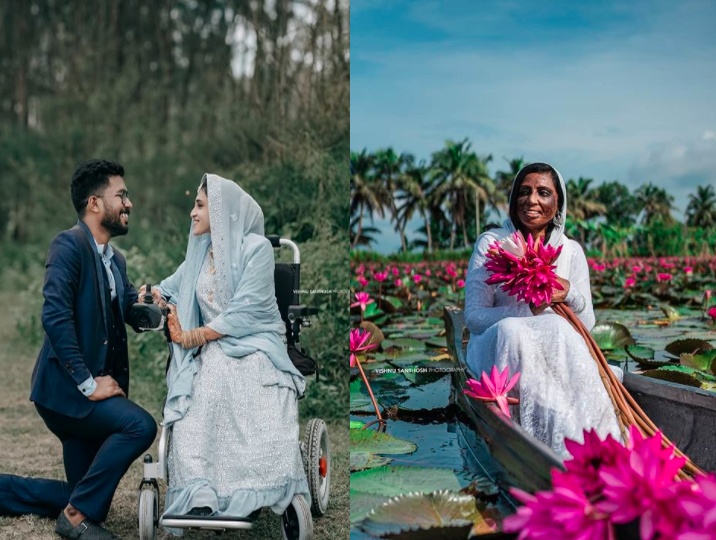 When a man does his work linking it with a purpose beyond his materialistic benefits, it will shape the world into a better place. We wish Vishu brings out more stories that move and motivate people to goodness.

Follow His Work

Know More About Him
Must Read: Photography by passion and Engineering by choice. Earns his bread through his passion.