Natural and organic farming is the best way to a healthy life - says Sujata Naphade.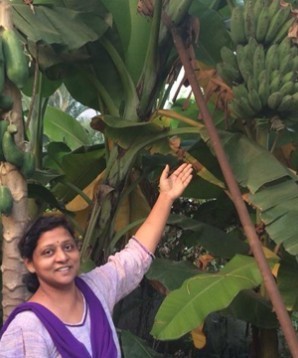 When you live in harmony with nature, when you respect the rules of nature, when you coordinate with the creatures of nature, then you can lead a blissful life. Health, happiness and peace from within that form the main ingredients of life come from nature and her sources. So, when we embrace every bit of natural living, we live longer and happier. Self-farming has grown to be a trend wherein people are enthusiastically growing fruits and vegetables at home. However, the risk of artificial fertilizers and hybrid seeds is always there. In this context, Sujata Naphade, a Pune-based nature enthusiast is serving three families with organic self-grown food. Let's look into what she has been doing to reap the benefits of organic farming.
When you pick up yummy, juicy strawberries from the fruit market, have you ever thought of how they are being ripened? It is undeniable that these days they are being infused with chemicals like Calcium Carbide to quickly ripen them and dump them in the market. The fruits thus look attractive, juicy and tempting. We grab those tiny beauties with an intention to live natural and healthier with little knowledge about the harm that chemicals cause to our body. That means, the only alternative is to grow food at home. But this is not an easy affair. Sujata Naphade, a 45-year-old Pune woman is showing the world that with little efforts, natural and organic food can be grown in the limits of personal space catering to a healthy food substitute.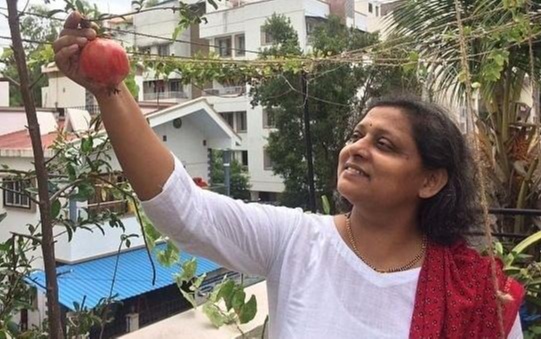 Since 2008, she has been growing close to 70 varieties of fruits, herbs, and vegetables. Hailing from an agricultural family and holding a graduation degree in Agriculture she set to till and farm in her own land. It all started when once her friend from Kerala gifted a grape sapling to her and now, the spreading creeper blooms and produces fruits thrice a year. Thanks to her friend for the wonderful gift that day. It seeded in Sujata, the concept of organic farming and is helping spread inspiration to go natural.
Organic Food For Three Families:
A 3,500 Square Feet Plot bloomed into a gorgeous garden with herbs, plants and creepers gifting a wide range of fruits and vegetables. In a residential plot that belonged to Sujata's brother-in-law, she resolved to grow plants using just the organic and natural methods. With the experience of growing a terrace garden for about 7 years and the knowledge of agriculture she gained through her graduation course, Sujata converted the land into a blooming garden. The food grown here adequately feeds 10-12 people.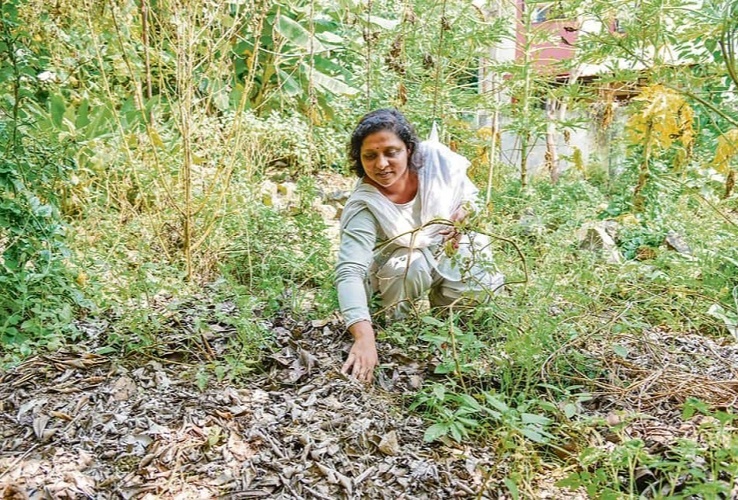 Juicy Fruits and Fresh Vegetables:
Sujata grows vegetables like ladies finger, bottle gourd, bitter gourd, cow beans, chillies, lettuce, cabbage, cauliflower, broccoli, Malabar spinach, sweet potato, three varieties of brinjal, cherry tomato, local tomato, radish, castor, and sponge gourd. Herbs like three varieties of Basil, oregano, thyme, chives, lemongrass, peppermint leaves are grown here. Banana, passion fruit, dragon fruit, mulberry, strawberry, plum cherry, orange, papaya, gooseberry, grapes, guava, mango, lemon, coconut, java apple, pomegranate, custard apple, etc are the nature's juicy candies grown here in the garden. In addition to the above, Haldi and desi cotton are also grown.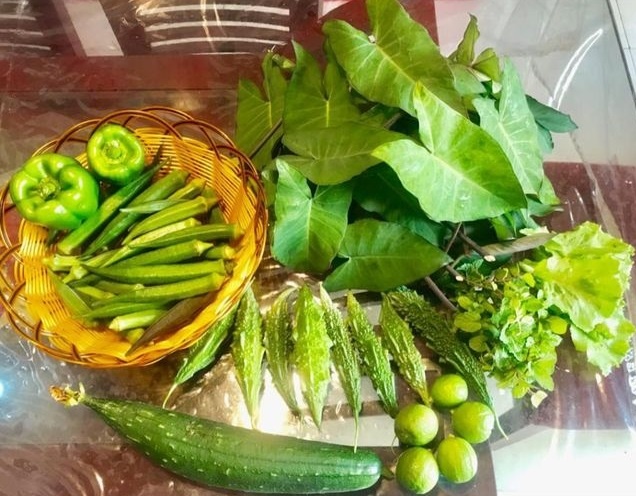 Working Together - Building the Garden As Well As The Family:
Sujata spends 20 minutes every day in grooming her terrace garden. She spends close to one hour daily in the garden. However, she alone does not do it all. Her family joins her along with her brothers and brother-in-law. They all come together and participate in farming with enthusiasm. The three families share the yield and consume the produce so equally share their work towards it. What a beautiful thing it is to serve the purpose of both family and farm!!
Saying No to Hybrids And Artificial Fertilizers:
Sujata Naphade says that for growing certain crops like onion and ginger, the use of fertilizers is a must but they absolutely don't want to use any. They chose the natural way of cultivating. When they started, they ventured into improving the soil quality first using the brown leaves and plant parts as manure. Sujata avoided using cow dung as a fertilizer for the sole reason that being sustainable is also very important rather than aiming to just procure the fertilizer. As the availability of cow dung is a cause of concern. Thus, Sujata opted for the natural method of farming, Jeevamruth as suggested by Subhash Palekar, a prominent agriculturist who practised Zero Budget Natural Farming. Jeevamruth is a mixture of 1 kg cow dung, 1-litre cow urine, jaggery, buttermilk and any flour. The ingredients are diluted and used once in a month. Here, the amount of cow dung used is very less. This mixture need not be used for long durations too. Within 6-7 years, the quality of soil improves greatly. Know More About Brown Leaves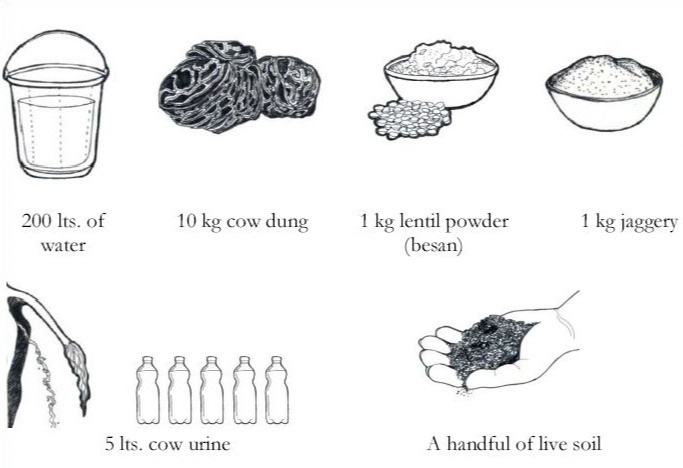 Everything Comes With A Set Of Problems:
The most significant cause of concern is the lack of knowledge about the culture of cultivation. Moreover, obtaining local or regional varieties of foods is difficult amidst the ocean of hybrid varieties. The local varieties are scarce and are often not found. Sujata tried hard for the local variety of sponge gourd but in vain. Thus, she kept on reusing the seeds of vegetables from her own farm over the last 7 years. Having maintained a seed bank, she could collect 300-400 seeds from a Sponge Gourd, that she distributed to other organic farming enthusiasts. Another problem is knowing the right vegetable to be grown in a given season.
"When I planted Bottle Gourd during the off-season, it gave almost nil produce. However, post-September, it started giving a lot of produce. So, it is a learning process.", she says.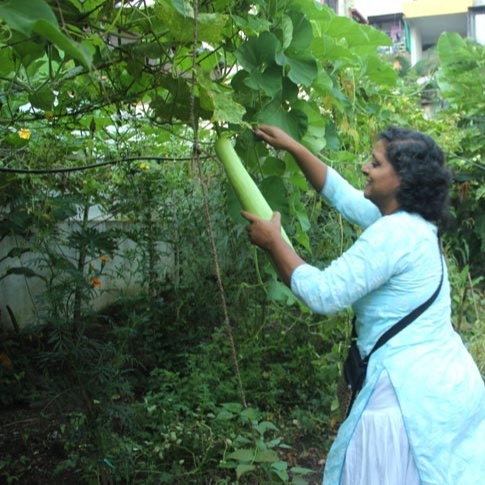 In The Days To Come:
With an aim to live in accordance with nature, Sujata is all set to assist and educate the farmers on organic and natural farming methods. As no pesticides or artificial fertilizers are being used, the cost of farming cuts down to a greater extent and thus farmers don't have to depend on external agencies. In future, she wishes to expand this with an aim to make it reach more people.
Sharing Her Knowledge:
Sujata advises that farming must be done in coordination with nature's rules. A clear understanding of the environment and not disturbing the nature at any cost during the whole process, she says, is the key to successful farming. She stresses the importance of growing local varieties over the hybrid ones and plants, she says, must be grown keeping the season in mind. She requests everyone to obey the order of nature and advises to eat healthy and seasonal food. Her motto can be summed up in just two words- "Go Natural".
Let's walk in nature's path the way Sujata has been doing and let's make our lives healthier and happier.