Living in harmony with the birds, the reptiles, animals on his 360 doors n 660 windows FARM house. What for?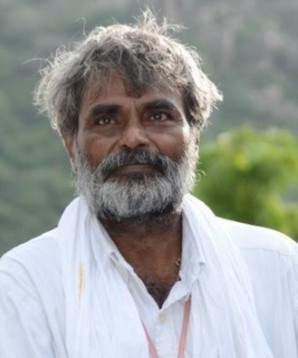 What it takes for a man to leave everything that he has – a well-paying job, comforts of life – and work for the benefit of the voiceless, the flora and fauna? It just took one moment of thought for Dusharla Satyanarayana to leave his job as a Rural Development Officer to work for the cause of small and marginal farmers. Read his story that is surely one-of-its-kind. His activism, his protests for water, his steps towards maintaining ecological balance will amaze anyone.
Well-paying Job Is Nothing Before His Motto:
Dusharla Satyanarayana was born on 12th March 1954 in Raghavapuram village in Mothe mandal of Suryapet district into a family of landlords. Having closely connected to nature ever since childhood, Satyanarayana completed his B.Sc in Agriculture from Jayashanker Agricultural University, Hyderabad. Post his graduation, he started working with Andhra Bank in Cuddapah in 1977 as an Agricultural Assistant. He later worked as a Rural Development Officer in Union Bank of India. It is there that he came in close acquaintance with the plight of small and marginal farmers that moved him deeply. He then decided to quit his job and work for bettering the condition of farmers.
The Birth of An Activist:
Dusharla Satyanarayana who decided to fight for the unjust treatment of water allocation to the district of Nalgonda that resulted in the widespread cases of fluorosis. He organized walkathons to fight on water issues. He also protested with people of Telangana during their fight for separate state. He founded Jala Sadhana Samithi in the year 1980 through which he organised various types of protests like 'padayatras' from Nalgonda to Srisailam, Yadagirigutta and Hyderabad. Not only on the state front, he also conducted protests in Delhi to take the water problems faced by the people of his region to the notice of the centre. The work he did for the benefit of the fluoride victims of his region is priceless.
The Father of A Forest:
Dusharla Satyanarayana owns a barren land of 70 Acres in his village which he visualised as nature's paradise since childhood. At the age of 27, after he left his job to work for various causes, he also set to regenerate the land by working on it full-time. He calls it the house with '360 doors and 660 windows.' With over five decades of hard work, he built the farm to what it is today. He travelled to various places across the country, collected seeds and saplings of rare forest species and planted them on his land. He also dug a canal system to harvest rainwater, dug seven ponds with check dams that form a chain and also installed a borewell so that the water in these ponds never gets dried up. These ponds are loaded with various species of lotus. Here fishes, tortoises, native frogs and other aquatic friends live and rejoice. Coming to the enormous plant kingdom that thrives in his land, the list keeps going with names of rare species like Indian birthwort, devil's horsewhip, Indian screw tree, Spanish jasmine, screw-bean, Indian tamarind, Manila tamarind, common guava, several varieties of mango, woman's tongue tree, jamun, Bael, cluster fig, neem, palm, ail, Indian date palm, Babul, Jana, sacred tree, east Indian ebony, carandas plum, Indian jujube, Assyrian plum, bamboo, Prosopis juliflora (Thumma), soft fig and Indian elm. These are just a few among hundreds of species in his forest that also has numerous medicinal plants. Fruits of the trees are never harvested but are left to feed the birds and animals that enjoy their stay in the farm. To make the food available to the birds that made this farm as their home, millets and grains are grown in the farm. One can also find animals like rabbits, monkeys, peacocks, squirrels, snakes, wild boars, wild cats, mongoose, dogs and bovine animals in the forest. Satyanarana lives in a hut inside the forest. He says that nothing that grows there is harvested or plucked. Everything that grows in the forest decomposes into its soil enriching it with nutrients. There is also a hillock inside the forest, some rare stone formations of religious significance that include nine Swayambhu Shivalingas at various parts of the forest. They are worshipped by the villagers especially on Shivaratri.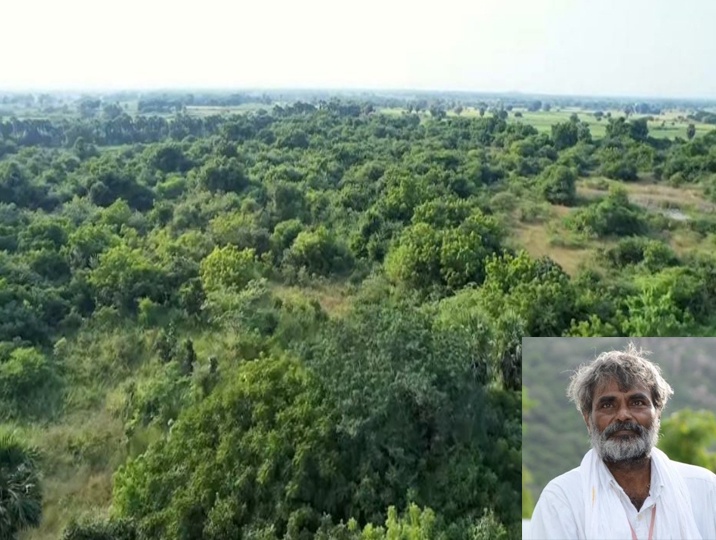 Satyanarayana, who waged movements to bring irrigation and drinking water to Nalgonda, has convinced 480 contestants to file nominations, just to highlight the water woes of the fluoride-hit villages in Nalgonda in the 1996 Lok Sabha elections. Till date, through his 'All-in-one programme', he goes on to educate children in schools on electoral reforms, environmental conservation, ethics and other topics. What is that he is not working upon? He is definitely highlighting every problem that the people of his region, in fact of every region, are facing. People who question, raise voice, bring up solutions and hand them over to the generations are truly rare to find. Thanks to the efforts of Dusharla Satyanarayana who has made people, plants, birds, animals, reptiles, water, air and everything around him; his own self, giving them the best he could.

Follow His Work for More Updates
Must Read: An honest Ranger's battle to save the forests and eliminate corruption within the system.