Cookies from the Millet Bank? The lady farmer started and is encouraging other women.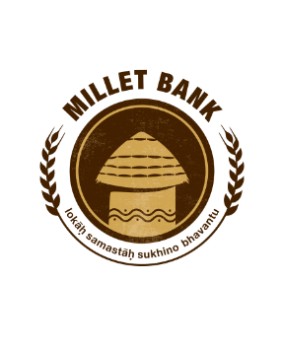 "Her day starts before sunrise and continues after sunset. Her work is not only on the farm, but is an addition to the role of a wife, a daughter-in-law, and a mother. But her efforts are not recognized and are unheard". When Vishala Reddy Vuyyala speaks about the female farmers of India, she definitely makes sense. Along with thinking of the lives of woman farmers, Vishala also mulls about how traditional farming practices are abandoned and how commercial farming has been putting the health of people as well as the soil in danger. Let's get into knowing more about Vishala Reddy Vuyyala who has been empowering the farmers, especially the female farmers by encouraging them to do millet farming. Her "Millet Bank" is one of a kind which is giving farmers, an opportunity to grow, sell and make profits through millet farming.
Vishala Reddy Vuyyala hails from a village called Mullur Krishnapuram (MK Puram) in Chittoor district of the southern Indian state, Andhra Pradesh. She comes from a family of farmers who are well-respected in her village. Vishala still remembers how celebrations were done by enjoying traditional dishes before sowing for the Kharif season. Growing up, she realized that the whole culture is associated with growing a crop and it is what kept the communities together. "Nowadays, I realise that it was not just about growing a crop — there was a whole culture associated with it which kept communities together, ensured food safety and above all, was sustainable," says Vishala. Vishala, who is currently living in Hyderabad has gone to stay in her village during the lockdown and it is there that she realized that all those incredible farming practices that she witnessed as a child were lost now. With the advent of borewells, and also with people turning to rice and wheat, farmers took to cultivating them leaving behind the traditional farming practices like growing "Navadhanya" (Nine grains) that implements crop rotation process whose advantages to the farmers and soil are bountiful.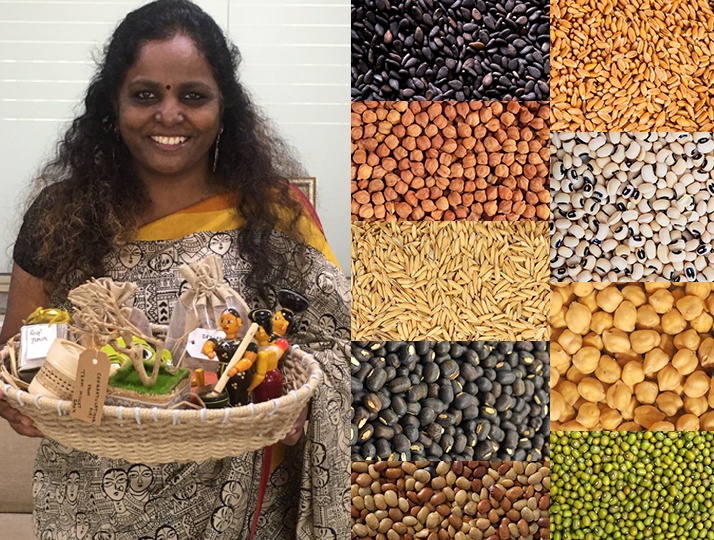 Vishala understood that if she didn't set into action; all that goodness of traditional farming would be lost. She set up a firm called IdentCITY that focuses on destination/city branding and marketing services in Hyderabad. Also, with the main motive to bring back something that's good for the Earth as well as for mankind, and on the occasion of Prime Minister Narendra Modi announcing September as Nutrition Month, Vishala launched the Millet Bank on August 31, 2020. With the motto, "Lokah Samastah Sukhino Bhavantu" which translates to saying that "may all beings everywhere be happy, free and peaceful", its logo is inspired by Gadhe, a space used to store grains.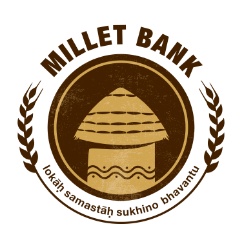 What Does The Millet Bank Do?
Millet Bank will assist farmers with the whole process of millet cultivation by setting up a processing unit and also encourages farmers to store the cultivated millets all by themselves. Millet Bank will then purchase millets from them at a fair price. 40 farmers have agreed to join Millet Bank in its first interaction with them. After convincing seven farmers, 25 acres of land out of the target 150-200 acres, was made ready to grow millets. Vishala's family also offered the farmers, their tractor, to till the land for free. Vishala met the collector in July 2021 and discussed with him, the plans of expanding the initiative. "Millet Bank is for farmers what Amul is for cooperative societies", she says. Vishala has been discussing her plans with more than 50 female farmers since August 2020 and her plan is to raise the number to 250 more by 2021. The initiatives brought out by Millet Bank not only empower female farmers but also get into the present scene, the old forgotten practices. The Millet Bank also ensures that the farmers are well equipped with the knowledge of both old and new techniques. The team has converted an agricultural barn into a well-structured and well-equipped community space where relevant online and offline sessions happen regularly. All that Millet Bank does is encourage farmers to cultivate the best and receive the best.
Challenges On Her Way:
Convincing the farmers to change the course of their farming is definitely a mammoth task. Not everyone is convinced as they don't see millet as a profitable crop and they are in a notion that it doesn't sell easily in the generation of rice and wheat. They are thus reluctant to grow millets. Vishala had to spend her time and energy in making them understand the brighter side of millet farming and could successfully convince many of them. Also, raising the demand for millets from the consumers' end was also a problem on her table. Though elders understand the value of millets, it is difficult to get acceptance from younger generations. For this, Vishala thought of an idea. She decided to launch a series of cookies made of millets through Millet's Bank that can be purchased on their website.
Vishala, who is looking forward to selling not only millets but also produce value-added products through Millet Bank, is truly a beam of hope in the lives of farmers.

Like and Subscribe To Her Channel For More Videos

Know More About Millet Bank

Know More About IdentCITY

Follow Her Work